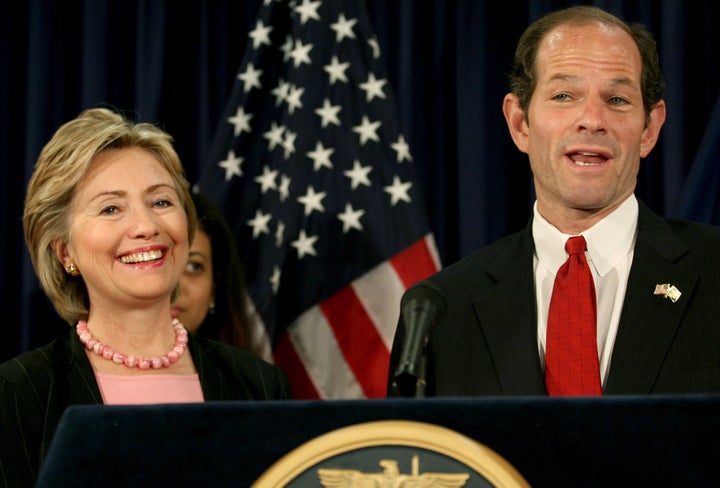 WASHINGTON -- When former New York Gov. Eliot Spitzer (D) withdrew his plan to give driver's licenses to undocumented immigrants in 2007, it was partially at the urging of then- (and current) presidential candidate Hillary Clinton, the former governor said in an podcast interview posted Thursday.
While Clinton now supports driver's licenses for undocumented immigrants, she flailed on the issue during her 2008 presidential bid. Eventually, the Democrat came down against Spitzer's proposed measure to provide licenses to the undocumented.
But Clinton went further than opposing the plan, Spitzer revealed on "The Axe Files," a podcast hosted by David Axelrod, a former adviser to President Barack Obama (who went on to defeat Clinton in 2008). In fact, the campaign asked Spitzer to drop the proposal altogether.
Spitzer told Axelrod he yielded to that request, although heavy opposition from elsewhere also played a role.
"We heard from folks [on Clinton's campaign] who said they want this issue gone," Spitzer said. "I thought the issue was a metaphor for her vacillation."
Earlier in 2007, Clinton, then a senator from New York, said that Spitzer's plan made "a lot of sense." During a Democratic primary debate in October of that year, though, she walked the statement back, saying "I did not say that it should be done, but I certainly recognize why Gov. Spitzer is trying to do it."
Her debate opponents hammered her for hedging, and Obama said unequivocally that he supported driver's licenses for undocumented immigrants.
Spitzer said he was "pacing around the living room" watching that debate and that Clinton "waffled and waffled and waffled."
"Because it was controversial, she hemmed and she hawed," he said on the podcast. "And again, this goes to the core of, where are you on immigrants' rights?"
He ended up dropping the plan the next month, based on opposition from the Clinton camp and elsewhere.
"You know, it's something I'm ashamed of," Spitzer told Axelrod. "We pulled the proposal. Now, I don't want to suggest we pulled it exclusively because of that. If you were to go back and look at the newspapers at the time, I had virtually no support in New York state. No elected official statewide would stand with me. It was a tough proposal. People were spitting at me in the streets. And I'm embarrassed to say after three weeks of fighting valiantly, I said, I'm not going to sacrifice my entire agenda to this."
Two-thirds of New York voters opposed Spitzer's proposal, and his approval rating fell after he announced it, according to a Siena College survey.
After Spitzer withdrew the plan, Clinton clarified her stance, saying the governor had made the right decision.
"As president, I will not support driver's licenses for undocumented people and will press for comprehensive immigration reform that deals with all of the issues around illegal immigration including border security and fixing our broken system," she said in a statement in November 2007.
Clinton came around earlier this year. In April, a spokesperson for her campaign told The Huffington Post that the candidate "supports state policies to provide driver's licenses to undocumented immigrants."
A spokeswoman for Clinton told HuffPost on Thursday that "the immigration landscape of 2015 is far different from the immigration landscape of 2007, so of course the policy responses are different."
"In 2007, we didn't have an executive action that would focus our resources on deporting felons, not families, allowing millions of undocumented immigrants to remain in the United States," she added. "In the last eight years, states have increasingly been moving in this direction with positive results. Hillary supports those state efforts. As she said in 2007, she believes the long-term solution is comprehensive immigration reform, but given Republican obstruction, we can no longer wait for that."
Spitzer said he is supporting former Maryland Gov. Martin O'Malley for the Democratic nomination. O'Malley expanded access to driver's licenses to undocumented immigrants during his time as governor -- and has pointed out that he arrived at that position before Clinton did.