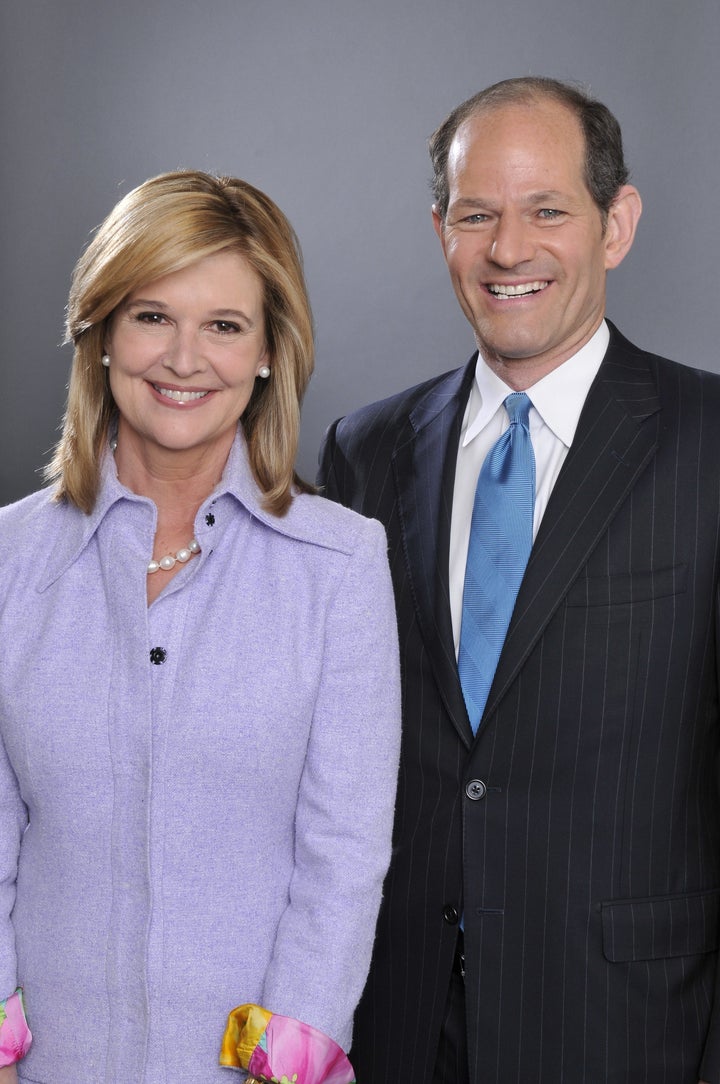 Former Democratic New York Governor Eliot Spitzer and conservative Washington Post columnist Kathleen Parker will replace Campbell Brown in CNN's 8PM hour.
"Kathleen is an extraordinary intellect whose sharp observations and wit are certain to resonate with viewers," Spitzer said in the announcement. "I look forward to working alongside her in a discussion that will inform, challenge, and entertain. I am grateful to CNN for the opportunity to co-host a show that will advance the discussion of the defining issues of our time."
"As a veteran print journalist, I am appropriately respectful of the challenges posed by the medium," Parker added. "But I'm thrilled by the opportunity to discuss the issues that matter to me --and that aren't heard often enough on television--in a conversation with one of the nation's most brilliant, fearless and original thinkers. With Eliot Spitzer as my co-host, Wall Street and Main Street will finally meet. It can't possibly be boring."
"Other cable news channels force-feed viewers one narrow, predictable point of view; in contrast, CNN will be offering a lively roundup of all the best ideas - presented by two of the most intelligent and outspoken figures in the country," CNN/US President Jon Klein said. "Eliot and Kathleen are beholden to no vested interest - in fact, quite the opposite: they are renowned for taking on the most powerful targets and most important causes."
Campbell Brown resigned from the 8PM slot last month, citing poor ratings and an inability to break through in cable news' challenging 8PM hour. Fox News' Bill O'Reilly, MSNBC's Keith Olbermann, and HLN's Nancy Grace — all opinionated cable news hosts — posed challenges for the down-the-middle Brown. In a statement, she said:
The simple fact is that not enough people want to watch my program, and I owe it to myself and to CNN to get out of the way so that CNN can try something else.

CNN will have to figure out what that is. The 8pm hour in cable news world is currently driven by the indomitable Bill O'Reilly, Nancy Grace and Keith Olbermann. Shedding my own journalistic skin to try to inhabit the kind of persona that might co-exist in that line up is simply impossible for me. It is not who I am or who I want to be; nor is it who CNN asked me to be at any point. This is the right decision for me and I hope it will be a great opportunity for CNN.
"My perception is, he would be great on television as a magnet for viewers because he's so smart and he's such a great lawyer," pundit and former Clinton special counsel Lanny Davis told the Observer. "I was actually asked this question by a fellow who was thinking of hiring him and I said, 'Forget about his political career, he's going to have good ratings because people are going to watch and be fascinated by him.' Because this is about someone who's willing to bounce back. It's part of an American narrative that goes all the way back in history. We love Horatio Alger. We love forgiving."
Calling all HuffPost superfans!
Sign up for membership to become a founding member and help shape HuffPost's next chapter