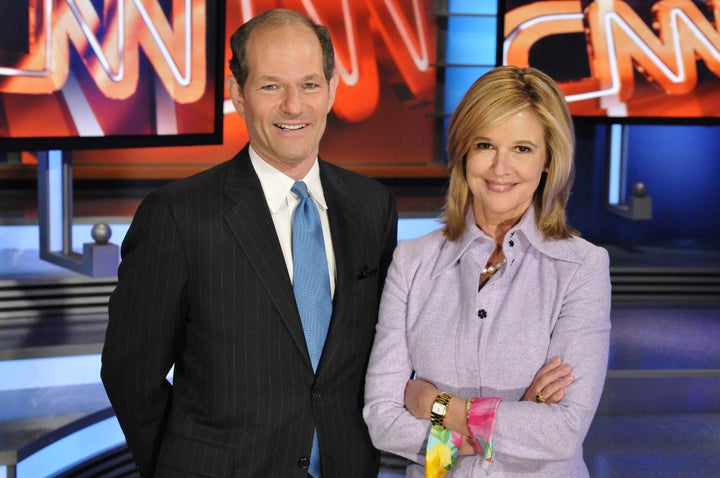 "So now that you've LIVED IN NEW YORK CITY now "FOR A FEW WEEKS" and you DON'T LIKE WHAT YOU SEE, maybe you should move to Westchester before you have a chance to figure out what you're talking about, you Non-New Yorkey Beltway Outsider™?" wrote The Awl's Choire Sicha.
"Kathleen Parker Already Hates New York City," the Gawker headline read. "This Is a Thoughtless Thing That Kathleen Parker, New Resident of New York City, Wrote Today," wrote New York Magazine's Daily Intel blog.
"They need to get over it," Parker told the Huffington Post last week of her blog critics. "Here's what I should've said: New Yorkers take themselves too seriously. Good grief."
And Parker has another message for those critics and anyone who isn't familiar with her in advance of tonight's debut of "Parker Spitzer," which she co-hosts with Eliot Spitzer at 8PM on CNN.
"Get used to it, buddy!" she said. "If these people haven't read my column before and they're just catching on, oh, they're going to have so much trouble with me. I don't have a tendency to say bland things."
"I have said from the very beginning: Kathleen is going to suddenly jump into people's consciousness," Spitzer said. "They're going to say: she's smart, she's witty, her observations make you think and they are fun and they also have a real sensibility of what's going on out there."
When CNN announced the plans for a male-female duo hosting a panel show, observers immediately drew comparisons to MSNBC's "Morning Joe."
"We're definitely not doing 'Evening Joe,'" Parker said. "We love 'Morning Joe,' but we think that free-wheeling, more relaxed format is more suitable to the morning. Plus they have three hours, so they can be a little bit more laid-back. We're going to ratchet up the pace a bit, but yes, we have that in common with that show and others. We'll have a conversation."
Both Spitzer and Parker said they have been having a lot of fun preparing for the show, even though the boss who recruited them, former CNN/US President Jon Klein, was fired just ten days before their show's premiere.
"We obviously love Jon Klein and miss him, but we don't have time to do anything but move forward," Parker said, adding that new CNN/US Executive Vice President Ken Jautz is "a very nice guy."
"It's kind of like we're the members of the team and we got a new manager," Spitzer added. "Jon's a great friend and we both like him enormously, but we're team players."
And while Klein championed Spitzer's CNN career from the start, a New York Magazine article by Gabriel Sherman reveals that many inside CNN are skeptical of being part of Spitzer's personal reinvention. Do Spitzer and Parker think that people are rooting for them to succeed or to fail?
"I think people are always rooting against people's success, no matter how great we are or how good a job we do critics are going to be critics," Parker said.
"It depends who you're talking about," Spitzer said. "Are you talking about the real people on the street? Real people have a belief in what people can do, and want people to succeed."
Spitzer said that being a media personality is "not as different as everybody thinks" from being a political figure.
But unlike when he was governor, he now has a co-anchor, and one who doesn't let him run the show 100% of the time.
"She tells me to shut up all the time," he said.
"He talks too much!" she shot back immediately.
Popular in the Community