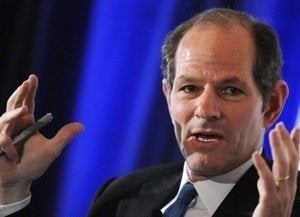 Eliot Spitzer may join CNN for a show to be broadcast at the time slot being vacated by Campbell Brown, reports The Washington Examiner.
The Examiner says that in pursuit of ratings, CNN President John Klein is considering a 'Crossfire'-style debate show and that Spitzer is a candidate for the panel.
Both Spitzer and CNN denied the Examiner's report. Spitzer told the newspaper "Nope. nope."
Spitzer has become a pundit of sorts with various appearances on cable news shows since resigning from office. The Examiner even points out that on Monday, the former governor was a guest host on MSNBC's "The Dylan Ratigan Show."
Despite the denials from both Spitzer and CNN, the Examiner's headline reads "Campbell Brown scurries out, Eliot Spitzer jumps in."