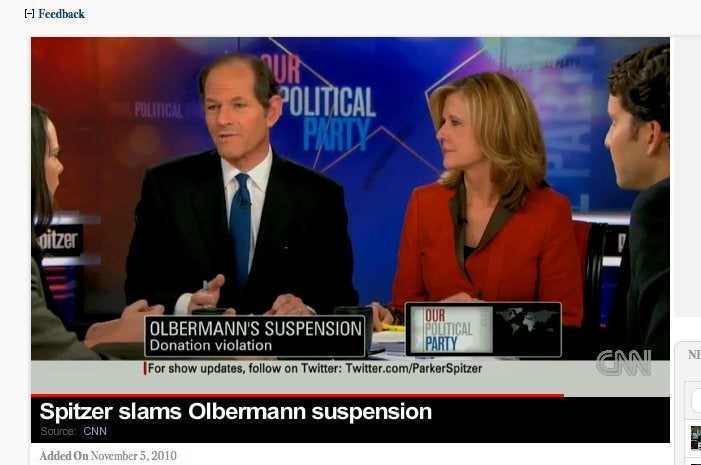 Spitzer raised the issue during the "Political Party" segment of the show. Before he gave his opinion, his co-host Kathleen Parker asked if Olbermann's suspension wasn't a simple and clear-cut violation of NBC's rules, which require its employees to get prior approval of any political contributions.
"As a journalist, I would never do this but also the policy is clear and if that's the policy, that's the policy," Parker said. "End of story, right?"
Spitzer said that, while that reading of the situation was technically true, the "big question" for him was that "it's a silly policy...it is ridiculous to believe that MSNBC any more than FOX is impartial."

WATCH:
He went on to say that there was a "ridiculous false line that's being drawn in the sand and I don't buy it for a second. He is partial. He is a partisan. He made it very clear he was. That's the First Amendment."
The National Review's Will Cain, who was a guest on the show, said that, while he agreed with Spitzer about the unjust nature of the suspension, he wondered why Olbermann felt the need to make a monetary contribution at all, given that the air time he lent to liberal candidates and causes probably led to far greater donations than the ones he gave.
"Will, you're exactly right." Spitzer replied. "You know what? And that was true for Rupert Murdoch's contribution through News Corp. He gave millions of dollars to the Republican Party. It cost him a lot more in credibility."
Besides Spitzer, a string of journalists and pundits on all sides of the political spectrum have criticized MSNBC for suspending Olbermann. Senator Bernie Sanders also released a statement in support of the "Countdown" host, and on her Friday show, Rachel Maddow called for the suspension to be lifted.
Related
Popular in the Community