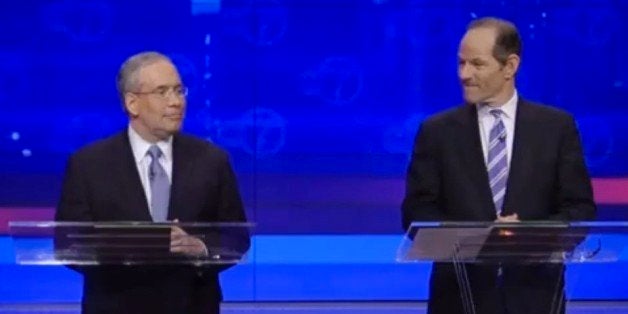 The harsh campaign between Democrats Eliot Spitzer and Scott Stringer for New York City comptroller dove deeper into negative territory during their first debate Friday morning.
Stringer, who trails Spitzer by 9 points in the most recent poll, repeatedly tried to tar the former New York governor for his wealth, and the prostitution scandal that forced him to resign the office in 2008.
"This battle for comptroller is about two tiers of justice," Stringer said in a debate, which is scheduled to air at 11 a.m. Sunday on ABC, and was livestreamed on TV station WABC's website. "One for the wealthy and one for the rest of us."
Spitzer, sought to portray Stringer, the Manhattan borough president, as a career politician with a thin record. He contrasted it unfavorably with his own tenure as governor and state attorney general targeting Wall Street firms before the 2008 financial collapse.
"I was independent. I was the one who said that crisis awaits us," Spitzer said. Later, he turned to Stringer and asked, "what indelible mark have you left on policy?"
Assembled at the WABC studios in New York, a panel of journalists asked Spitzer directly why voters should trust him in elected office again after his resignation.
"I'm asking voters to look at the totality of my record. ... We did the things the public cares about," he said, citing an infusion of more than $1 billion into the city's pubic school system when he was governor.
But Stringer referenced the sex scandal again, after Spitzer took pride in "breaking some eggs" to push through reforms.
"You broke your own eggs, because you engaged in illicit, illegal behavior," Stringer declared.
He also disputed Spitzer's claim that his years in the governor's mansion were a success, reminding viewers of Spitzer's combative style with the state Legislature.
"My opponent couldn't negotiate anything," said Stringer. "I'm going to be a steady hand."
Stringer had expected to cruise to victory until Spitzer's surprise decision to reenter politics in July. He complained of being "underfunded" compared to Spitzer, who is campaigning with his own money. But Spitzer said the contest was roughly even because super PACS have declared they'll spend millions to back Stringer.
Both candidates declined to say who they support in the New York mayoral race, noting that it could lead to confrontations later. They also both dodged a question on whether they wanted to run for mayor in the future, saying that their focus is on the comptroller's office.
When asked about policy issues, Stringer said the minimum wage should be raised immediately to $10 per hour, while Spitzer said jumping to $8 with annual adjustments is necessary.
Retroactive raises for firefighters, police and teachers are favored by Spitzer while Stringer, who's backed by organized labor, said he won't rule out cutting benefits to municipal workers.
Spitzer is considered a strong debater and recent years working on CNN and Current probably helped his poise before the cameras.
Readers answering a snap poll on the New York Daily News website, however, said Stringer won this contest,. The survey was unscientific, but 58 percent of readers gave Stringer the edge compared to 34 percent for Spitzer about an hour after they wrapped up.
Their next debate is scheduled for Aug. 12.