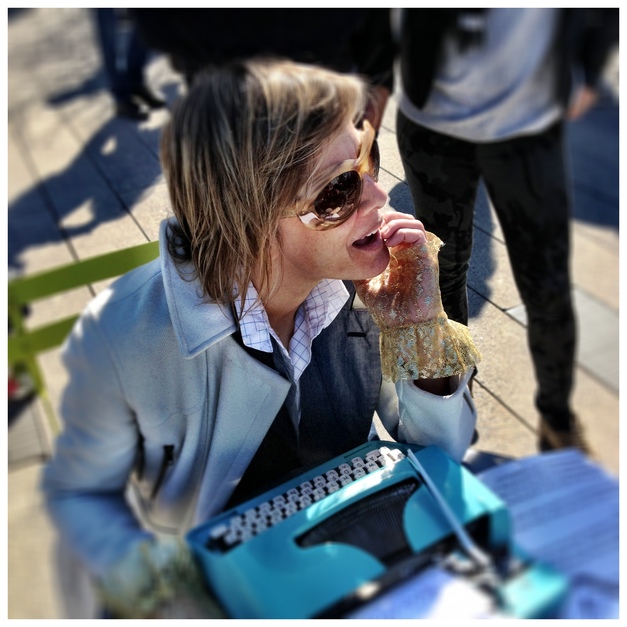 We met NYC performance artist, writer, and actress Elisa Blynn last December at a Williamsburg party celebrating Already Alive's latest project, "Story:Us," a short film made in collaboration with Local Projects founder Jay Barton for The Future of Storytelling Conference.
Elisa was one of the first party guests to try out the (I)Witness* activity, and she soon discovered an unusual skill for finding the hidden stories underneath the tales she heard. On the typewriter, she launched into dynamic and sometimes elaborate interpretations, often surprising the storyteller with her insight and poetry.
Several weeks ago, we invited her to join us at our inaugural (I)Witness outing on the High Line. It's hard to describe, exactly, the experience of watching a story being transacted and transformed in the span of three minutes. To see the quick trust and connection that develops between storyteller and typist. To recognize that something intimate has transpired, a kind of contact that transcends touch but is nevertheless deeply touching. Elisa made the storytellers feel instantly relaxed; they, in turn, gave freely of their truths and imaginations, then waited patiently while she nestled into the keys. We invited her back the following week, and under the bright April sun, a stream of storytellers came to participate.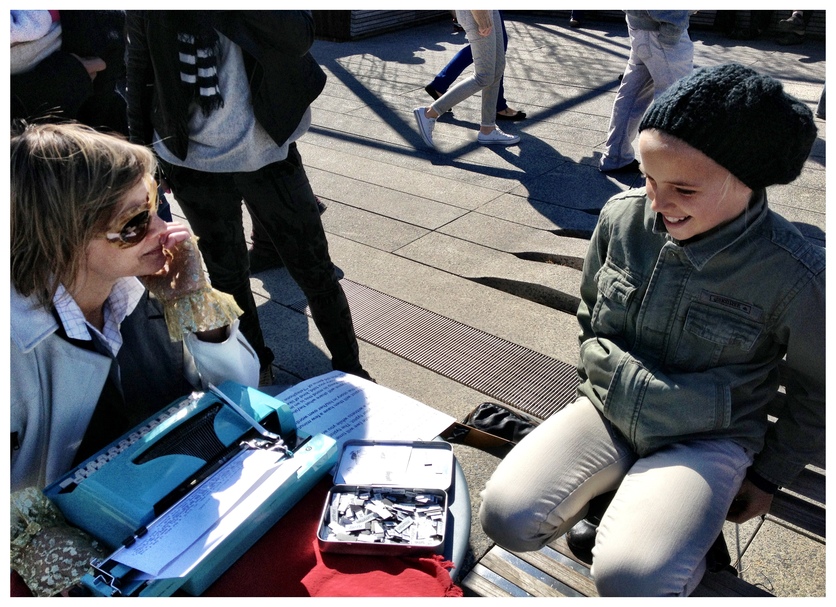 I asked Elisa later if she could describe her experience:
"I love transforming stories into something pointing towards inquiry, imagination and transformation, playing at the intersection of the mundane and the miraculous. I love plunking away at that old typewriter, which reminds me of my grandmother's, one I played with all through my childhood. When I am re-telling someone's story, I feel like a guardian of a delicate little jewel. There's a subconscious reveal hidden amongst the story's lines and details, the thing the storytellers can't quite say themselves. So I open it and reflect it back to them. The activity gives me permission to do that and it also gives the storyteller a way to recognize the artistry of their own perspective. I feel tenderness toward their story, and I love the surprise of what happens when I type. It's a spontaneous collaboration, always fresh. I love alchemizing all of these amazing elements -- storytelling, listening, intuition, permission, trust, playfulness, intimacy, imagination, and insight -- into art and heartfelt connection."
Here are three of Elisa's re-interpreted stories from recent (I)Witness outings:
Story prompt: Past loves...
Magnetic Poetry words: puddle, give
You can't see the forest for the trees sometimes. I was once wandering in the forest after having been dumped. My heart hurt and my sadness felt like I was in a puddle of all the past love hurts in the world. It made me wonder, swimming in this puddle of heartache, how we are there together, in heartache, but somehow not alone. How can we avoid this heartache while knowing we could not? I realized that in the vast forests of love, there are many kinds of trees. And these trees give and leaves fall. Leaves fall to the ground but do not die... they feed the earth, we are always giving and always dying to that surrendering. We surrender and we give we live we love and the past is the past. And I live in the now. And I see the forest now and also the trees.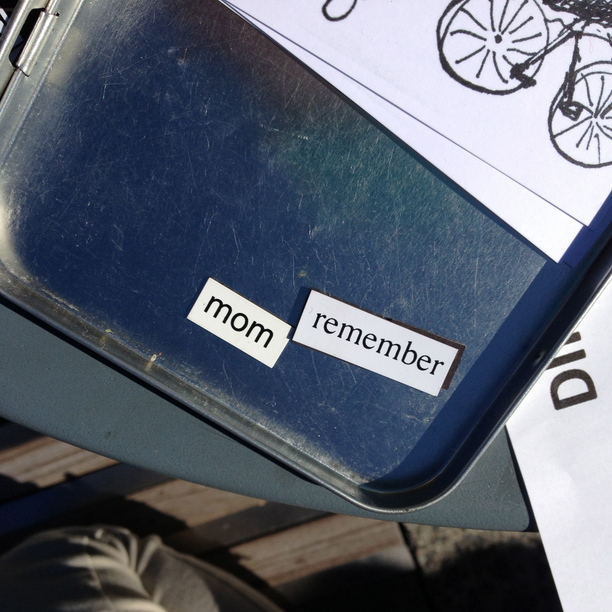 Story prompt: Do you remember when...
Magnetic Poetry words: remember, mom
Mom you can't ground me! I am not saying I am a better kid than you were but I remember you told about how you used to hide candy underneath the stairs and this went on for quite some time undetected, until the time you went to the dentist. Gaaasssssppp! And learned you had 32 cavities! Thirty-two, Mom! I don't have any candy so no I don't have any cavities so you can rest assured that if I am hiding anything under the stairs it is healthy and maybe even there is some floss nearby. We are all children and parents to each other. So let's keep it real, child is father the man!!!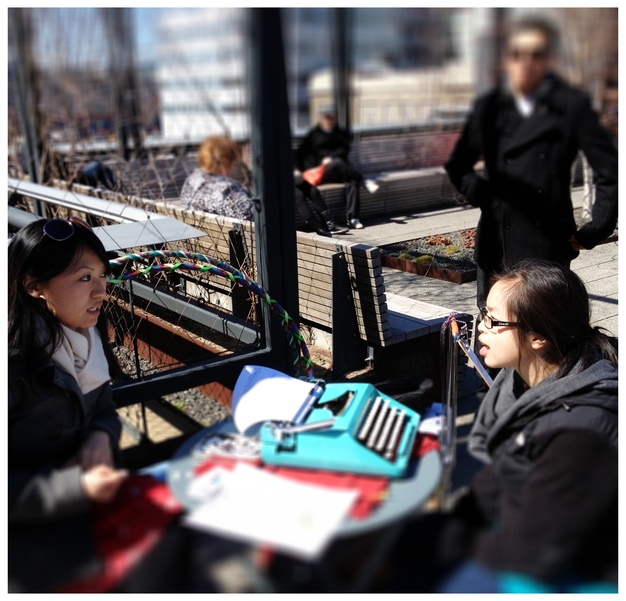 Story prompt: I can't explain why...
Magnetic Poetry words: red, dinosaur
Life must be hard for the red dinosaur. You never know what may happen when people see you. They could ask the red dinosaur anything and he could say something that makes sense to him but not to you. Like life in the city. You wake up and sit around the dorm wondering what might happen and you walk out the door and you run into a red dinosaur or end up on the Staten Island ferry or you wake up not knowing anything. It is an ordinary day as far as you know and it becomes extraordinary. It is a lot of pressure. "Oh, you live in the city? What do you do?" Have a cup of coffee and relax. Something extraordinary is about to happen and there is nothing you can do to stop it...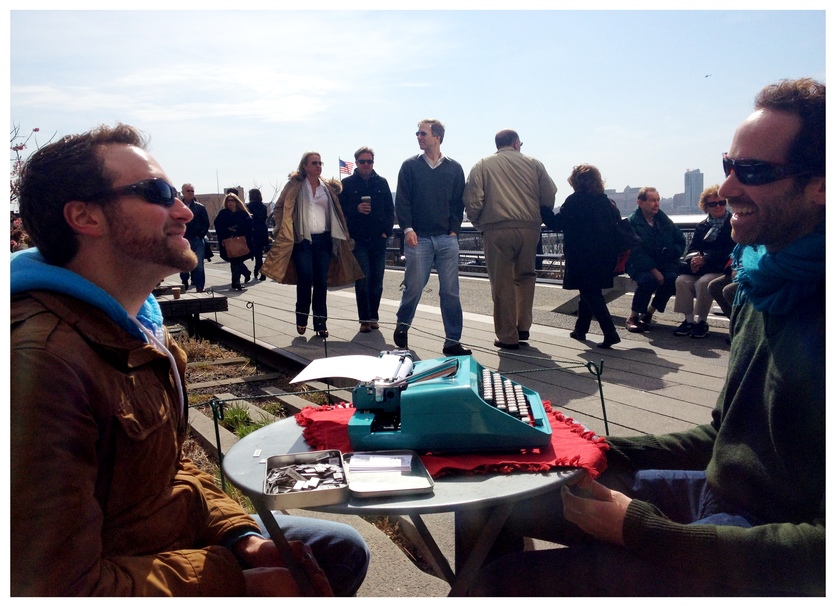 What does it feel like to sit down and tell a story to a stranger? Come to the High Line to find out. Weather permitting, our next outing will be May 4. Visit Type Rider's Facebook page (www.facebook.com/thetyperider) for updated info.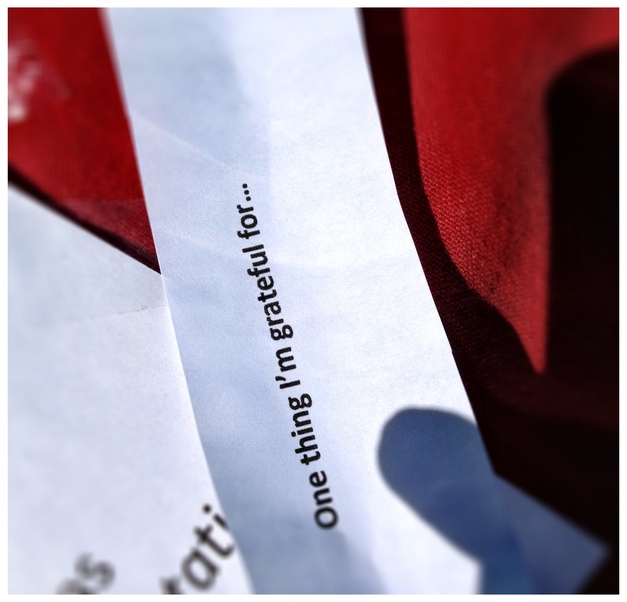 * (I)Witness is an extension of the Kickstarter-backed Type Rider (www.mayastein.com/type-rider) writing project I launched in May 2012, during which I cycled 1,200 miles from Amherst, MA to Milwaukee, WI towing a vintage typewriter behind me. I rode for 40 days and through 10 states, stopping in communities along the way, and inviting strangers to contribute their words to a growing collaborative piece of writing. A book about the project is forthcoming. The work of Type Rider is continuing through (I)Witness and other projects, including this "Write on the Line" column, an ongoing roundup of writings gathered on the High Line.