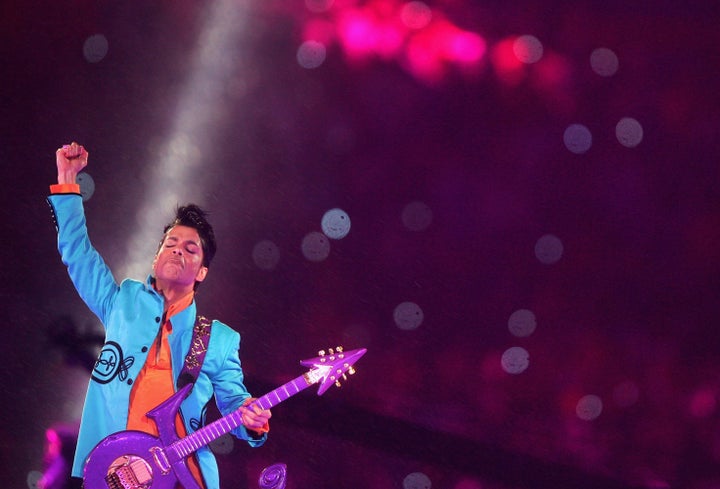 That is how this conversation started and what remained throughout. We were brought together because of love and we came to realize that Prince was gifted to us, to the world, out of love.
On this journey of healing and discovery, I have met a lot of people who loved Prince. I have met a lot of people who worked with him, spoke with him, and just appreciated him for the artist and the man he was. The stories that have moved me most are the selfless ones and it is selflessness that led me to Nyle Girgis and Elisa Fiorillo Dease.
It was a Facebook connection I made with Nyle. I saw a suggested page for a tribute album that was to be called 'I Wish U Heaven.' In an announcement last week, I explained why I reached out to Nyle. But this week, I asked Nyle why he felt I was suited to provide the liner notes for this project.
Aisha: Since this question will be asked, I will ask it myself. Why me, to write the liner notes for this project?
Nyle: You came out of the blue and offered something out of the goodness of your heart. I thought it was a pretty cool thing that you wanted to give your time. I am most impressed with anyone who wants to give their time that way and your credentials made the difference. I thought it was a blessing.
And it was, but you could hear from they way in which they engaged, Nyle and Elisa have a friendship that has remained steadfast for more than 20 years and they embrace others with that same familiarity. While I still haven't heard the "pizza story" yet, I was curious as to how their meeting led to Prince and the decision to pay tribute to someone who was incredibly important to both of them.
Nyle: I've been friends with Elisa since I was 19-20, Elisa was getting ready to do a second record, and a friend called me up saying a young, female artist wants to do a video to her single, but not an official video. He said she has a vision, created a storyboard and wants to see it through, maybe show it to her label. He said it won't pay, but it's just a kind of a cool thing to do. It was a homemade video; a full band, one scene on a playground. It was for the remix version of "On The Way Up." I thought it was really funky, produced by Junior Vasquez with a funky Larry Graham sample.
It sounded ahead of its time in terms of sensibilities and I said I would definitely do it. After, those of us playing the band in the video told Elisa we really were musicians and she said it was awesome because she may need a band. When it came time and she needed one, we had to go through Prince. He thought it was funny this little white girl put together a funk band. We had to audition for Prince.
Over the years our friendship has grown. We are not just casual friends, she's like my sister.
Elisa: He's my muse, always kicking me in the butt to write. He did Arsenio Hall with me, Showtime at the Apollo. I was happy to introduce him to Prince later on, too. He was loving the songs Nyle produced for me like 'Bun In The Oven' about my daughter and the other songs we worked on together.
Nyle: When you meet your heroes, you always hope they meet your expectations. He was so sweet and personable. We talked briefly about music and a few other things, but toward the end, I said to him, 'if you ever have a chance, I'd love to talk to you about God.' My relationship with God is important to me and I knew he was a very spiritual person. He looked me right in the eye and said 'I will make time.'
We never got a chance to have that conversation, but I really do think we would have gotten along.
Elisa: You would have totally gotten along. He loved your drumming in my band and on my songs. But maybe in heaven one day you will have that conversation about God at God's table.
More love. I got curious, though, about the music over the years and I ventured into that subject with a bit of humor.
Aisha: Elisa, I have to ask this because I said I would when @IAmMissTLC posted a clip of you, Liv (Warfield) and Shelby J performing Mary J. Blige's "Family Affair" with Prince. When I told Nyle I was going to ask this, I said it was 'culture shock' for me because the two sides of my musical self came crashing together, beautifully. How did that decision come about and how amusing was it to see Prince sing the words "crunk, dancerie, hateration and holleration?" Because I was amused. That's a song that no matter how many grammatical issues I find with it, you HAVE to dance to. This is where I call Prince on his contradictions because he would always say he didn't listen to other artists, but he was jamming to MJB like he was a fan since '92, like "Real Love Remix" Mary fan.
Elisa: That was fun. It was a challenging song to learn, the lyrics, but we had so much fun with it. It was actually part of a medley of songs. I thought it was amazing how he did it with the horns and the way he ended it (sings the ending). It was just really well put together. He did perform with Mary J. Blige before, too.
Aisha: But it is so funny to me because on one hand he would say he didn't listen to other artists, but I'm watching this video and I'm like, 'nah, you played this song many times.'
Elisa: Well, he was like that. Prince was always watching other artists, looking at new talent. He was on YouTube all the time. He would call us up to the office and he'd be maneuvering around on the computer, show us videos, he'd email us a video of a song or artist and tell us to learn it. Everyone from Aretha to the Pointer Sisters. He would just keep teaching us.
Aisha: You did a tribute to Teena Marie (who toured as opening act for Prince on the "Dirty Mind" tour) after she died in 2010 with a mashup of "Lovergirl" and "17 Days." How did that come about?
Elisa: He was moved by her passing and we rehearsed some other songs of hers, "Square Biz," I sang that one. He was always doing these unique tributes and putting his own spin on it. We did Michael Jackson, "Shake Your Body" with "Mountains." He said my voice had the timbre of Michael Jackson on a radio broadcast in London and so I would sing those songs when we performed them.
Aisha: So how did you start working with him? What was the first song?
Elisa: "Party Man," the 12-inch remix was first song. He came in the studio while I was working with David Z. He heard the track but didn't believe it was me singing so he told me to sing for him and I did. Then, he told me to take a walk to studio B with him. He was working on "Party Man." It wasn't really singing, was actually breathing. I just remember the studio had just been sandblasted and I was dying in there from all the dust. Later down the road I sang on Love Machine, I learned later he originally wrote it for Jill Jones. I didn't know she was supposed to do it at the time. I moved on to some other things and then he called me back later after 20 years.
Aisha: Let me ask you about the post from April and why you didn't attend the celebration at Paisley?
Elisa: I felt like we did our tribute in October. For that particular event, the price tag didn't sit well with me. That's why this tribute album is free, we are just doing this for the love of Prince and his music and sharing it with others who love his music. He was amazing to see live. I hear from people all the time who say they wish they had gotten to see him live. I feel sad for them for not getting to see him live, to be a part of that live show because it was really amazing.
Aisha: I saw him in 2004. But I wanted to go to the Mohegan Sun show a few years ago. Were you there, Elisa?
Elisa: Yes, I was there. It was a great show.
Aisha: So how did this come about? How did you come together and decide to do this tribute album? A free album. Why was this is so important?
Nyle: About four or five years ago I toyed with the idea of doing this cover album. I didn't follow through on it and when he passed it was too much. One day, I called Elisa, and we started brainstorming. I was thinking of what my goodbye was. His gift to the world was music. Doing this has been part cathartic and my way of saying thank you and see you on the flip side. I only had one major, not requirement, but request: do not give me a straight remake. It's like what you said about anticipating how people will interpret his songs. It literally excites me when I hear a rough demo of how people interpret the music.
Elisa: His music is so stylized. It ends up sounding like karaoke when people attempt to try and sound like Prince. There was only one him and he did him the best.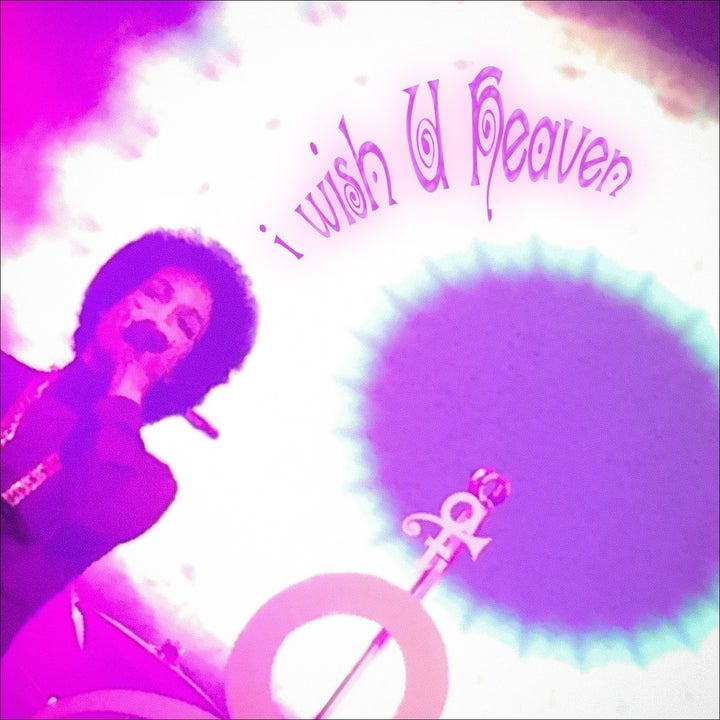 Nyle: Well that was like what he said on George Lopez about covers and people covering his songs and then didn't you all do a cover on that show, Elisa?
Aisha: He was like all of us full of contradictions and that's just a very human thing.
Nyle: I often wondered if it was like a wink and nod thing.
Elisa: Like let me show you how it should be done.
Aisha: Well he did say on Arsenio he hears music differently (note: I sometimes still use present tense).
Elisa: Yes, he really did hear it differently.
Nyle: Yes, and I also asked people to try not to pick the hits. The hits are great, but I have always been a fan of the B-side, so it excites me when people picked some of the lesser known songs. I also like to hear what some of people's favorite songs are. Elisa, what are your favorite songs?
I miss John Blackwell's drumming... just an amazing drummer and really great person. I miss him. I have this funny story, shortly after I started working with Prince again, my husband, he's an artist, he drew a picture of Prince—beautiful picture— to thank him for bringing me back. John told me he wasn't going to accept it. He had that issue with accepting gifts due to his faith, but he wasn't as heavily into it at this time. We went to give it to him and he wouldn't take it. And first he did say something about not accepting gifts. Then he said he didn't like to look at pictures of himself, and I said, 'but you're wearing a picture of yourself on your shirt.' John came back and said, 'I told you so.' It is now going to be used by his cousin Chazz so people will see it. But then he loved my daughter and she would draw him pictures and he would have them framed and in his office. She loved hanging out with him, too. One day she went up to him and said, 'I like your Afro' and he just laughed. Oh, he had the greatest laugh. I would come to rehearse and he'd ask why I didn't bring her with me and I'd tell him 'because I am working,' and he would say to bring her next time. He really loved kids. She was devastated when he passed, she didn't even want to go to school.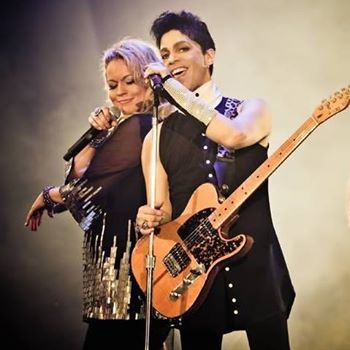 Elisa: That was her way of saying goodbye.
Aisha: So beyond this album, what's next?
Elisa: I just did a show with a 19-piece Big Band, then there's the Smith Center Cabaret and I will be doing my own show in January/February and pin it all on things that led me to that point. And that;s something I think he would admire. He was the teacher and we were the students. He would always tell us, 'when you get a band this is what you need to do. When you perform, I want to come sit with you and your band and play for you. I don't want to do my stuff.' He was always telling us, 'do your own thing, inspire me.' He wanted to see himself in other people. He was the greatest teacher I ever had.
Aisha: Thank you both so much for talk to me and allowing me to be a part of this tribute.
Elisa: Yes, you came to the party and you stayed.
Nyle: And it's all about love. Love for Prince, love for music, just love.
The 'I Wish U Heaven' Tribute Album will be released for free download in December. Look for an interview with some of the contributing artists in late November.
Related
Popular in the Community