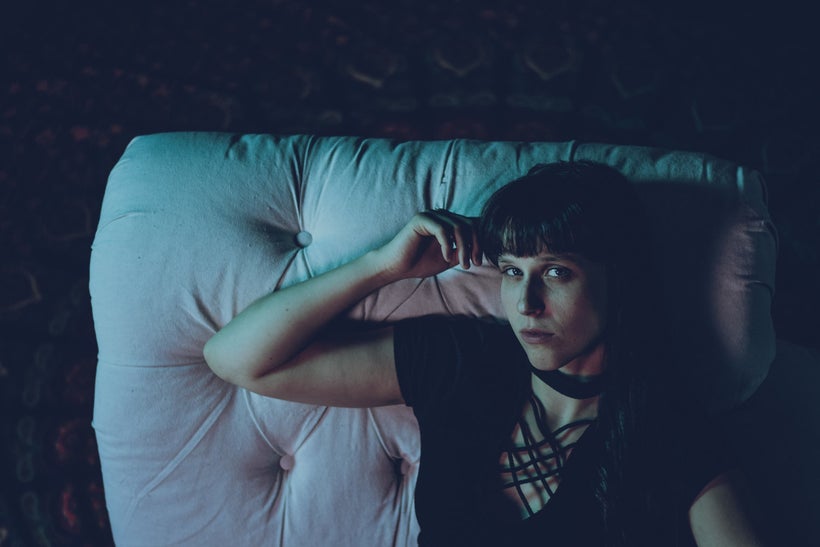 Zoloft, Lithium, Xanax, Wellbutrin, Lexapro. The list goes on for Elisabeth Beckwitt as she recalls the feeling of void in her new video for "Gray Again."  A survivor and advocate of addiction and support, Beckwitt's video recounts her trial and error of working to become "normal" once again.
Spilling her soul on the duvet, Beckwitt sings to the sky searching for answers, recalling the litany of pills and chemicals that brought her to this place. Coming from feelings of anxiety and depression, Beckwitt's body begins to feel nothing at all.
Throughout her life Elisabeth struggled with severe anxiety and depression which led her to seek professional psychiatric assistance from McLean Hospital. It was here she was diagnosed with a variety of behavioral and mood disorders stemming from childhood trauma. The help Elisabeth received gave her the tools she needed to make it through a difficult time in her life while teaching her to manage her diagnosis. Her clear, powerful voice typically accompanied by piano, Elisabeth weaves stories from her life and the lives of those closest to her that are relatable and encapsulating. It is her hope that by being open about her disorder and sharing her personal struggles, she can help to erase the stigma that is often times associated with mental health. 
"Pharmaceutical medication, specifically SSRIs, did not work for me. For so many, finding the proper treatment can help you live a more manageable, and happier life. I wish with all my heart I had been one of those people. 'Gray Again' is the story of my experience of when the medication fails. When the choice to keep trying to find the "perfect fix" is a choice between a host of unpleasant and unbearable side effects, or a crushing sense of apathy. A choice between feeling like yourself, even when society tells you it's not "normal," or feeling like a ghost, fading away to nothing. A choice between blue, or gray," said Beckwitt."‌
Beckwitt's video preaches that we are all unique, our brain chemistry and DNA is what makes us human. Beckwitt calls on those to never stop learning as much as you can, and asking for help. "Find your equilibrium, find your treatment, find your tribe."
Calling all HuffPost superfans!
Sign up for membership to become a founding member and help shape HuffPost's next chapter
This post was published on the now-closed HuffPost Contributor platform. Contributors control their own work and posted freely to our site. If you need to flag this entry as abusive,
send us an email
.