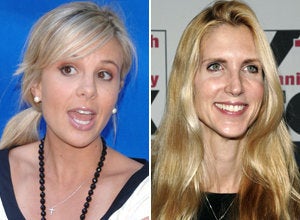 Elisabeth Hasselbeck emphatically dissed Ann Coulter on "The View" Friday, telling co-host Joy Behar, "Please don't put me in the same sentence as Ann Coulter." Hasslebeck also cleared the air regarding rumors that she is jumping ship to Fox News, telling the ladies and the viewers, "I am not going anywhere."
When Behar predicted that Sarah Palin would dye her hair blonde and join Fox News if John McCain loses, she enumerated a list of famous blonde Republicans: "Ann Coulter, Laura Ingraham, Elisabeth Hasselbeck."
"Whoa, whoa, whoa, please don't put me in the same sentence as Ann Coulter!" the proud Republican erupted.
Whoopi Goldberg then asked Hasselbeck to speak about the rumors that she's leaving "The VIew" for Fox News, to which Hasselbeck responded:
"I'm not going anywhere, except to get my highlights fixed! I love Fox, I'm staying here....I am not leaving The View.' I certainly love my ladies here. I am not going anywhere."
Elisabeth also denied the Fox rumors earlier this month, but Friday's show was the first she spoke directly about it on the air. Speculation about her departure from "The View" has been fueled by various on-air spats over politics this election season in which she, the show's only conservative host, has often faced off against her co-hosts over Barack Obama and John McCain (see below).
Popular in the Community