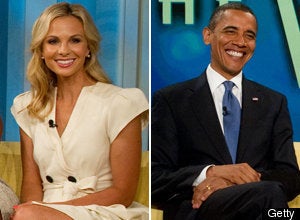 Elisabeth Hasselbeck has some surprising opinions.
In a two-part interview with Fancast, the conservative co-host of "The View" came out in support of gay marriage and described President Obama as "an incredibly cool guy."
"I am not ultra-ultra-conservative on every issue. I actually support gay marriage," she told Fancast in part one. "I think the gay marriage thing would definitely surprise people. I mean, for some people, it will surprise them to the point that they won't want to hear it. 'No, that can't be, I really want to have this sort of idea of her in my head,' so I sort of rain on their parade there. I am a person that does believe that life begins at conception, but I also don't believe that the government should tell women what to do with their bodies. So I'm torn there in terms of supporting laws [for or against abortion]. I always say I would rather change a heart than a law. I think it has to start there. Always trying to mandate, mandate, mandate this or that is not the way that I believe this country should run."
Hasselbeck said it would be more appropriate to describe her as a "Federalist" than a "conservative."
In part two of the interview, Hasselbeck told Fancast that she enjoyed hanging out with Obama backstage, even if she grilled him on-set.
"I think I'm still decompressing from the [experience]," she said. "I was really thankful to have the ability to sit there with our president, to be able to ask him face-to-face a question that I thought so many people have on their minds and [in their] hearts.... The president is an incredibly cool guy. We were able to go backstage with him [after the show] in our Green Room and talk about how everything seemed pretty orderly with him there and how comfortable everyone was. And there was definitely a moment - I mean, he and I looked at each other, and I remember him answering my question and I could see the intensity in his eyes. He wasn't just answering me, he was sending through me a message to the American people that felt special."
Related
Popular in the Community