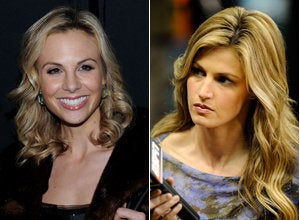 UPDATE: Wednesday Elisabeth burst into tears and apologized to Erin on 'The View.' Watch the video here.
PREVIOUSLY: Tuesday on 'The View,' Elisabeth Hasselbeck criticized Erin Andrews, who has been a stalking victim twice in the last year, for wearing "next to nothing" on 'Dancing with the Stars.' Watch the video here.
"In light of what happened and as a legal [matter]--and as inexcusable as it was for that horrific guy to go in and try to peep on her in her hotel room," Elisabeth said. "I mean, in some way if I'm him, I'm like, 'Man! I just could've waited 12 weeks and seen this--a little bit less--without the prison time!'"
After 'Dancing' Tuesday night, Erin told People that Elisabeth's comments were "a slap in the face to victims of stalking and sexual predators."
"The thing that I was most upset about is I felt she was mocking a situation," she said. "As a mother and a woman, I'm disappointed she went there."
Erin's partner Maxim Chmerkovskiy took to Twitter to defend her.
"I'm the one designing @ErinAndrewsESPN's dresses for the show, so I'll just assume that @ehasselbeck is jealous...and stupid 4 her comments," he wrote.
Niecy Nash also tweeted her support for Erin.
"Elizabeth Hassleback's comments about @ErinAndrewsESPN. Insensitive, in poor taste and remedial and foolish," she wrote.
Related
Popular in the Community