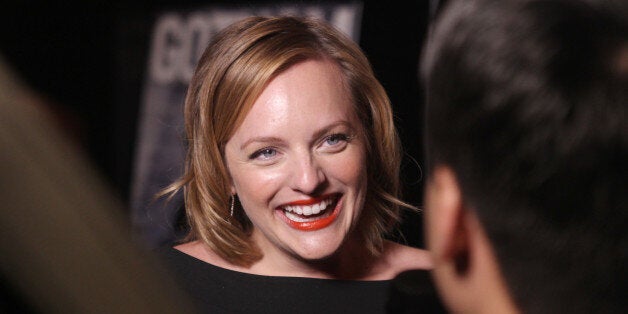 "Every great ad tells a story. Here to tell that story is Peggy Olson."
That's how Don Draper introduced Peggy Olson to the Burger Chef team on July 21, 1969, one day after the moon landing and the death of Burt Cooper. The ensuing pitch -- plainspoken nostalgia masked as a plea for the way things used to be -- was one of the most affecting in the history of "Mad Men," a monologue on par with any creator Matthew Weiner has written during the show's seven-season run.
"You get handed a speech like that as an actor and you just want to get down on your knees and kiss the writers' feet," Elisabeth Moss, who plays Peggy, told HuffPost Entertainment by phone from Los Angeles. "It's such a gift for an actor."
For Moss, the Burger Chef pitch was a culmination for Peggy, a character who has spent the better part of six seasons banging her head against a brick wall of gender inequality and sexism.
"In a way, there's an argument for that being a great end for Peggy," Moss said. "I love the idea of making this beautiful, poetic, emotional speech about burgers. To me, that was advertising. That was what they did in that world. They took something -- like baked beans, lipstick, burgers or cigarettes -- that is either frowned upon or totally normal, and turned it into something beautiful. That speech is exactly what 'Mad Men' does best."
The Burger Chef scene, of course, wasn't the actual end for Peggy. AMC split the final season of "Mad Men" into two parts, and the concluding seven episodes will air in the spring of 2015. That puts Moss in an odd position: She's finished with the show that made her a star, but it's not quite done with her. There will be press obligations and discussions galore about "Mad Men" into next spring. Not that Moss is waiting around for the final curtain to fall on the series: Between now and 2016, she will appear in six films, including this month's "Listen Up Philip," a Tribeca Film release that premiered at the Sundance Film Festival in January and screens at the New York Film Festival on Oct. 9 and 10.
"Last year was kind of about the making of two relationship films, 'The One I Love' and 'Listen Up Philip,' which I didn't plan," Moss said of her burgeoning resume. "This year, I made three films that definitely have weird and strange elements to them. They're all dark and a bit on the edgier side. But there's no plan. I don't really have any rhyme or reason [to what I pick], I just try to find things that I think are interesting and have good scripts."
It's the script that drew Moss to "Listen Up Philip." Written by indie wunderkind Alex Ross Perry, the film is actually a tryptic. It starts on the title character, played by Jason Schwartzman, an acerbic malcontent and author. The narrative then moves to Philip's girlfriend, Ashley (Moss), during the middle portion, before switching focus a third time to Ike Zimmerman (Jonathan Pryce), a curmudgeonly recluse who becomes Philip's de facto mentor.
"I kind of loved it from the first scene," Moss said of the script, which she called a gem. "I loved the idea of centering a film around a misanthropic character who is speaking his mind and being really realistic. I felt like I hadn't seen that kind of film in a while. It was witty, smart and full of great writing. I'm a firm believer that you have nothing without a good script. It doesn't matter how good the director is or how great the actors are, if you don't have a great script, it won't work. If you have a great script, you can make something quite good even if the other elements aren't that good."
A majority of Moss' work has happened on television -- before "Mad Men," she appeared on "The West Wing" and "Invasion," among other series; recently, Moss starred in "Top of the Lake" -- but the 32-year-old actress has begun to make inroads into a film career. Thus far, Moss has seemed to gravitate more toward indie projects like "Listen Up Philip" and this summer's "The One I Love." Asked if that was by design, she demurred.
"I kind of have no discrimination. It takes me a second to figure out if it's a studio film or an indie. I have to go back and look at the email I was sent," Moss said with a laugh. "I'm not one to make a commentary on the state of film these days. But I feel like there's definitely a sense that besides your filmmakers like Paul Thomas Anderson, Wes Anderson, the Coen brothers and Woody Allen -- people who are so solidified that they make their movies and those are their movies -- I think you have big movies and little movies. There's not a lot in between these days, and a lot of the really great scripts tend to be smaller movies."
But even those lines are blurred, as Moss knows first hand. Her next film, "Truth," about Dan Rather's final days at CBS, was written and directed by James Vanderbilt, who wrote the scripts for blockbuster films like "The Amazing Spider-Man" and "White House Down." Robert Redford and Cate Blanchett are the stars. "I think it's not that big of a budget," Moss said of the film, "but it kind of doesn't matter anymore."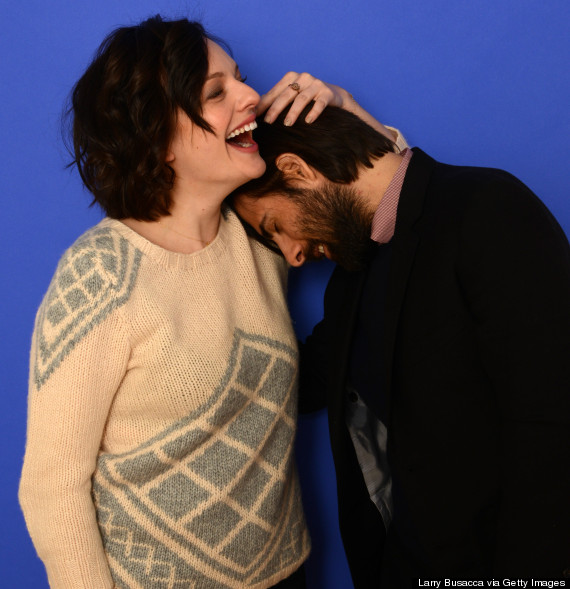 Elisabeth Moss and Jason Schwartzman at the Sundance Film Festival in January.
What does matter to Moss is collaborating with young filmmakers. That's part of the reason she made another movie with Perry, called "Queen of Earth," soon after "Listen Up Philip."
"I feel like I'm with one of those '60s and '70s filmmakers at the start of their career. I want to get in on the ground floor with this one," Moss said of Perry. "This is the only time I made a second film with a filmmaker, and it's amazing. I see why people do it and go back and make movies with the same people over and over. There's a shorthand that's developed. An inside world. You know each others' weaknesses and strengths. Alex has strengths I don't have, and I have strengths he doesn't have. We're able to balance each other out. He doesn't know a lot about acting -- he's learning and he's learned a lot now -- but he knows a hell of a lot more about filmmaking than I do."
"I would love to do a big, large, huge-budget sci-fi thing," Moss said. "Those are few and far between. They don't make a whole lot of them. I think a film like 'Gravity' was great because it took that genre out of the box. We can make a cool, interesting movie that is also sci-fi and big budget. I was happy to see that."
"Listen Up Philip" is out in limited release on Oct. 17 before a nationwide expansion on Oct. 23. The film is also available via on-demand services and iTunes beginning on Oct. 21.
Calling all HuffPost superfans!
Sign up for membership to become a founding member and help shape HuffPost's next chapter
BEFORE YOU GO
PHOTO GALLERY
'Mad Men' Season 6 and 7