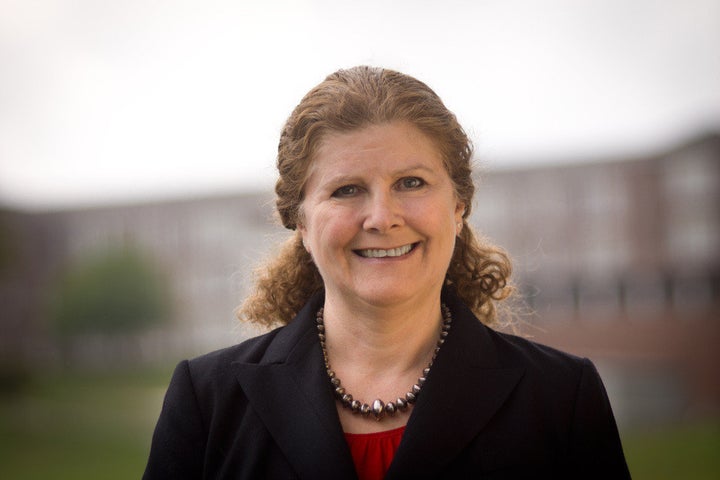 Elisabeth Motsinger, a physician's assistant and Democratic candidate for the U.S. House of Representatives from North Carolina, filed as a candidate for U.S. Congress on Feb. 14, 2012. "I chose to file on Valentine's Day," Motsinger said, "because I love North Carolina and I love this country. As we face our current economic and political challenges, we should return to the values that made this nation great."
In anticipation of the November 6 congressional elections, HuffPost Women caught up with her about who she is, why she's running and how to get involved with her campaign.
What's your favorite quality in another person?
Kindness, then smarts.

What three words best describe you?
Thoughtful, compassionate and determined. And funny. That's four.


What's your biggest flaw?
I have trouble believing the worst of others.

What failure are you most grateful for?
It's not a failure, but I learned so much from getting pregnant and having my son as a single mom when I was 20. I grew up really quickly and learned how to survive in difficult circumstances.
If you weren't you, who would you be?
I have done most of what I wanted to do so I don't have an answer to this question.

If you could live anywhere, where would that be?
After January 3, 2013 in Washington, DC.
What woman do you most look up to?
The Nuns on the Bus! And Hillary Clinton.

What's the best advice you've ever been given?
To focus on my aspirations rather than worry about what I don't want to happen. This advice helps me to remember who I really want to be so I am not distracted by my fears.

What is your favorite book?
I have a lot of favorite books, mostly non-fiction and poetry.
What is your favorite album?
Right now I'm partial to Leonard Cohen. Actually, as a teenager I was very found of Leonard Cohen!

Where did you have the best meal of your life?
I've had great meals that have ranged from oatmeal on a snowy morning to great seafood at the waterfront, but I like to think I have yet to experience the best meal of my life. When I do it will be with people I love.

What is your favorite thing you've ever worn and why?
Pajamas! It means the day is over and I made it to bed!

What talent do you wish you had?
A beautiful singing voice.

What quality or accomplishment do you want people to know you for?
I am very caring and very determined.

What makes you feel the most free?
Laughter.

Why are you running?
Because I love our shared home here in North Carolina, here in the United States and here on this beautiful green earth. And I think we need people in Congress who believe we can solve our problems and move forward. Together.
What is the most important issue for women in this election?
I believe all issues are women's issues as we strive for full equality. My top priorities are public education, access to quality healthcare, preserving Social Security, protecting a woman's right to access contraceptives, and protecting the earth.


How can readers get involved in your campaign?
Our website has information about a variety of ways to get involved. www.nc5th.us
CORRECTION: An earlier version of this story indicated that Elisabeth Motsinger was a former physician's assistant. She in fact continues to practice as a PA.
Calling all HuffPost superfans!
Sign up for membership to become a founding member and help shape HuffPost's next chapter