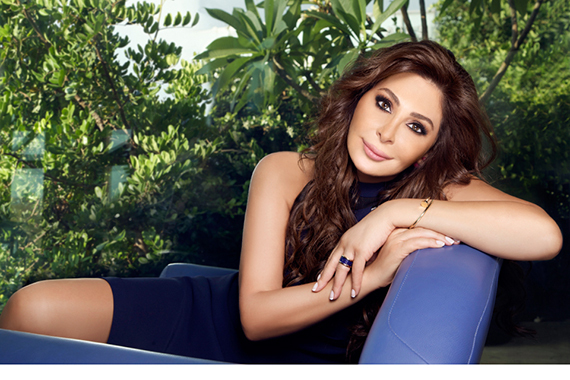 From my March series: "Inspiring People Around the World."
It is hard to imagine light in the Middle East as the darkness of war continues to envelope the land. On any given day, international news portraying the region is almost exclusively negative, with stories on conflict, poverty and terrorism often accompanied by explicit video and photo footage.
Greed, extremism and corruption appear to run a rampant area that, not so long ago, was renowned for its incredible architecture, literature, cuisine and music. Will the Middle East ever recover from these adverse associations?
A quote by the great Charlie Chaplin came to mind. "You'll never find a rainbow if you're looking down." So for just a moment, I decided to look up and find that rainbow. I envisaged an arch of sound over the Middle East, combining beauty of form and balance -- harmonizing positive energy.
Thinking about a "rainbow of music" inspired me to write about my favorite Lebanese musician and singer, the remarkable Elissar Zakaria Khoury.
Famously known as "Elissa", her distinctive love ballads combine classical Arabic music with elements of the West. They make for a joyous collaboration between two cultures, far removed from present day conflicts and uprisings.
Appealing to the masses, Elissa -- "Queen of Romance" -- has sold over 30 million albums, and received countless accolades in both her own country and globally. She was the first Lebanese artist to receive the World Music Award for Best Selling Middle Eastern Artist, and went on to win the award two more times.
Born in the small town of Deir El Ahmar, 100 km from Beirut, to a Lebanese father (the poet Zakaria Khoury) and a Syrian mother (Youmna Suud), Elissa and her siblings were raised amid the spectacular scenery of the Bekaa Valley.
She graduated from The Lebanese University, the only public institution for higher learning in Lebanon. Although she had a degree in Political Science, Elissa's first love was not politics: it was the stage.
To successfully combine her passion of politics and theater, Elissa joined forces with the renowned Chansonnière Wassim Tabbara and Le Théâtre de Dix-Heures, a Lebanese Theatrical Group. From her very first performance, she was hooked, overwhelmed by the audiences' warmth and energy. Acting opened ways to experiment with different modes of expression, and Elissa, as the saying goes, "found her voice."
Singing became the motivational drive that changed her life. From humble beginnings, the talented and driven Elissa became one of the biggest Arabic pop stars of the new millennium.
Her recording career officially began in 1999 with the release of her debut album, Baddy Doub, which led to a well-deserved spot in the 2000 International Music Festival of Cannes. That same year her second album, W'akherta Ma'ak, was a major hit. On it, Elissa recorded the single "Bitghib Betrouh" with acclaimed Lebanese singer, composer and television personality Ragheb Alama which garnered critical acclaim. Their collaboration continued to The MBC X-Factor, where the two stars are sharing the judging panel.
Her fame spread rapidly, and invitations began pouring in for the girl from Deir El Ahmar. Elissa was the only Arabic artist to perform in front of former President Bill Clinton at the Stars Charity Show in Dubai. She also had the honor of formally opening Kuwait's Virgin Megastore with Sir Richard Branson, and performed with Sting at the foot of the Great Pyramids of Giza. To Elissa, the most important thing about these career milestones was that they brought "eastern and western culture together through music."
Her dream continued when, in 2002, Elissa took the music scene by storm by being the first Arab artist to work with world-famous Irish singer Chris De Burgh. Their smash hit duet, "Lebanese Night", is featured on his album Timing Is Everything. I couldn't help but reflect on the irony of the title.
Elissa continued to break barriers with her third album, A'ayshalak. The video clip of the album's hit single and namesake was filmed in Paris and directed by acclaimed French director Fabrice Begotti. Elissa was officially dressed and made up by Christian Dior Paris, marking the first time Dior collaborated with an Arabic artist.
In September 2003, Elissa represented the Middle East at the Hope Charity gala in London's Royal Albert Hall. She performed alongside British pop sensation Sarah Brighten, acclaimed Spanish Flamenco dancer and choreographer Joaquín Cortés, and Italian rock royalty Adelmo Fornaciari, commonly known as Zucchero.
By 2012, Elissa was voted one of the 100 Most Powerful Arab Business Women and the 500 Most Influential Arabs in the Arabian Business Magazine. When we met, Elissa reflected, "My experience has made me appreciate more than ever the success of Arab women -- as I know what they have gone through." Now the face and founder of what has grown to be an empire encompassing albums, a perfume line, TV appearances and an online store, Elissa is no stranger to the adversity facing women in business all over the world.
Through her our journey, Elissa has encouraged young Arabs to always dream and dream Big despite the destructive forces that surround them. As she reflects, "I've learned never to give up on dreams, no matter how bumpy the road becomes. Perseverance and faith ultimately decide the fate of your dreams." Elissa is not only a dreamer, but strives to encourage the dreams of others around her. My first book, Confessions of a War Child, would never have been finished without her unrivaled enthusiasm and support. Never one to do things half-measure, "Big Big Big Like" is her glowing back-cover testimonial.
Elissa's voice is no less strong on social media, with 5.63M Twitter followers and 15,499,951 likes on Facebook. According to Top100Arabs.com, her 'Influence' is ranked #1 in Lebanon and #2 in the Middle East.
It is important to Elissa that she use her fame for good. She regularly tweets on political matters and atrocities in the Middle East, campaigning against extremism and raising awareness at a time when ISIS/ISIL is recruiting members from our communities.
Her relentless positivity reminds her fans and followers of an Arab world not defined by war, but one of excitement, collaboration, hope, and beauty.
In 2011, International men's magazine Esquire named Elissa a, "Woman We Love," and I would have to agree. An inspiration, she represents the 'unveiled' diversity of the Middle East. Elissa, more than a beacon of light, an inspirational icon in the Lebanese, Middle East and Global music scene, has found her rainbow.
I hope that international news start sharing these success and inspiring stories from the Middle East because positivity fosters positivity amid a time when violence has taken over that region.
Popular in the Community