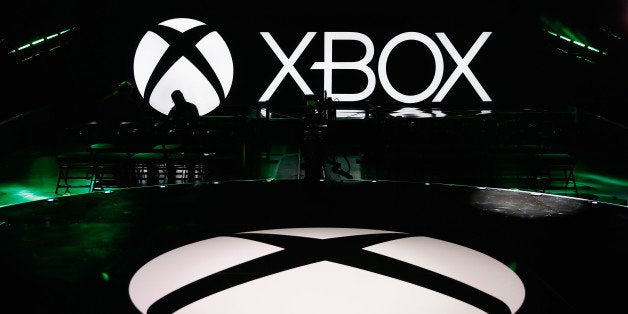 Microsoft doesn't seem to realize that its new Xbox One gamepad, designed for hardcore gamers, could also help people with disabilities.
Announced Monday during a presentation at the E3 gaming conference, the Elite controller boasts new features that will allow gamers to swap where their buttons are, what kind of thumbsticks or d-pads are being used and how sensitive the controls are. It also introduces four new "bumper pad" buttons that can be given a variety of functions depending on what the user wants or needs.
The default functions on many standard controllers can make certain games off-limits for people with disabilities who have trouble pressing specific buttons or combinations of buttons. Being able to completely redefine controls is key for these people.
In some ways, the Elite controller is the Xbox's hardware equivalent to certain accessibility features that Sony baked into its PlayStation platform and released in March. PlayStation lets gamers change font sizes, invert colors for better visibility and completely re-configure the buttons for any game, among other tweaks.
Xbox has yet to integrate such features with its system software. The Elite controller, which will be released in October for $150, is the only official option Xbox offers for players who want (or need) to tweak the control setups for every game.
Steven Spohn, the chief operations officer at AbleGamers, a nonprofit dedicated to opening up video games to people with disabilities, told The Huffington Post Monday that the Elite controller is a step in the right direction. Offering "modular" controls can definitely help people enjoy games, he said. But there's a lot of work to be done still.
He pointed out the Elite designers probably weren't thinking about gamers with disabilities when they created the controller. The fact that it ended up being accessible to these people, he says, is a coincidence. Sophisticated gamers were more likely the target here, according to Spohn.
"It's an interesting advancement," Spohn said. "But unfortunately, it looks like this is going to be accessible by accident. This is really designed for people who consider themselves higher-end gamers."
"It's great to see them [Micorosft] work with accessibility, but they still have not come out with an answer to PlayStation," he continued. "The amount of things you can do on PlayStation now for accessibility -- changing colors, options for hearing impaired -- everything is not 100 percent on PlayStation, but it is leaps and bounds beyond what Xbox is offering."
(Even Sony's hardware isn't perfect, however. While PlayStation 4's accessibility features let people tweak games, the system doesn't allow the use of custom-made, non-Sony controllers that might make things even better for those with disabilities.)
If Microsoft actually does intend for the Elite to help people with disabilities, the announcement Monday didn't hint at that purpose. A trailer for the controller showed footage centering on precision turning in driving games and more accurate sniping in shooters -- features any Xbox Live devotee would likely be thrilled with.
The company doesn't appear to be marketing the Elite controller as a tool for individuals with disabilities, either.
Microsoft did not respond to a request for more details about the Elite controller.
Spohn said it's a problem that the Xbox One still doesn't offer dedicated accessibility options for gamers, and this issue makes the console a tough sell for some. It's not like people haven't been asking Microsoft for these features: For some time now, gamers have taken to an Xbox Feedback message board to post requests for accessibility options.
Even though the Elite controller is limited in terms of how it might help gamers with disabilities, it's still a small step forward.
"We're looking forward to getting some of these into the laboratory to try out," Spohn told HuffPost.