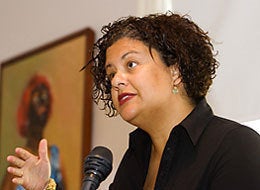 Barack Obama has chosen Elizabeth Alexander to read a poem at his inauguration. A well-regarded poet and professor at Yale, Alexander is also a friend of the Obama family. She will be just the fourth "inaugural" poet, joining Robert Frost, who read "The Gift Outright" at Kennedy's inauguration, Maya Angelou, who read "On the Pulse of Morning" at Bill Clinton's first inauguration, and Miller Williams who read "Of History and Hope" at Clinton's second.
There will, no doubt, be some talk about Obama passing on more prominent poets to select a friend, but in many ways, the choice makes sense. Alexander is something of a reflection of Obama: she is of his generation; she has written on many of his themes; and it's clear from her poetry that she, too, is an intellectual. The Times Book Review described her work as "intellectual magic." As far as I know, she has not written a poem on arugula.
Alexander will reportedly take on the daunting task of composing a poem for the occasion. To get an idea of how difficult it can be for a poet to write a public, occasional poem, you need only look at how British laureates--obligated to write such poems for the royal family--tend to flounder at the task despite being great poets in their own right. If you're brave (or just sadistic), take a look at the poem current laureate Andrew Motion wrote for Prince William's 21st birthday.
Alexander already has her doubters. George Packer, who is against the idea of a poem being written for and read at the inauguration at all--except, conceivably, by Nobel Prize winner Derek Walcott--wrote in the New Yorker:
Obama's Inauguration needs no heightening. It'll be its own history, its own poetry.
Playing up the nepotism angle, Packer goes on to compare Alexander's qualifications with Carolyn Kennedy's qualifications for Senate. He fails to mention that her last book came within a breath of winning the Pulitzer Prize.
Despite the pressure, Alexander told NPR that while she feels challenged, she does not feel scared.
"In that moment, really I am the vessel for the poem," she says. "It's not about the poet at that moment, it's about the poem. So the pressure -- the challenge -- is to write a poem that can serve ... all of those expectant, gathered millions and to let the poem be what calms my nerves when I am up there. To let myself remember that I am there to deliver these words and these words have been commissioned to deliver a very, very amazing moment."
Packer may be right that the audience on the mall will be thinking of Dr. King's "I Have a Dream" speech, and that any poet not named Wolcott, in comparison, will fall flat. Or maybe the (true) story will get out that Alexander's parents brought her--when she was just one year old--down to the mall to hear Dr. King deliver his speech. Maybe the audience will recognize that Alexander and Obama both must owe some part of their own flourishing--as many of us do--to that great moment of cultural poetry, such that even if the poem doesn't match the power of great political oratory, the symbolism will. Regardless, I look forward to her giving it a whirl.
Graywolf Press, which publishes Alexander's work, will print a chapbook featuring the poem. And you can read Alexander's poems (or listen to her read them) on her website here.