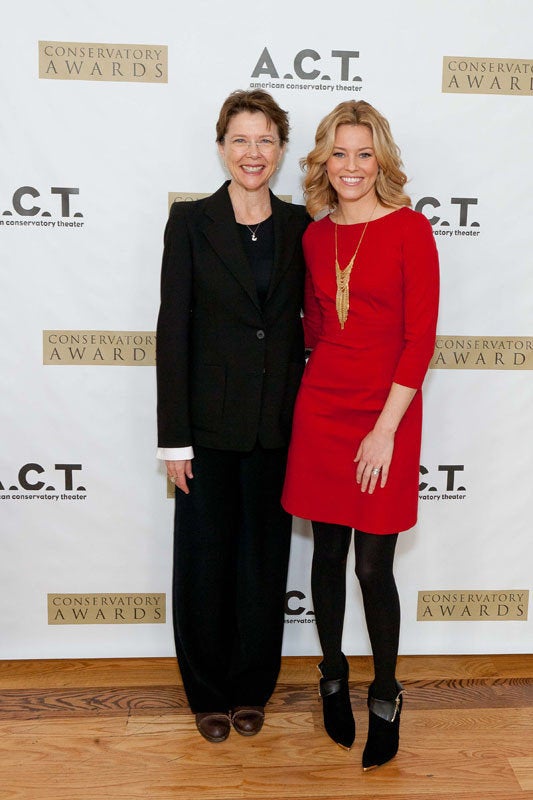 On Tuesday, San Francisco's American Conservatory Theater honored alumni Oscar-nominated Annette Bening and Emmy-nominated Elizabeth Banks at its inaugural Conservatory Awards Luncheon.
Bening, a long-time A.C.T. actor and supporter, appeared on the San Francisco main stage from 1984 to 1986, and later taught at the Conservatory. "My years as a student and actress at A.C.T. gave me rigorous training and the chance to spread my wings working as a member of a top-notch repertory company," said Benning in a press release. "It was an intellectual, spiritual, psychological hotbed of theater passion, and I will always be grateful. For me, A.C.T. will always be home."
Banks, a more recent graduate of A.C.T., studied under the current director Melissa Smith. "She is a smart cookie," said Smith about Banks. "It's no surprise to me that she is building a career for herself as a producer as well as becoming a bona fide star."
A.C.T. honored Bening with a lifetime achievement award and Banks with the Conservatory's Rising Star Award.
At the ceremony, the Conservatory also honored Geoff Elliott and Julia Rodriguez-Elliott, founders of the 20-year-old A Noise Within theater company; A.C.T. supporters Frannie and the late Mort Fleishhacker; and the Willaim Randolph Hearst Foundation.