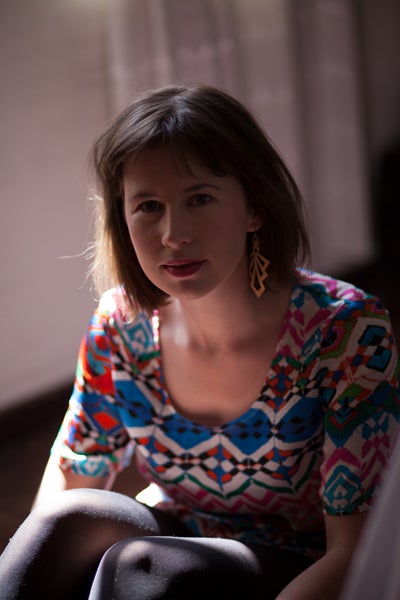 In this week's installment of the translation interview series for National Translation Month I spoke with Elizabeth Bryer, a translator and writer from Australia. She is the recipient of a 2017 PEN/Heim grant to translate Aleksandra Lun's The Palimpsests, and her translation of Claudia Salazar Jiménez's Americas Prize–winning debut, Blood of the Dawn, is out with Deep Vellum. She is translations editor of The Lifted Brow's book imprint and flagship print quarterly, and is also currently working on bringing Enrique Verástegui's body of work into English.
Loren Kleinman (LK): Talk about discovering Claudia Salazar Jiménez's novel Blood of the Dawn.
Elizabeth Bryer (EB): My partner and I visit family in Arequipa, Peru, almost every year. In 2013, he travelled there alone, and one day noticed a poster for a talk Claudia had done the week before. He mentioned it to me, because he thought the description of her novel sounded like something I'd want to read. I looked up her novel and, joy of joys, even though it was published by a tiny (wonderful) independent publisher, Animal de Invierno, it was available for order online. You know how sometimes waiting for a book to land in your letterbox builds up all this expectation, so that when you start reading, it's not really what you'd hoped? Well, this was the opposite—that tingling feeling of all expectations being surpassed.
LK: How do you capture point of view when translating prose, specifically in Claudia Salazar Jiménez's powerful novel about the Shining Path militant insurgency in Peru?
EB: The three central characters are very different and the point of view changes: it might be first, third or even second person, depending on the character. Some of the voice-related issues I had to work through included how to represent, in English, voices painted with Maoist ideology, echoes of Catholic catechism, Quechua-inflected Spanish (in sentence structure as much as vocabulary), and elitist and racist language.
There's one technique related to voice that I've mentioned to every translator I know because it was so simple yet effective. I could have saved myself a lot of time and effort if I'd thought of it sooner! I translated the first 8,000 words as a sample long before I sat down to translate the rest of the book. By the time I had a draft of the whole translation, I knew the voices intimately. As much as I reworked the first 8,000 words, I wasn't happy with them. Then, the brainwave: re-translate the beginning from scratch. It worked! And the interesting thing was, when I compared the versions, the individual changes were small—it was a case of the overall effect being greater than the sum of its parts.
LK: How is Claudia Salazar Jiménez's novel in line with your interests in writing that captures memory, identity and cultural imaginings?
EB: Because of the huge amount of time, effort and creativity that goes into a translation project, I'm interested in bringing into English works that are, in my opinion, really special, and are a challenge to translate. It's my reading practice that they align with, more than my writing per se. Claudia's work attracted me on several levels: formally, it's doing something experimental; and it's got this political force behind it, in that she's reinserting women's experience into the story of Peru's internal conflict and she's writing those women not primarily as victims, but as drivers of history.
LK: You are also the translations editor of the The Lifted Brow book imprint. How has the experience been thus far? What translations can we expect?
EB: Ah, yes! I've been an avid reader of The Lifted Brow's flagship publication since its early days, so I'm really excited to have joined the team.
Our first translated title will be out in early 2018. It's a short-story collection called Apple and Knife by Indonesian writer Intan Paramaditha, translated by Stephen Epstein. It's a wonderful book and a fantastic translation, an exploration of gender, sexuality, culture and politics, inflected with horror and irony and set in a contemporary, globally connected Indonesia.
As for the translated fiction in our print mag, so far we've published or are soon to publish Peruvian writer Carlos Yushimito, Tunisian writer Houyem Ferchichi translated by Ali Znaidi, Croatian writer Jasna Zmak translated by Jana Perkovic, and Chinese writer Wei Tianyi translated by Michelle Deeter.
LK: You're also a fiction writer. Discuss the novel you are currently working on? How do your own imaginings impact your translation?
EB: I'm a little bit superstitious about these things, so would rather not say too much while I'm still drafting the work. But I will say that my own imaginings, more than impact my translations, share sympathies with the work I translate, and are expanded by the empathy involved in the translation process—the trying to inhabit the imaginary world created by the author, and the creative leaps necessary when recreating this world through the translation. It's a huge and humbling privilege, to be trusted to recreate an author's work.
Right now I'm working on translating a very different novel—Aleksandra Lun's The Palimpsests, an erudite, madcap, astonishingly inventive book that has echoes of Witold Gombrowicz's Ferdydurke. I was lucky enough to be awarded a PEN/Heim grant for the project earlier this year, though we are still searching for a publisher.
LK: Where do you see translation heading in the next five years?
EB: Am I imagining it, or are more translations being published, and finding more readers, in English? This can only be a good thing! Let's hope it continues.
Related
Popular in the Community