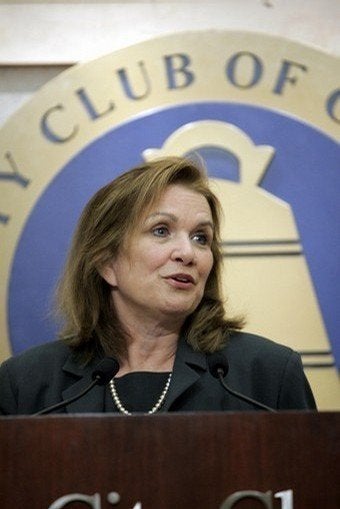 UPDATE 5/4: Time magazine has released an exclusive excerpt from Elizabeth Edwards' memoir. Included is a discussion between her and John Edwards over dropping out of the presidential race.
And the next day John and I spoke. He wasn't coy, but it turned out he wasn't forthright either. A single night and since then remorse, was what he said. There were other opportunities, he admitted, but on only one night had he violated his vows to me. So much has happened that it is sometimes hard for me to gather my feelings from that moment. I felt that the ground underneath me had been pulled away. I wanted him to drop out of the race, protect our family from this woman, from his act. It would only raise questions, he said, he had just gotten in the race; the most pointed questions would come if he dropped out days after he had gotten in the race. And I knew that was right, but I was afraid of her. And now he knows I was right to be afraid, that once he had made this dreadful mistake, he should not have run. But just then he was doing, I believe, what I was trying to do: hold on to our lives despite this awful error in judgment.
Edwards writes that she did not learn her husband had lied about the extent of his affair until more than a year later.
UPDATE 4/30: In her new memoir, "Resilience," Elizabeth Edwards says her husband should not have run for president.
"He should not have run," she writes, according to the New York Daily News, who received an advance copy. The paper adds that Edwards does not once use the name of John Edwards' mistress, Rielle Hunter. But she describes the aspiring videographer as "pathetic."
When she learned of her husband's infidelity, "I cried and screamed, I went to the bathroom and threw up," Edwards writes.
Elizabeth Edwards is releasing a short memoir titled "Resilience," Fox News reports, in which she will address her husband's affair with a campaign videographer.
Edwards insiders are wondering if "Resilience" will be a tell-all, tell-some, tell-none, or an exercise in denial. The Broadway Books catalog says Edwards has written "an unsentimental and ultimately inspirational meditation on the gifts we can find among life's biggest challenges."

...

The usually private Elizabeth Edwards, I am told, is definitely including her take on the relationship in her new book. Her publicist says she will be addressing John's "affair and how she experienced it."
John Edwards admitted to the affair in August 2008, months after ending his presidential campaign. His mistress, Rielle Hunter, made a series of short videos of the former Senator for his pre-announcement leadership PAC, the One America Committee. Edwards met Hunter at a bar in New York. She had little experience in film before taking the job, and the video footage was taken offline when Edwards announced his candidacy.
When the affair came to light, Elizabeth Edwards wrote on the blog Daily Kos that her husband "made a terrible mistake."
Popular in the Community