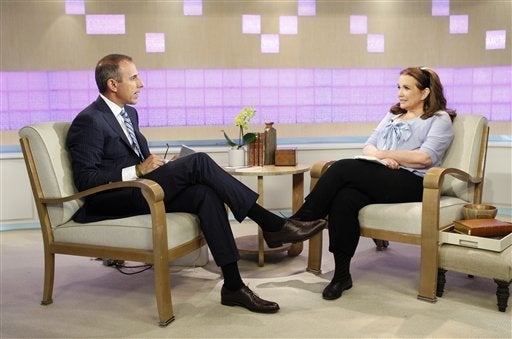 Elizabeth Edwards doesn't regret the years she spent with John Edwards, the man that cheated on her and fathered a child with his mistress, she told NBC's Matt Lauer in an interview set to air on the "Today Show" Wednesday. She also wants to reenter the public sphere as a political figure and move past being seen as "just a cuckolded wife," she said.
"You know, did I waste my time in these years? Have I thrown this part of my life away, in a sense? And I decided that I didn't. That maybe I didn't get the same things out of it I expected to, or that I thought I was at the time. But when I look back, there's really lots of blessings that I've had," Edwards said when asked to reflect on her 32 year marriage. "I've had the opportunity, you know, to have these great children. I've had wonderful friends. I've had experiences that, you know, really couldn't be replaced. And opportunities to talk about things that mattered to me."
Edwards also said that while she admires "an enormous number of things" about her estranged husband, she regarded him as "no longer the person who I married."
"I think I did marry a marvelous man," Edwards said. "I think that -- that he changed over time. And-- and it could not be more clear to me then. You know, I think it was sort of hard for me to see it or admit it for a very long time. But he changed. Maybe we all change over time."
Edwards told Lauer that she fears being defined by the media that has been consumed by the narrative of scorned wife -- Elizabeth Edwards vs. Rielle Hunter, the notorious mistress who Edwards described Tuesday as "so completely unlike me."
"I still really feel I need to break free of the media imposed image. I'm not just a cuckolded wife," Edwards said. "You know, I think about it because so many stories have been in the news recently. But I think about Sandra Bullock-- who I don't know at all-- what an incredible year she's had. She won the Academy Award for an incredible performance, and more than that, she took that story and integrated that into her own life in this healthy happy way. And yet, the stories you hear are not about all those great successes, but about the failure of her marriage. And I thought that's not who she is, and in a sense I know she, I don't know her, but I assume she wants to reclaim who she is in the same way I want to reclaim who I am. I hope the next time I am on television it's to talk about some policy I really care about."
The interview aired on NBC News' The "Today" Show Wednesday. It was her first television interview since the couple's separation earlier this year.
REAL LIFE. REAL NEWS. REAL VOICES.
Help us tell more of the stories that matter from voices that too often remain unheard.