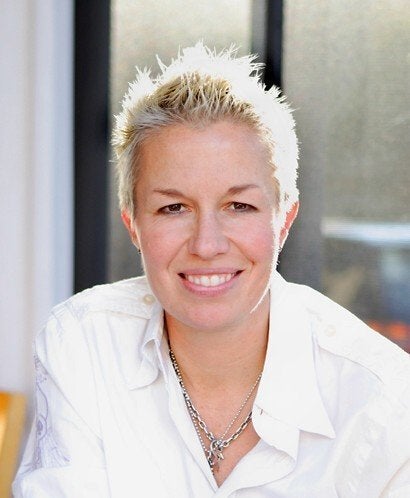 Who: Elizabeth Falkner: San Francisco celebrity chef, Citizen Cake and Orson founder and "The Next Iron Chef" runner-up.
Current Gig: Falkner became "The Next Iron Chef" runner-up on Sunday night, focusing the spotlight squarely on San Francisco. But with the sudden closure of both of her restaurants -- Citizen Cake and Orson -- the local dining scene is wondering what's next for our culinary star.
Elizabeth, on Sunday, you competed in the finale of "The Next Iron Chef," with Geoffrey Zakarian taking the prize. What's it like competing on a show like that? It's totally fun, but it's insane at the same time. It's a completely different environment than working in a restaurant. In the kitchen, if one of your chefs is going down in flames, you're not going to let them just burn up in the corner -- you're going to help them get it together. But obviously in a competition, you're not going to do that. It's against your nature as a chef. But I do enjoy competition very much. You have to come up with things quickly, and it forces you to think on your feet.
What's the hardest part about competing? You can't listen to other competitors when they have their own dramas. Like Alex [Guarnaschelli] is the type of personality where she's talking to herself the whole time. Some of the chefs do a lot of cursing and yelling, and [Michael] Chiarello would start telling these stories in the middle of a competition and your like "what the hell are you talking about?" You have to drown all those things out.
Back in San Francisco, what are some of your favorite spots in town? Oh my gosh, well it's impossible to go to Ferry Building and not go to Hog Island, Cowgirl Creamery and Boccalone. Pretty much all you need in San Francisco is in the Ferry Building, and I love Slanted Door and Traci Des Jardins' Mijita. Traci has been one of my greatest mentors. SPQR on Fillmore is one of my favorite restaurants, as is Tony's Pizza [Tony's Pizza Napoletana]. But I also love discovering new places in San Francisco. I just tried the new Brunch Drunk Love at Bruno's and it was fantastic. And I had to go down to 24th and Folsom for a show we were working on and went to Knead Patisserie -- oh my god. Some of the best pastries I've ever had.
At your restaurant Citizen Cake, you've created some pretty wild cakes. Have you made anything especially unique lately? I just made a really cool cake for this goth wedding at Orson on October 30. The bride and groom were so cool; they just let me surprise them and do what I wanted. They kept talking about gothic architecture and getting inspiration from cathedrals and spires. So in the end, it was this completely abstract, architectural dark chocolate cake with arches, flying buttresses and a chocolate anhk. The groom just smiled and said, "This is exactly what I thought you would make."
I'm not real big on the cakes that look like skateboards or cars -- I'm not into realism. I like abstract, which is more artistic for me, and I'm not into the fondant, "Ace of Cakes" thing. Though I did just get commissioned to make Mohammed Ali's birthday cake in February and I hear he wants a pink Rolls Royce.
Earlier this month, you announced that Citizen Cake and Orson will both be closing. What led to this decision? It's unfortunate, but we just couldn't do it anymore. We were going to have to move Citizen Cake for the third time, and that's hard. The rent became too expensive for the space but it's also so expensive to move a restaurant. Orson was behind schedule and over-budget and of course the landlord wants back-rent, and I just couldn't hustle all of that. You know, closing a restaurant isn't the biggest deal, but it was pretty weird for that to happen with all of this media stuff going on at the same time. I wish we could have just gotten through the show first but everyone needs cash so badly right now. San Francisco is hard on a chef.
What do you mean by that? San Francisco has always been a beautiful place to be a chef, but this city is starting to push its restaurants out. Between the unbelievably high rent, Healthy San Francisco and now the highest minimum wage in the country, there's just no margin. We have a Board of Supervisors right now that keeps putting these initiatives on the ballot and of course people vote for them -- who doesn't want to raise the minimum wage? But when it's all said and done it can be just too hard on restaurants. That's why you keep seeing a new restaurant boom in cities like Oakland. You are seeing that here anymore.
What's next for you? Honestly I'm kind of excited about what's next. I never look at the glass half empty. Right now, I need a second of a time out. I've been doing a lot and I'm exhausted and this is going to be a very busy year. I have a new book coming out this fall, and I just started writing another about Citizen Cake. I have a lot of love for what we've done there and I'm so glad to be able to encapsulate that into a book. I'm planning on putting a lot of energy into that. And later this year, I have another restaurant project. So I'm excited about taking some time to relax over the next few weeks.
Tell me about this upcoming restaurant project. I can't talk about it yet, but it will be big. You'll just have to wait and see.
Check out Elizabeth Falkner on the finale of "The Next Iron Chef" in the video below:
Related
Popular in the Community