Elizabeth Peyton is 43 years old and she is already having a major museum retrospective at the chic newly built New Museum on the lower east side of Manhattan.
They are a very good fit for each other.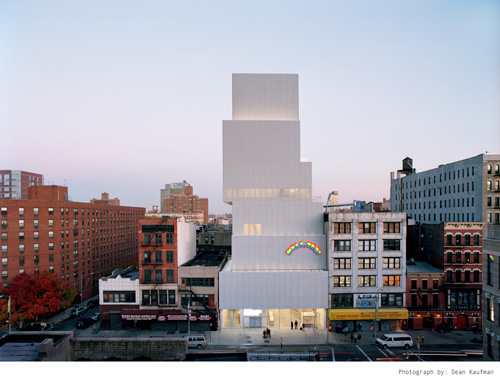 This was my first visit to the museum that was designed by the Japanese firm Sanaa and is nicely tucked into its spot in a neighborhood that it is helping to transform. Clad in custom expanded metal (not unlike the way Herzog and deMeuron clad in more expensive material), the building reminds me of the Lego towers my kids used to build: boxes stacked on their edges, gradually cantilevering so that they might almost fall down, but they don't. It's technically ingenious, but pretty.
Peyton has been a star almost since she was discovered in the nineties. I knew I would like her work from the glimpse I got of it in an early New York Times review and I hurried to dealer Gavin Brown's small, first gallery show and then to a show at Regen Projects in LA. These were the rock star watercolors and paintings she became known for and I have the original checklist in my file.... Everything priced at around 1200 dollars.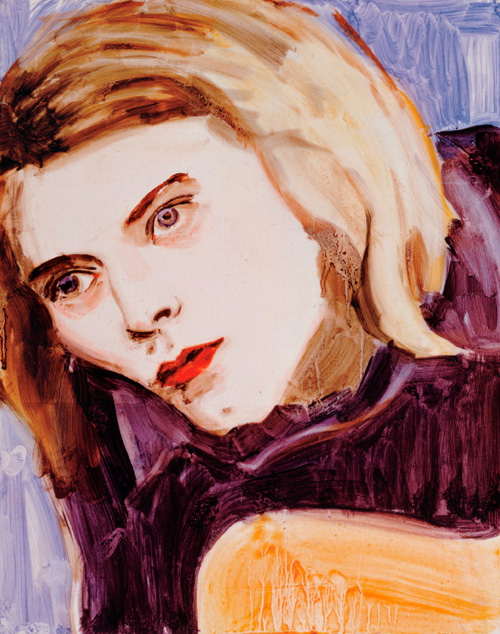 Duh. Here is a case of kicking myself, for Peyton's work is amongst the most sought after in the contemporary art world. At Art Basel Miami three years ago, I priced a watercolor of Marie Antoinette at upwards of three hundred thousand dollars. Her work is owned by many major museums.
Nevermind. Peyton's work, over a hundred pieces, is now on view, still in its uniformly small scale, still very, very pretty.
In the aggregate, one sees why some complain (other jealous artists among them). Peyton paints basically the same person over and over again whether it's a self portrait or a historic figure or a friend of hers. The aquiline features, fey, aristo, emerge from Hockney-like images that she freely echoes. Besides Hockney, I saw lots of Picasso blue period in the work.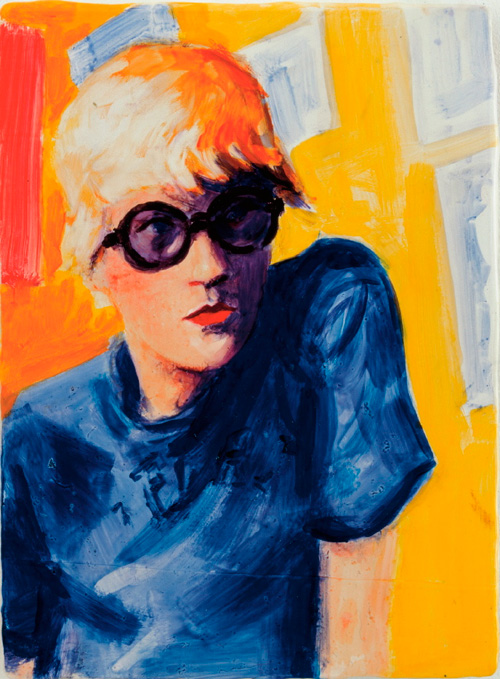 The subjects are often talented celebs themselves, but of a certain world, Peyton's world (music, fashion, art) in a way, even if she doesn't know them. In a comprehensive feature in last week's New Yorker, Calvin Tompkins writes that after two relationships with male artists, she is now living with a woman.
That androgyny, and a certain unemotional quality, also fashionable, is what makes the show seem of the moment.
Peyton is not afraid to say she doesn't mind celebrity and the access it brings, but she reminds that her subjects aren't just like Michael Jackson, whom she suggests is famous for nothing. Hmmm. She sees her pictures as a moral stand for personal freedom, which is huge and... vastly political... because the idea of being free and being able to do what you want... and realize what you are can be compromised...."
I'm not sure I see this vast political underpinning to the work, though it is true she captures a certain segment of the cultural world and artists are traditionally "free". But she has been a portraitist (with John Currin and Lisa Yuskavage) before it was fashionable to do so -- she has spawned a lot of imitators and she is very true to her own original vision of the world.
My favorites are the drawings and the historical pieces that are finely wrought and evoke the romance and drama of previous centuries. Napoleon, Delacroix, Marie Antoinette, King Ludwig. Juxtaposed with the highly colored rock stars and fashionistas, they are notable for the virtuosity and the way they make their subjects look utterly contemporary, as if they could be hanging with Kurt and Keith. (The Frida Kahlo and the Georgia O'Keeffe, clearly invoked as muses, are more in the style of their subjects, are anomalies)
A perfect afternoon is to take in the show at the New Museum and then go have a glass of wine nearby at Balthazaar where you can catch a lot of the same, beautiful people and feel a little bit Peyton-ian yourself.
REAL LIFE. REAL NEWS. REAL VOICES.
Help us tell more of the stories that matter from voices that too often remain unheard.