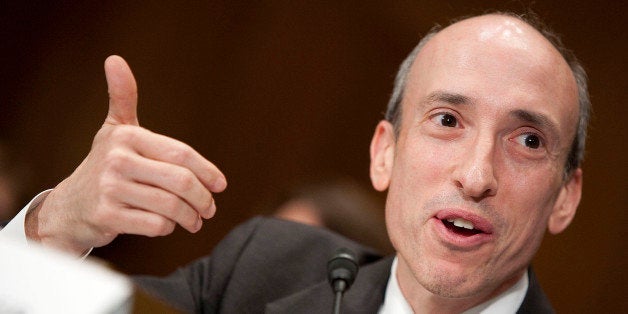 The White House is considering Elizabeth Ritter, a longtime lawyer at the Commodity Futures Trading Commission, to replace Gary Gensler as the chief U.S. derivatives regulator, government employees familiar with the matter said.
Officials are conducting an investigation into Ritter's background. Though she is under consideration for the chairman's spot, the Obama administration also may be contemplating nominating her for one of the five commissioner spots at the CFTC, these people cautioned. There's no guarantee she ultimately will be nominated for a position.
Ritter serves as chief of staff and senior legal counsel to Bart Chilton, a Democratic commissioner at the CFTC whose five-year term expired earlier this year and has yet to be renominated. Known for entertaining speeches that combine pop culture references with vigorous advocacy on behalf of ordinary investors, Chilton is popular with Republicans and Democrats on Capitol Hill as well as so-called end users of derivatives, or nonfinancial companies that use derivatives to hedge risks like fluctuations in interest rates or currencies.
"I make a habit of not commenting upon issues that relate to presidential personnel and I won't do so now," Chilton said. "If I were asked about Elizabeth Ritter, however, she has been a dedicated public servant for her entire career. Nobody in the world knows U.S. derivatives law like she does. It's been an honor and privilege to work with her for the past seven years."
Ritter declined to comment. A CFTC spokesman declined to comment. A White House representative did not respond to a request for comment, though in the past the White House has declined to comment on personnel matters.
If nominated to lead the CFTC, it would officially mark the end of Gensler's combative five-year term atop an agency that has clashed with other regulators in the U.S. and overseas and the world's largest banks as it sought to transform a previously opaque, barely regulated and little-understood segment of financial markets that fueled the 2007-09 financial crisis, but recently has provided tens of billions of dollars in annual revenues to leading financial institutions.
Derivatives are financial instruments whose value is derived from other items and are used to hedge risks or speculate. Derivatives known as credit default swaps nearly toppled AIG, the large U.S. insurer, before $182 billion in taxpayer guarantees rescued it from failure.
The near-collapse of AIG and regulators' realization during the crisis that the fortunes of much of Wall Street was tied together through derivatives contracts prompted the Obama administration and lawmakers to increase transparency, curb risk and expand competition in the sector.
Perhaps no regulator more forcefully took on that assignment than Gensler, earning him the enmity of much of Wall Street as he at times appeared to single-handedly implement reforms that promise to reduce earnings of banks such as JPMorgan Chase and Goldman Sachs. Gensler transformed a once-sleepy agency to one whose rules are shaking up a marketplace unaccustomed to government supervision as market participants are forced to comply with mandates that help buyers compare prices and compel banks to stump up more cash to back their trades.
Along the way, he has fought with the Treasury Department, regulators from the European Union, United Kingdom and Japan and dozens of U.S. lawmakers over his efforts to impose stringent rules on a lucrative market dominated by a select group of financial institutions.
Gensler's term expired in April 2012. Unless he's renominated and confirmed for the post -- some officials have said the White House has extended an offer, but Gensler has declined -- he has to be out by the end of the year. He has told allies he'd like to remain in government, but it's unclear whether Obama will nominate him for another post.
While Gensler has clashed with much of Capitol Hill, whether because he's been too tough on Wall Street or not tough enough when it comes to speculation on key commodities such as oil, if nominated for a CFTC position Ritter likely would sail through Senate confirmation proceedings.
Government employees described Ritter as having excellent relationships in the Senate, particularly with the Senate Agriculture Committee, where she temporarily worked as senior counsel during the drafting of the 2010 overhaul of U.S. financial regulation known as the Dodd-Frank Wall Street Reform and Consumer Protection Act.
Ritter has worked at the CFTC since 1988, according to online biographies, where she has served as counsel to several different commissioners from both political parties as well as a former agency chairman. She's received numerous awards for superior performance at the CFTC, according to one of the biographies, where Ritter also once worked as an assistant general counsel and deputy general counsel for legislative and intergovernmental affairs.
Ritter has taught derivatives law at four law schools in Washington over the years as an adjunct professor.
Government employees familiar with the White House's vetting of Ritter said that the administration could nominate Ritter to be a commissioner at the agency, which traditionally has been split between Democrats and Republicans with the party in the White House holding the slight majority.
With Scott O'Malia serving as one Republican commissioner and J. Christopher Giancarlo awaiting confirmation to take over the other Republican slot, previously held by Jill Sommers, who recently left the agency, Chilton, Gensler and Mark Wetjen hold the three Democratic seats.
If Ritter is nominated as a commissioner, it's unclear whether she'd replace Chilton, her current boss, or perhaps Wetjen, who at one point was favored to replace Gensler atop the agency and still could be nominated as the next chairman.
Calling all HuffPost superfans!
Sign up for membership to become a founding member and help shape HuffPost's next chapter
BEFORE YOU GO
PHOTO GALLERY
U.S. State Capitol Buildings