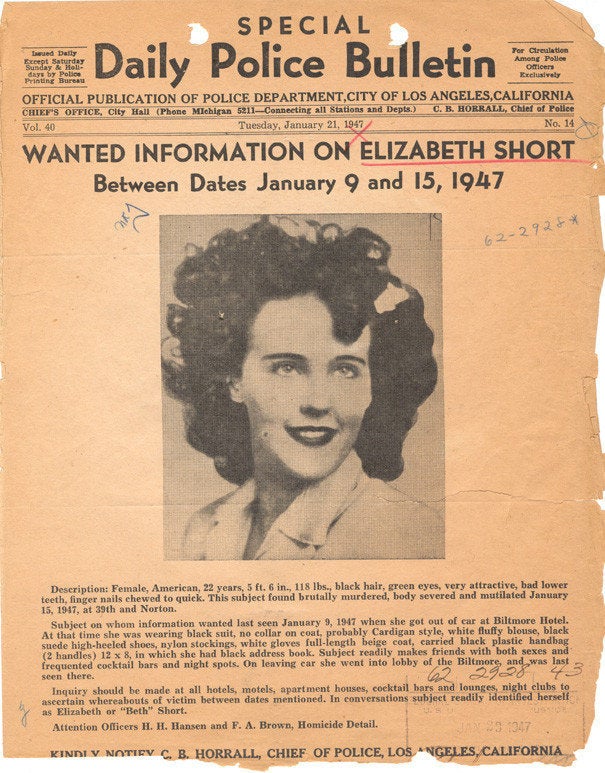 In remembrance of the case that continues to stump our city, the FBI has re-blogged pages, pictures and clippings of the murder of Elizabeth Short, better known as the "Black Dahlia."
Monday marks the 65th anniversary of the day that the 22-year-old Hollywood starlet went missing in Downtown LA. She was last seen in the lobby of the Biltmore Hotel and found dead six days later by a woman who was walking with her child, seven miles east of the hotel. Her body was sliced in two at the waist, and investigators noticed that there wasn't "a drop of blood" at the scene, which meant that Short must have been killed at another location.
Of note in the FBI's document dump (which they first blogged about in 2006) is all the sniping FBI agents did about media interference into the investigation, as well as the memo to FBI agents to check out a group of medical students at USC because of the surgery-quality cut that split Short in two.
The FBI also released a copy of a "special bulletin" disseminated by the LAPD a week after her body was found mutilated. In it, they described Short as "very attractive" with black hair and green eyes, but the police didn't mince words about her less desirable features. She's also got "bad lower teeth" and "fingernails chewed to quick."
The bulletin also notes that the last time she was seen, she was wearing a snazzy black suit, a white fluffy blouse, suede high heels, white gloves and a beige coat. She also "readily makes friends with both sexes and frequented cocktail bars and night spots."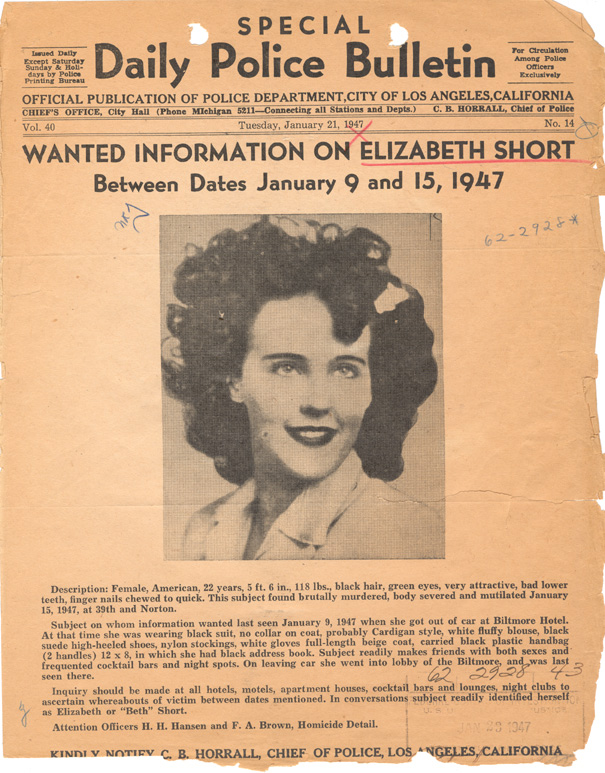 Last Christmas, LAPD Detective Stewart "Stu" Jones, the only remaining detective to have worked the "Black Dahlia" case, turned 100. The party was a mix of family memories and whispers of past cases, and Jones' grandniece Linda Hart told the OC Register that, based on the precision of the cut that severed Short's body in two, her great uncle believed a butcher, surgeon or other medical professional was the culprit.
As the number of people who can speak directly about the case grows smaller and smaller, the mystery of her murder is left to Angelenos with a taste for the tragic -- amateur sleuths who have read the hundreds of pages of FBI files for clues that investigators may have missed.
Those who want a primer course on the case can take Esotouric's "Real Black Dahlia" guided tour to learn more about the most famous victim in Los Angeles crime lore.
Popular in the Community