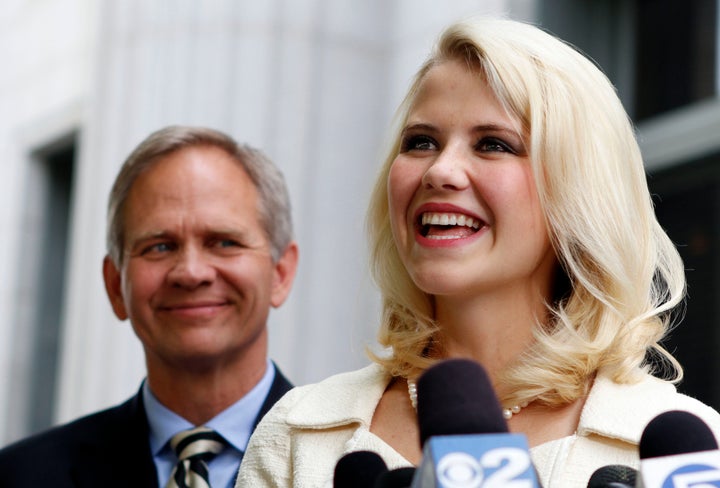 By Jeremiah Stettler
Salt Lake Tribune
(RNS) For 18 months, she wasn't a famous kidnapping survivor, nor the star witness in a headline-grabbing trial, nor the face of nonprofit group designed to help young abuse victims.

She was simply Sister Smart.

Elizabeth Smart, now 23, talked about her Mormon mission -- an overseas adventure that took her to Paris soon after she testified at a competency hearing for her abductor, and was interrupted so she could testify at his trial.

Brian David Mitchell, the mentally troubled street preacher who kidnapped 14-year-old Smart from her bedroom and held her for nine months, was sentenced Wednesday (May 25) to life in prison.

Some answers have been edited for length and clarity.
How was your mission? Therapeutic? Tough?

My mission was wonderful -- a truly unique experience. Every missionary has their highs and lows. There are those days when you ask yourself, "What did I sign up for?" But always after that, there is an incredible experience that follows that made every down day, every down minute, worth it.
Did your missionary companions know about your background?

Yes. My companions took me on and we just worked together. The more we worked together, the better they got to know me. It was great.
Did you find that you had a particular strength because of your background that allowed you to reach out to the French people in a way that other missionaries could not?

Every missionary brings to the table something different. And so my experience probably helped someone just as much as the next missionary's experiences helped someone else.
Did you find many people -- church members or people on the street -- who recognized you?

The French treated me just the same as any other American. That wasn't any different. There were some American members that recognized me, but they also recognized that I was a missionary and just let me be a missionary.
Did being recognized make you feel uncomfortable?

It was fine. It wasn't an often occurrence.
Did it help or hinder your work?

I think every missionary brings something different to the table. So, yes, in some instances I do think it helped.
How difficult was it for you to leave your mission to attend the court proceedings and then return?

A mission is an incredible experience. I feel so lucky to have been able to serve where I did, under the president I served under, with the people I served with. Every day, I was going out and sharing with people what is most important to me. Being able to do that and being able to watch them grow and progress and see how their lives changed, that made everything worth it.
Can you talk about that interruption, when you had to leave the spiritual high of your mission to return to this unfortunate reality?

It certainly was different. But like I said, when you are out sharing what is most important to you and seeing others learn and grow and embrace what you care about and love, any other doubts or questions or feelings that you might have go away. It makes everything worth it. It was a blessing. It was a huge blessing in my life.
In the mission field, did you have any extra security or special mission accommodations made for you?

I got sent right back out. That was it.
Do you feel your experiences gave you any extra spiritual strength or spiritual insights on your mission?
I believe that my parents taught me from before I can remember the principles and the teachings of the Gospel. Every step in life has continued to build and grow upon that. Any experience in life, whether it is good or bad, easy or hard, can be turned to help build one's faith. Every step of my life has helped build my faith more.
So you see your faith as stronger today than it was before your abduction?

You are always moving forward or backward. I always hope mine is moving forward. So I'm going to go with it stronger.
Is there anything else that you think people, who are thinking about faith, should know about your mission or the experiences you have gone through?

The Gospel has the answer to any, and every, problem in life. I'm not saying it is a replacement for medication or professional help, but I do think that by having this faith in your life that it gives us purpose for living. It gives us direction. We can overcome anything with it.

Jeremiah Stettler writes for The Salt Lake Tribune.
REAL LIFE. REAL NEWS. REAL VOICES.
Help us tell more of the stories that matter from voices that too often remain unheard.