Sen. Elizabeth Warren (D-Mass.) signaled her support for impeaching President Donald Trump if evidence emerges confirming the worst accusations against him.
In an interview with Jezebel published on Thursday, Warren emphasized that she is awaiting the results of a thorough inquiry into Trump's conduct.
"We absolutely need to get a hold of [former FBI director] Comey's notes, any other written papers, any tapes that may have been made, and we need to get witnesses in here under oath," she told Jezebel. "Let's do our fact gathering so we've got all of the facts on the table in front of us and then evaluate whether or not those facts lead to a charge of impeachment."
But in the event that there is proof Trump pressured the FBI to drop its investigation into the Russia ties of former national security adviser Michael Flynn, or discussed classified information with top Russian officials, as has been reported, Warren would support impeaching the president wholeheartedly.
"Absolutely. You know, how could we not?" Warren said.
"Let's be clear: In the past, there has been strong bipartisan agreement that obstruction of justice is an impeachable offense," she added. "That's not a Democratic position or a Republican conviction, it is a bipartisan position. And if the facts that are currently alleged are proven, then we should take the next step."
Warren, one of the country's leading progressive lawmakers, has good company in Congress. Counting Warren, 26 members of Congress have now mentioned the prospect of impeaching Trump, according to a CNN tally. In the Senate, Warren joins Sen. Richard Blumenthal (D-Conn.) and Maine Sen. Angus King, an independent who caucuses with Democrats.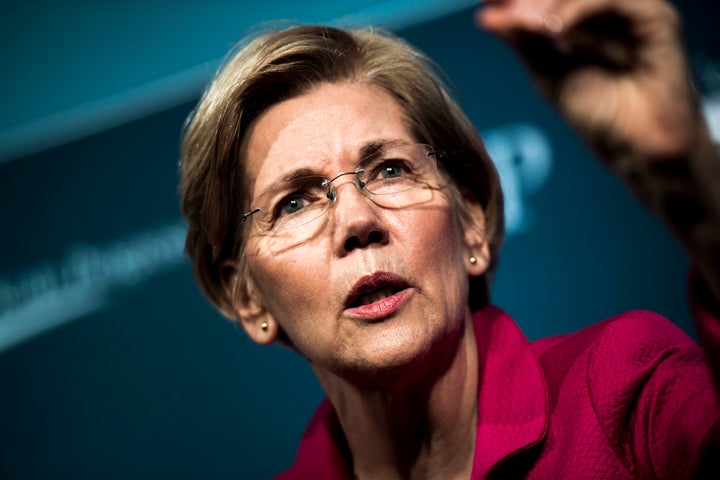 Although some Democrats, like Rep. Maxine Waters (D-Calif.), have long backed impeachment, discussion of the process accelerated after Trump fired FBI director James Comey last week. The decision to dismiss Comey just days after he testified before Congress about the FBI's investigation into the Russia ties of Trump campaign associates led to allegations that Trump tried to silence the inquiry.
The White House's shifting justifications for Comey's firing, and a steady stream of revelations about Trump's private comments to Comey in the subsequent days, have effectively plunged Trump's presidency into a crisis. Comey wrote in a private memo that Trump asked him in February to stop investigating Flynn and to consider pursuing journalists who publish classified information, according to a report in the New York Times.
Still, many Democratic lawmakers are reluctant to get on the impeachment bandwagon too soon. 
"I'm not there," Rep. Elijah Cummings (D-Md.) told reporters Wednesday. "I just want to get the information."
The Constitution grants Congress broad discretion to impeach the president for "high crimes and misdemeanors."
But it is not possible for Democrats to initiate impeachment proceedings without the backing of Republicans who control the House of Representatives. Then, even if a majority of the House votes to impeach the president, a two-thirds majority in the Senate is needed to remove him from office.
Calling all HuffPost superfans!
Sign up for membership to become a founding member and help shape HuffPost's next chapter
BEFORE YOU GO
PHOTO GALLERY
2017 Scenes From Congress & Capitol Hill