WASHINGTON ― Sen. Elizabeth Warren (D-Mass.) had some tough questions about workplace safety for President Donald Trump's labor secretary nominee on Wednesday.
But Alexander Acosta didn't give her the answers she was hoping for.
Warren wanted to know if Acosta planned to enforce what's known as the silica rule, a major safety reform put in place by the Obama administration. The rule reduces the amount of cancer-causing silica dust that employers can legally expose their workers to. Safety experts expect it will save construction workers' lungs and ultimately their lives.
As The Huffington Post has previously explained, the silica rule has reams of medical evidence supporting it, and it's been literally decades in the making as a matter of public health. But the Trump administration has launched a full-scale assault on the regulatory state, and it's ordered all agencies to reevaluate federal rules for potential cutting, even those that are already in effect, like the silica one.
"Will you promise not to weaken the silica rule?" Warren asked Acosta.
Acosta responded by saying Trump had ordered agencies to reexamine rules like that.
"I just want to make sure you're not going to delay this rule any further," Warren said.
"The president has directed each cabinet officer to review all rules," Acosta said again. "I cannot make a commitment because the Labor Department has an order to review all rules."
"Your name goes on the bottom line for enforcing the law," Warren said. "Will you stand up? ... You can't give us your own sense of whether or not the silica rule is something that ought to be enforced?"
Acosta wouldn't commit to enforcing it.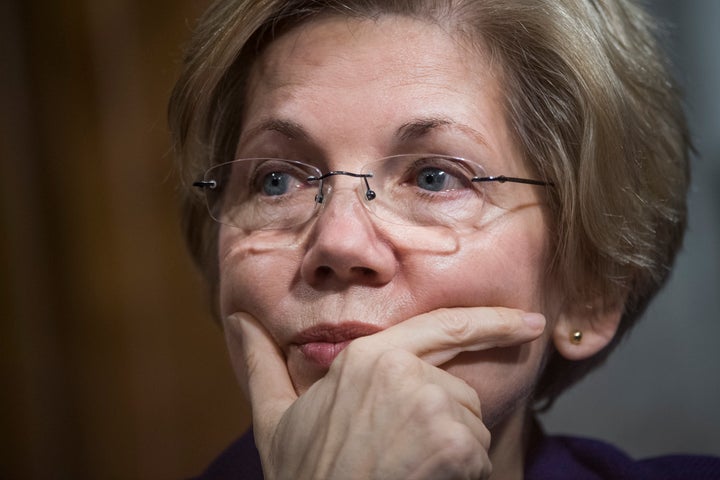 The exchange was about much more than just the silica rule. Warren wanted to see where Acosta stood on Trump's huge regulatory rollback, and whether he might show flashes of independence from the White House. The cabinet Trump has assembled looks to be the most business-friendly in memory, and Democrats are concerned about how lax enforcement will be when it comes to environmental, labor and other regulations.
Acosta noted in his opening remarks that he was concerned about safety. "Americans having good jobs ― safe jobs ― should not be a partisan issue," he said. (When Trump talks about "good jobs," the president does not invoke worker health and safety.) In a separate exchange, Acosta said, "I think that worker safety is incredibly important."
But that was not enough to placate Warren. When it came back to her for a second round of questions, she criticized Acosta again for refusing to say where he stands on the silica rule.
"You're hiding behind an executive order," she said. "I'm not asking you how you will respond to Trump's executive order. I'm asking you what your priorities will be if you're confirmed as secretary of labor. You'll be called on for your judgement. So far, you said you can't commit to enforcing a rule to protect 2.3 million Americans from lethal cancer-causing silica."
As she gave up her time, Warren said, "I don't have the confidence you're the right person for the job."
Popular in the Community