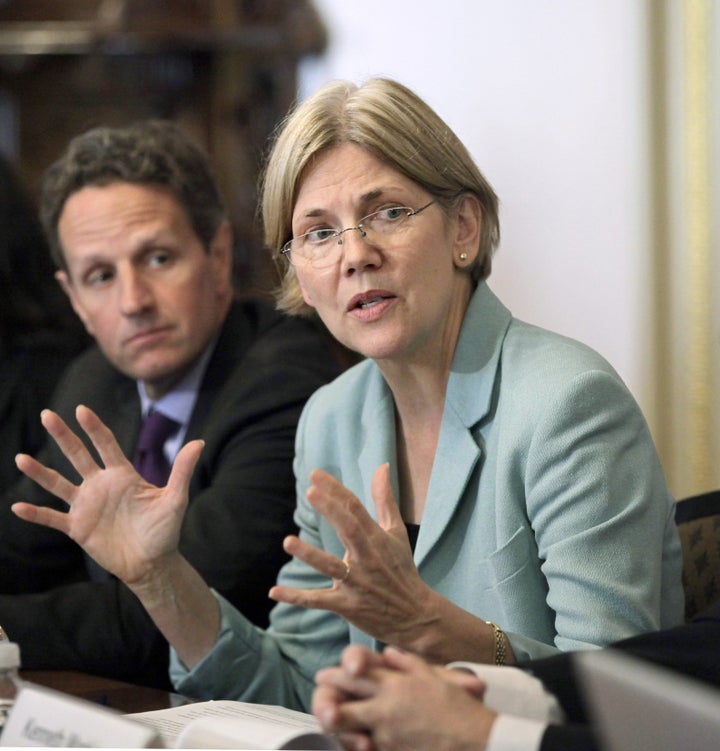 Elizabeth Warren was the first senior Obama administration official to recognize the potentially incendiary impact of a bill that would have made it significantly easier for mortgage companies to foreclose on homes, and her subsequent warnings played a crucial role in persuading the President to veto the measure, according to freshly released documents and people familiar with the deliberations.
The disclosure that Warren was instrumental in halting a bill that would have streamlined the foreclosure process comes as she confronts fierce criticism from Republicans on Capitol Hill for the way she was appointed to construct a new consumer financial protection bureau, and characterizations that she is inclined to take an overly punitive tack with Wall Street.
A long-time advocate for greater regulation of the financial system and a prominent critic of predatory lending, Warren now finds herself at the center of an intensifying debate over the relationship between the Obama administration and the business world.
For consumer advocates, who have long decried what they portray as Wall Street's outsized influence in Washington, Warren represents their greatest hope that big banks will be more tightly supervised following the worst financial crisis since the Great Depression. For a vocal group of business leaders and their Republican allies, Warren has become Exhibit A in their case that the Obama administration is anti-business.
The decisive way in which she labored behind the scenes to stymie a bill that would have eased requirements for documentation in the foreclosure process underscores how her arrival has altered the administration's relationship with major banks.
The bill, which passed both houses of Congress and awaited President Obama's signature to become law, essentially would have compelled notaries to accept out-of-state notarizations, regardless of the rules in those states.
State officials across the country--who have been pursuing probes looking into wrongdoing within the foreclosure process-- feared that those jurisdictions with lax standards could have become hotbeds for foreclosure documentation fraud. Lenders and mortgage companies could have used those states as central clearing houses to produce bogus foreclosure paperwork, and then export those documents to other states with more stringent regulations--an expedient bypass around the strictures.
Obama ultimately declined to sign the law, and the House of Representatives failed to override the veto.
Officials said Warren was among the first federal officials to recognize the significance of the notary bill, titled the Interstate Recognition of Notarizations Act of 2010. She met with authorities from several states and then relayed their concerns to influential administration officials.
During the morning of Oct. 6, Warren's team at the Treasury Department wrote the first memos on the bill, raising questions about the possible consequences if it became law, these people said.
That evening, Warren met for 30 minutes with Peter Rouse, Obama's interim chief of staff, her calendar shows. She later spent an hour on the phone with Illinois Attorney General Lisa Madigan, who once sued Countrywide Financial and exacted an $8.4 billion multi-state settlement.
The next day, Warren participated in an afternoon meeting on the bill, her calendar shows. During that meeting one of Obama's top spokesmen, Dan Pfeiffer, posted an entry on the White House Blog explaining why Obama would not sign the bill.
On Oct. 8, Obama declined to sign the bill into law, citing the need for "further deliberations about the possible unintended impact" of the bill on "consumer protections, including those for mortgages."
Documents released Wednesday show that Warren met or spoke with at least eight state officials leading a 50-state investigation into possibly-fraudulent mortgage documentation practices.
The state attorneys general, secretaries of state and bank supervisors are probing the way in which major mortgage companies have pushed through thousands of foreclosure cases at a time, as if on a factory assembly line, by short-cutting the required documentation process.
Recent weeks have featured a host of unsavory disclosures about how mortgage companies employed so-called robo-signers-- people whose sole job was to sign foreclosure documents without reading them or confirming basic facts, as required by law. The volume of cases and shoddy handling of paperwork is reflective of the messy and indiscriminate lending practices that characterized the nation's housing boom, as Wall Street eagerly handed mortgages to seemingly anyone willing to sign off.
The states' investigation and a parallel multi-agency federal probe are now roiling the mortgage industry, heightening the possibility that major lenders could face potentially huge fresh losses as bad loans continue to emerge. With legal and regulatory uncertainty now enshrouding the industry and public outrage trained on foreclosures, the banks could have trouble limiting those losses by selling off the homes pledged against bad mortgages.
The nation's biggest lender, Bank of America, has seen its share price drop 18 percent through yesterday's market close since the day before the states announced their joint inquiry.
Warren serves as an assistant to Obama and a special adviser to Treasury Secretary Timothy Geithner as she leads the effort to create the new Bureau of Consumer Financial Protection, a watchdog designed to protect borrowers from abusive lenders. Her calendar from Sept. 20 to Nov. 2 was released per a Freedom of Information Act request.
The longtime Harvard Law School professor and consumer advocate met or spoke with the state attorneys general from Iowa, Illinois, Texas, North Carolina, Massachusetts and Ohio, her calendar shows. She also met with Ohio Secretary of State Jennifer Brunner, and spoke with New York's top banking regulator, Richard H. Neiman. They are among the leaders of the combined state probe.
Warren has long chided federal regulators for their lax oversight of the financial industry and slipshod protection of consumers. She's championed state regulators, however, who have often been ahead of their federal counterparts when it comes to consumer finance issues.
Warren's calendar also shows numerous meetings with bankers and their representatives. Financial executives and lobbyists have noted that Warren was reaching out to them more than they initially expected. The calendar confirms her outreach.
On Sept. 20, the same day she took a photo for her Treasury Department badge, Warren spent an hour and a half meeting with bankers from Oklahoma, her calendar shows. She spent an hour having lunch with Geithner that day as well.
Since then she's met with the chief executives of the nation's largest banks, including Vikram Pandit of Citigroup; Jamie Dimon of JPMorgan Chase; John Stumpf of Wells Fargo; James Gorman of Morgan Stanley; Richard Davis of U.S. Bancorp; W. Edmund Clark of TD Bank Financial Group; David Nelms of Discover Financial Services; Niall Booker of HSBC North America Holdings; and Kenneth Chenault of American Express.
The calendar entry for Chenault's one-hour meeting on Oct. 13 notes that "He's flying here for us."
Warren also met with officials from Goldman Sachs and Deutsche Bank, Germany's biggest lender and one of the world's biggest financial institutions.
Notably absent from Warren's calendar are officials from Bank of America, the biggest bank in the U.S. by assets and branches, including its chief executive, Brian Moynihan.
Warren's calendar includes meetings with investors and trade groups, like the Consumer Bankers Association, the Independent Community Bankers of America, the Financial Services Roundtable and the Securities Industry and Financial Markets Association.
Though Warren is known for her vigorous advocacy on behalf of consumers, she's spent more time with bankers and their lobbyists than with consumer groups and advocates during her roughly two months on the job.
Warren's 2007 journal article calling for the creation of a dedicated consumer agency inspired policymakers to enact it into law. Big banks opposed it.
Warren has also met with nearly two dozen members of Congress from both sides of the aisle, including the likely incoming chair of the House Financial Services Committee, Rep. Spencer Bachus, and the top Republican on the Senate Banking Committee, Richard Shelby. The Alabama Republicans have been particularly critical of Warren and her new agency.
Warren's calendar features numerous White House meetings, like a two-hour dinner on Sept. 23 with top Obama adviser David Axelrod and breakfasts and lunches with another top Obama counselor, Valerie Jarrett. She's also met with the heads of all the major federal financial regulatory agencies, including Federal Reserve Chairman Ben Bernanke.
Among Warren's early initiatives are efforts to make credit card disclosure forms shorter and easier to read, and simplifying mortgage documents. Her first major speech since joining the administration was a Sept. 29 address to the Financial Services Roundtable, a Washington trade group representing firms like JPMorgan Chase, BlackRock and State Farm. She asked the assembled executives to work with her to create a new system of consumer regulation focused on core principles rather than a mountain of specific rules.
*************************
Popular in the Community