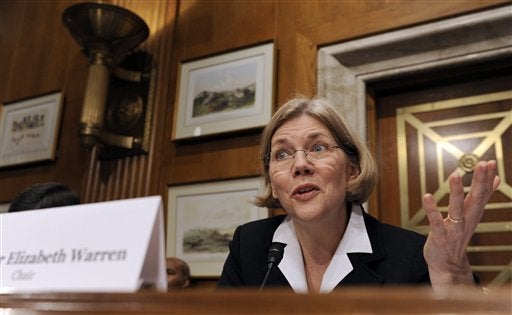 WASHINGTON -- In a hearing marked by openly hostile questioning from House Republicans, consumer advocate Elizabeth Warren made her highly anticipated first appearance before Congress as a member of the Obama administration, emphasizing the need for stronger oversight of big banks and small mortgage firms.
Warren, who is currently tasked with setting up the new Bureau of Consumer Financial Protection, was subjected to two and a half hours of inquiry before a Financial Services subcommittee regarding her role at the emerging agency and the scope of its powers. In her testimony, she focused on the need for easily-understood consumer lending terms and stronger enforcement of predatory lending regulations.
"I don't care how big you are, I don't care who you your friends are, everybody follows the law," Warren said, adding later, "What this agency is about is making the prices clear, making the risks clear, making it easy to compare one product to another. The point is to get an informed consumer, because I believe that American families are good at making decisions when they have good information upfront."
Congressional Republicans attempted to portray Warren as the "unaccountable" head of a bureaucracy immune from oversight from Congress or federal agencies. Republicans are waging a two-front war on the CFPB, hoping to cut its funding and weigh down its rulemaking procedures by replacing its single director with a five-member board of directors.
House Financial Services Committee Chairman Spencer Bachus (R-Ala.) has introduced a bill to establish such a board, which has garnered 11 Republican cosponsors, and last week told an audience of international bankers that such a commission was the most feasible way to limit further regulation given Democratic control of the Senate.
Bachus stated early in Wednesday's hearing that the CFPB has "no oversight" and "no accountability," a charge echoed by Reps. Scott Garrett (R-N.J.), Sean Duffy (R-Wis.) and others.
"When we don't have any oversight of what you're doing, I view that as incredibly problematic," said Duffy, a former star of MTV's "The Real World" who has occupied since January the seat long held by Democrat Dave Obey.
Warren was clearly anticipating the claims, which Republicans have been making to the press since President Barack Obama signed the Dodd-Frank financial reform bill into law last summer. She presented lawmakers with 34 pages of written testimony covering everything from the agency's plans for mortgages and credit cards to its budget needs, hiring procedures and organizational chart. Several Democrats on the committee were noticeably irked by the questioning.
"I do think that Dodd-Frank, in allowing the CFPB to be overruled by the safety and soundness regulators, does put a ... fail-safe in there," Rep. Stephen Lynch (D-Mass.) said, referring to the bureau's housing within the Federal Reserve, the nation's central bank charged with preserving the stability of the financial system.
Rep. Al Green (D-Texas) ticked off a list of statutory oversight requirements the CFPB is subject to: the Government Accountability Office must perform an annual audit of the new agency's operations; it must submit quarterly reports to the Office of Management and Budget; and the director must appear before Congress at least twice a year. Perhaps more importantly, the Financial Services Oversight Committee can overrule any new regulation issued by the CFPB if the committee deems that the rule poses a threat to bank stability.
Warren's supporters say the main objections to the agency aren't grounded in any serious good-governing principles. Instead, they say, politicians are simply trying to preserve big banks' bottom lines.
"There's been no meaningful oversight of the big financial institutions for more than a generation, and even though the result was financial collapse, there's real resistance to reform," a source close to Warren told HuffPost. "She represents unwanted accountability and balance in the system, and the industry has virtually unlimited resources and lots of allies."
Other Republicans zeroed in on Warren's role in an ongoing settlement with big banks and other mortgage servicers over widespread allegations of improper foreclosure practices. Warren noted that her agency currently has no legal authority to negotiate a settlement, but said she had been asked to advise various negotiators on the deal, since the CFPB will have regulatory responsibility for mortgage companies starting in July.
Warren has been pushing back against efforts to politicize the negotiations. "Political attacks against federal and state law enforcement officials for responding to alleged legal violations are dangerous," she said in a statement released Tuesday. "We know what can happen when laws aren't fairly or consistently enforced because of political pressure, and it doesn't end well for American families, for honest businesses, or for the economy."
Many GOP objections were directed at the notion of consumer protection regulation itself.
"What you're talking about today ... is preventing people from being able to fulfill the American Dream!" Rep. Lynn Westmoreland (R-Ga.) said in response to a story from Rep. Bill Huizenga (R-Mich.) about a constituent in the banking industry who told him, "I'm not gonna be able to serve the people ... because of the paperwork and the layering."
Warren, however, has said that the CFPB's first task will be to simplify credit card and mortgage disclosures into a single, easy-to-understand page, rather than stacks of paper filled with complicated fine print. Because several different regulators have consumer protection jurisdiction for banking activities, the amount of paperwork required to meet similar rules can be lengthy.
While some Republicans expressed skepticism about Warren's efforts to eliminate unnecessary fine print, Neugebauer told HuffPost on Thursday that he is on board with those plans.
"I get the disclosure piece," Neugebauer told HuffPost. "When I first started buying property, there was a one-page closing statement, there was a one-page note and the deed of trust was the front and back of another piece of paper. And so you'd walk out of a transaction with five pieces of paper."
Democrats at the hearing repeatedly praised Warren, with many suggesting she would make a good director for the nascent consumer protection agency. Rep. Brad Miller (D-N.C.) likened the CFPB to federal groups that began regulating meat during the early 20th century. At the time, Miller noted, the meatpacking industry decried attacks on consumer choice and consumer freedom -- a freedom most consumers did not, in fact, want.
"They did not particularly value the right to buy spoiled beef," Miller said.
"That is a fair point," Rep. Thaddeus McCotter (R-Mich.) responded later in the hearing. "No one wanted to eat it." McCotter argued, however, that preventing rotten food from coming to market 100 years ago also led to overly burdensome food regulations today.
Rep. Steve Pearce (R-N.M.) contested the CFPB's plans to regulate payday lenders. He suggested that existing regulators had done a good job enforcing mortgage laws in recent years, and demanded to know Warren's plans to influence monetary policy, openly mocking favorable descriptions of Warren.
"I wonder if you're gonna be the angel, be the champion for consumers with inflation," Pearce said. "Are you gonna take on the Fed for printing money?"
"I'm sorry, Congressman, but our job is not in monetary policy," Warren replied.
After two and a half hours, the hearing concluded.
"I'm buoyed by the notion that anyone who could withstand this kind of badgering ... is going to do a very good job," Rep. Gary Ackerman (D-N.Y.) told Warren.