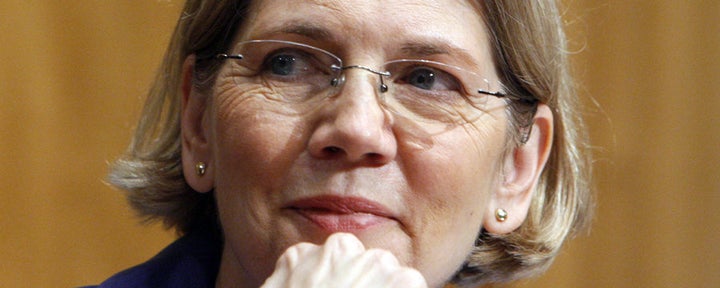 WASHINGTON -- A top Republican broke with what he called "conventional wisdom" Tuesday morning, saying that consumer watchdog Elizabeth Warren is "very persuasive" and may be confirmed by the Senate to head the new Consumer Financial Protection Bureau.
In an interview with CNBC, House Financial Services Committee Chairman Spencer Bachus (R-Ala.) expressed skepticism about the new CFPB and consumer protection regulation in general. Early in the segment, he said he didn't think Warren, currently in charge of setting up the nascent CFPB, could win Senate confirmation as its director. Asked again, however, Bachus seemed to change his mind.
"The odds-on conventional wisdom is she would not, but that's up for the Senate. And they would have hearings, and she would be in -- she's a very persuasive individual and she -- she may -- the Senate may approve her nomination," Bachus said.
That wouldn't have mattered as much, however, if the House GOP had convinced the Senate to adopt its proposed short-term budget for the federal government, which would slash the agency's funding nearly in half.
That controversial budget bill is likely to die in favor of a separate, shorter-term plan that could pass the Senate and avoid a government shutdown. But the intensity of the GOP's attack on the agency caught many by surprise, after cautiously positive statements about Warren from Republicans including Rep. Randy Neugebauer of Texas and major bank lobbyists like Financial Services Roundtable CEO Steve Bartlett.
In an interview with The Wall Street Journal, Neugeubauer said he was open to having Warren placed in the permanent director position, calling her "intelligent" and "a good listener."
"She wouldn't be my last choice" for the CFPB post, Neugebauer told the Journal. "I don't know whether she's my first choice, but she certainly wouldn't be my last choice."
But Neugebauer has also helped lead the charge in cutting the CFPB's budget, an effort to hamstring its ability to enforce rules on credit cards, mortgages and payday loans.
Of course, neither Bachus nor Neugebauer will have a vote on the permanent director position, but some Senate Republicans also appear to be warming to Warren. Last month, Sen. Olympia Snowe (R-Maine) hosted Warren at an event for small businesses, calling the consumer advocate "a key ally" in the debate over financial reform.
Last fall, Obama appointed Warren to a special advisory post charged with setting up the new agency, but did not formally nominate her as director of the CFPB, a post which requires Senate confirmation. If a permanent director is not confirmed by July, the agency will lose jurisdiction over payday lenders and some mortgage companies.
Bank lobbyists are pressing for a permanent director to be nominated. In a Tuesday conference call with reporters, Jess Sharp, executive director of the Center for Capital Markets Competitiveness at the U.S. Chamber of Commerce, the nation's preeminent business lobby, said he hoped that a permanent head would get through the Senate before July. If that was not possible, Sharp said, the CFPB should not enforce consumer protection laws until a permanent director is installed.
Tuesday's conference call was organized to promote a letter the Chamber sent to Congress, warning of what the lobby deemed "huge and ambiguous authority granted to the CFPB which can lead to overreach."
While it will likely be several months until the CFPB writes its own rules for credit cards, mortgages and other consumer loans, the new agency will inherit the authority to enforce existing consumer protection regulations from the Federal Reserve and the Office of the Comptroller of the Currency in July.
Bachus previously expressed kind words for Warren in an interview with American Banker, saying, "She has tremendous charisma. She is a person you admire, you like. She has ability," but cautioning that he didn't know her "philosophy," or that of the people she has hired at the CFPB.
Popular in the Community