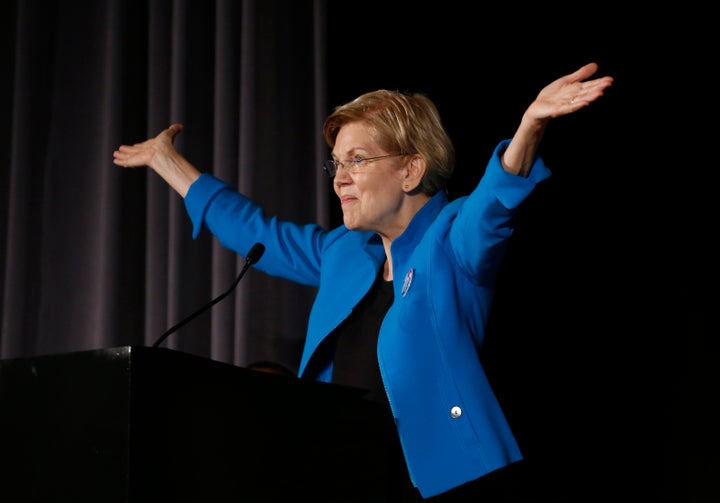 Sen. Elizabeth Warren (D-Mass.) on Friday introduced legislation that would require public companies to disclose risks to their business posed by climate change.
The Climate Risk Disclosure Act would impose sweeping rules mandating that publicly traded companies disclose direct and indirect greenhouse gas emissions, the value of all fossil-fuel related assets, and risk-management strategies to deal with a warming world. Companies also would have to tell investors how their valuation would change under worst-case and best-case scenarios to curb greenhouse gas emissions.
"Climate change is a real and present danger ― and it will have an enormous effect on the value of company assets," Warren said in a statement on Friday, noting that the phenomenon can be "an economic opportunity if we act boldly and decisively."
"But if we don't," she continued, "we will see a global catastrophe that will put the 2008 crisis to shame."
The bill has the support of several environmental organizations, including the Sierra Club, the Natural Resources Defense Council, the Union of Concerned Scientists and Greenpeace USA.
Former Vice President Al Gore, who has long warned of a coming "carbon asset bubble" comparable to the subprime mortgage crisis, said the legislation would help the country shift toward renewable energy and demonstrate the financial toll of runaway climate change.
"Our addiction to fossil fuels has led to a ballooning sub-prime carbon bubble that threatens to strand assets in every sector of the American economy," Gore said in a statement. "This is a critical step toward breaking our addiction to fossil fuels and accelerating the transition to a clean energy economy. This bill highlights the opportunity for the U.S to lead the global sustainability revolution."
The legislation is sure to face an uphill battle in Congress, where Republicans have supported President Donald Trump's efforts to roll back Obama-era climate regulations. Senate Majority Leader Mitch McConnell (R-Ky.) was instrumental in the president's decision to withdraw the U.S. from the landmark Paris climate deal. Trump's Environmental Protection Agency and Interior Department are reportedly moving ahead on plans to roll back restrictions on methane emissions, a potent greenhouse gas.
Researchers have warned for years that in order to halt the worst effects of climate change, the world will need to dramatically scale back greenhouse gas emissions. The planet is far off track from achieving those goals, even under pledges that are part of the Paris pact. Emissions actually rose in 2017 after plateauing for several years.
Economists have struggled for years to put a dollar figure on the cost of rampant climate change, and a recent study found that even the best estimates may be dangerously low. But climate-related disasters have grown more expensive in recent years, and in 2017 such events cost the U.S. a record-breaking $300 billion, according to the National Oceanic and Atmospheric Administration.
Calling all HuffPost superfans!
Sign up for membership to become a founding member and help shape HuffPost's next chapter
BEFORE YOU GO