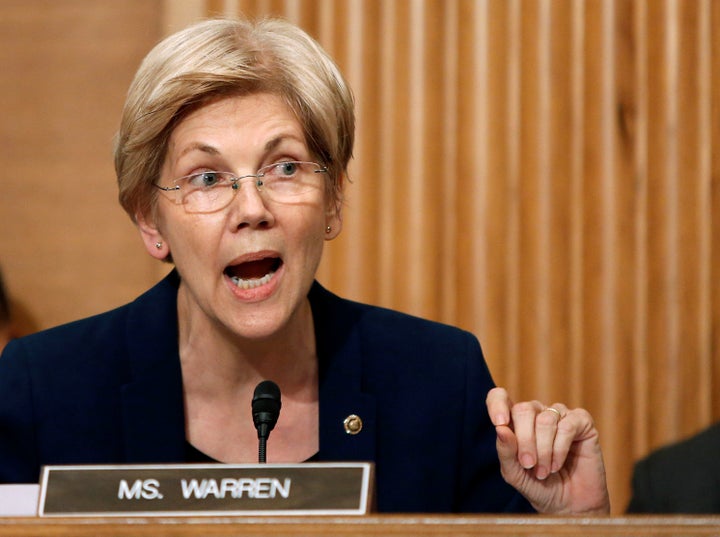 WASHINGTON ― Judicial nominees are piling up in the Senate as Republicans refuse to confirm them, and Sen. Elizabeth Warren (D-Mass.) has had it.
Warren tore into the GOP on Thursday for exacerbating a judicial vacancy crisis, and repeatedly tried to force the Senate to confirm 17 judicial nominees stalled on the Senate floor. Republicans aren't letting nominees through because they don't want to help President Barack Obama put any more of his judicial picks on the federal bench. They're holding out hope that Donald Trump will be in the White House next year to put forward more conservative nominees.
In the meantime, though, court vacancies are skyrocketing, judges are burning out and the federal judiciary is being stretched to its limits.
"Their view seems pretty simple: If government isn't working for them or their rich friends or their right-wing allies, then they will simply refuse to let it work for anyone," Warren said on the Senate floor. "These courts do an enormous amount of work. Their work is not political... These nominees deserve votes."
The Senate could confirm all 17 nominees in a matter of minutes, if Majority Leader Mitch McConnell (R-Ky.) would give them votes. Every single one of the nominees has bipartisan support, and if confirmed, they would make an appreciable dent in the nation's 89 federal court vacancies. But when Warren formally requested that the Senate hold votes, Majority Whip John Cornyn (R-Texas) objected. He said it's up to Republicans, who control the chamber, to decide when or if judicial nominees get votes.
"Frankly, in light of the process that we do have, the senator knows this is not the appropriate process," he said.
That could have been the end of it. But Warren went back to the microphone and tried again, this time calling for votes on nominees who had been waiting since last year. When Cornyn denied her request, she kept at it, insisting that at least the nominees who had been waiting longer than a year should get votes.
Ultimately, Warren was unsuccessful. But she wondered aloud why Republicans are so eager to have Trump fill court seats, given that he landed himself in hot water last month for insulting a federal judge, Gonzalo Curiel, who is overseeing a lawsuit involving Trump. The GOP presidential frontrunner accused Curiel of not being fit to oversee his case because he is "Mexican," saying Curiel has a bias against him because of Trump's plan to build a wall on the U.S.-Mexico border. Curiel was born in Indiana to parents who emigrated from Mexico.
"What in the world has Donald Trump ever said or done that makes the majority whip so enthusiastic about his judicial appointments?" Warren asked. "Is it about Donald Trump's enlightened views on the judiciary? Donald Trump is a guy who just a few weeks ago race-baited a federal judge."
Before walking off, she put the blame squarely on Senate Republicans for Trump's inappropriate treatment of Curiel.
"Where do you think Trump got the idea that he can attack the integrity of federal judges with impunity? He got it from you," Warren said. "From Republicans in the Senate, and their decision to turn scores of highly qualified, nonpartisan judicial appointees into political footballs."
Watch Warren's full remarks below.
Calling all HuffPost superfans!
Sign up for membership to become a founding member and help shape HuffPost's next chapter