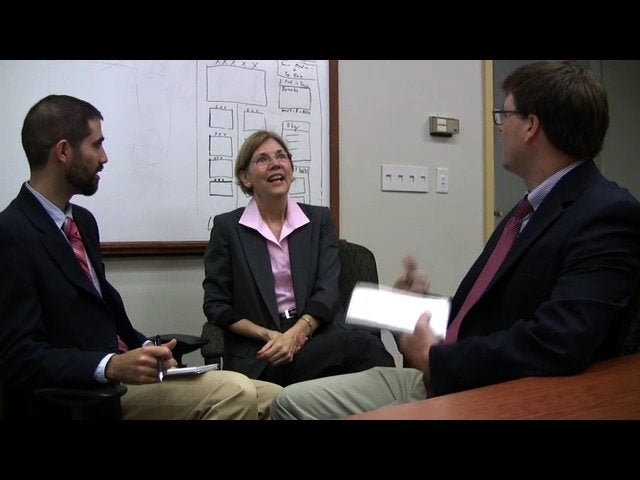 The Consumer Financial Protection Bureau will be the first real agency of the 21st century, Elizabeth Warren said in an interview with the Huffington Post, and it will rely on interaction with the public in order to accomplish its mission.
Warren, who was named by President Obama to set up and run the agency on an interim basis, said that details are still being worked out, but that "crowd sourcing" is to be a fundamental tool of the agency. When organizations crowd-source objectives, thousands or millions of people contribute insights, documents or other information helpful to a common goal.
Warren said that she couldn't elaborate yet on precisely how the operation would be set up "partly because we need to think about the right design, and partly because, I'm told, you need a little technical infrastructure. I don't think you want me just giving out my cell phone number here and saying, 'That'll work.'"
The CFPB's budget will be roughly half a billion dollars, enough to set up a state of the art network. "This is the first real agency we've built in the 21st century -- well, there's Homeland Security, but one for the people. And it means we ought to think differently. The government can talk to people and people can talk to the government differently than when the Consumer Product Safety Commission was built, or when the FDA was built. And if we do this right, that should change the whole dynamic of who this agency really is," said Warren.
By gathering information, contracts and documents from homeowners and consumers, and allowing watchdog groups and individual concerned citizens access to those documents, the agency can exponentially expand the manpower it has to review the operations of banks and lenders. The goal would be to become aware of a particularly fraudulent practice before it is rampant and insulates itself in the financial services industry.
Warren said that the agency would have to be focused in order to avoid being undermined by its opponents. "This agency has enemies. There are those who would do it harm, for political reasons [and] economic reasons. It is important that I spend every single day and every single thing I can do to strengthen this agency and to give it a clear direction for where it goes," she said.
Warren was interviewed in HuffPost's Washington office.
Popular in the Community