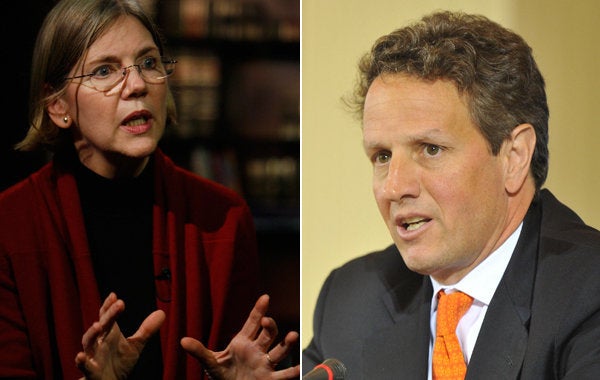 This story was updated at 7:15 p.m. ET Tuesday to reflect the final version of Sanders's letter and new information on a letter circulating in the House of Representatives.
Elizabeth Warren could lead the new Consumer Financial Protection Bureau without ever having to face a Senate confirmation hearing.
The Harvard Law professor and bailout watchdog, beloved by the left and reviled by big banks, is one of three candidates the White House identified Friday as potential picks to lead the new consumer agency. Created as part of the financial reform bill President Barack Obama is expected to sign into law on Wednesday, the agency is supposed to protect borrowers from predatory lenders and centralize the federal government's role when it comes to extending credit to consumers. Warren conceived of the agency in 2007 and since last year has served as the public face of the campaign to enact it into law.
But some have speculated Warren may face an uphill battle to become its inaugural chief. Lenders fear her -- particularly given her strong advocacy on behalf of the debt-strapped middle class -- and are furiously fighting her potential nomination as she's viewed as the most consumer-friendly of the candidates. Their friends in the Senate may take up their cause.
Proponents and critics agree that the first director will have a lasting impact on the agency, from the hiring of staff to the general attitude it takes towards consumer protection. Some are expected to prepare a Supreme Court-style campaign when Obama names his nominee.
During a radio interview Monday, Senate Banking Committee Chairman Christopher Dodd said there's a "serious question" over whether she, as Obama's nominee, could be confirmed by the Senate.
"We are confident she is confirmable," White House spokeswoman Jennifer Psaki said.
The administration, though, could bypass the Senate entirely -- without engendering the ill-will that would result from a recess appointment.
According to the bill's language, the Treasury Secretary has sole authority to build the new agency before it's ultimately transferred to the Federal Reserve. That includes anointing a person to head the effort on his behalf, and under his authority. The interim head would serve until the President's nominee is confirmed by the Senate.
That person could be Elizabeth Warren.
And the legislation doesn't appear to contain a deadline for a Presidential nomination, experts say, which means Warren could start the agency from scratch, put her people in, begin cracking down on predatory and abusive lenders, and initiate a culture that would put consumers' interests above those of the nation's most powerful financial institutions.
In short, she could set a tone the agency will follow for the next several years without the administration needing to fight a potentially drawn-out confirmation battle that could stall Obama's pro-consumer agenda.
"The statute gives the Treasury Secretary the obligation to get it done, but doesn't tell him how to get it done," Gail Hillebrand, a senior attorney at Consumers Union and manager of the group's financial services campaign, said about the Secretary's role in creating the new agency.
Picking an interim head is one of the authorities Congress granted him in the legislation. Whomever Geithner hires would be serving that role on his behalf, and would ultimately be his responsibility.
So Geithner could, presumably, hire Warren on a contract basis to perform that role, Hillebrand said.
Michael Barr, the Treasury's assistant secretary for financial institutions, and Eugene Kimmelman, a top Justice Department official who worked for various consumer groups prior to government service, are the other candidates for the position, White House officials said Friday.
Geithner is said to prefer Barr, a key lieutenant and a noted consumer advocate, for the role. Geithner opposes Warren's nomination, according to a source familiar with Geithner's views, though the Treasury Secretary, through Barr and a department spokesman, said Friday that Warren is "well qualified" for the position.
Though Hillebrand said she couldn't immediately pinpoint a deadline in the legislation mandating a Presidential nominee, she added that there must be some kind of deadline that she wasn't aware of. It wasn't immediately clear, though.
Geithner's pick would be able to begin protecting taxpayers and consumers "immediately," Hillebrand said. And the pick could serve for months, if not longer.
That's what the legislation was probably designed to accomplish, the consumer advocate noted. Whenever a new federal agency is created it makes sense to pick someone in the interim "to get things going. Clearly, that would be authorized here," she said.
"Consumers have waiting a long time," Hillebrand said. "The sooner we can get it off the ground the better."
Americans for Financial Reform, a coalition of more than 250 groups organized to fight for strong financial reform, endorsed Warren on Monday to head the new agency. Rep. Carolyn Maloney, a New York Democrat, and Senator Tom Harkin, a Democrat from Iowa, are both asking colleagues to sign letters urging Obama to nominate Warren for the post. As of 7 p.m. Washington time on Tuesday, 39 members of the House had signed on to Maloney's letter, including House Financial Services Committee Chairman Barney Frank, Maloney's spokesman told HuffPost. Sen. Bernie Sanders, an independent from Vermont aligned with Senate Democrats, wrote Obama on Monday asking him to nominate Warren.
"No one in our nation could do a better job," Sanders wrote.
Heather Booth, AFR's director, said proponents of reform should fight for "the strongest, most qualified" candidate to head the consumer agency. AFR endorsed Warren.
"If there are people representing the interests of the biggest financial institutions, they can vote against" the candidate, Booth said. "This is the time to vote whether you're for Main Street or for Wall Street."
Hillebrand added that regardless of when Obama picks the nominee there's going to be an "ideological fight."
So rather than face that fight now -- and potentially stall an agenda -- one consumer advocate suggested there's nothing stopping the administration from installing the candidate most likely to fight back against the big banks on behalf of consumers.
On Friday, White House senior adviser David Axelrod told reporters that regardless of whether Warren is picked to officially head the agency, "one thing I know for certain is however we move forward she's going to be a strong voice in helping shape this and make it the most effective voice for consumers that it possibly can be."
Geithner picking her as the interim choice could be what Axelrod was referring to.
Warren declined to comment for this article. It is unclear whether she'd be interested in serving in such an arrangement.
A Treasury spokesman said the department is first looking forward to Obama's signing of the bill on Wednesday.
READ Sanders's letter below:
*************************
Support HuffPost
The Stakes Have Never Been Higher
Related
Popular in the Community