DNC Chairman Tom Perez announced last week that no Democrat who broke with the party on abortion rights would get any support from the national party, reversing his previous decision on the matter.
House Minority Leader Nancy Pelosi (D-Calif.), Senate Minority Leader Chuck Schumer (D-N.Y.) and Sen. Bernie Sanders (I-Vt.), who caucuses with Democrats, have argued instead that there should be no litmus test and that the party should be open to supporting some Democrats who break with the party platform on the issue.
Warren, in an interview with HuffPost as part of her book tour, began by re-affirming her own strong support for reproductive freedom. "Let me start with this part, because these are deep-down issues. I am strongly pro-choice. I am strongly pro-choice, and I will fight," she said.
But that's not how everyone in the party feels, she said, and she respects that. "I recognize that not all of my colleagues agree with me. I'll do everything I can to persuade them, but they are my colleagues, and that's just how it is with the Democrats," she said. "But I got to say, it does not dampen my energy in this fight."
The debate was not one that Democrats were necessarily looking to have, but it jumped out of Omaha, Nebraska, as the DNC and Sanders were headed to town to campaign on behalf of a Democratic candidate for mayor, Heath Mello, who was running against a rock-ribbed anti-abortion politician, the incumbent mayor.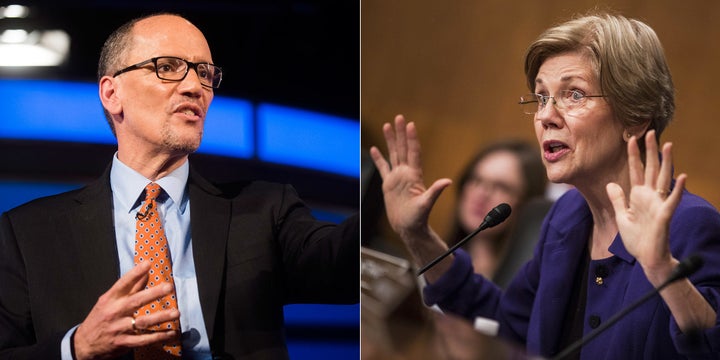 Mello, it turned out, had a long anti-choice record as a state legislator, and NARAL pounced, denouncing Democrats for again selling out women, who have been the driving force of the resistance movement. Perez and Sanders responded by saying the party ought to be a big tent; after a browbeating, Perez reversed himself and zipped the tent shut, but Sanders held firm. He was then followed by Pelosi and Schumer, who insisted that the party needs to support anti-abortion candidates in some circumstances.
In at least one way, the debate over Mello is in the past, since he has declared that he will govern as mayor as if he were pro-choice, despite his personal views. But it has extra salience given the specific role Nebraska ― and Mello ― played in the abortion wars over the past decade.
In May 2009, George Tiller, a doctor who performed late-term abortions, was assassinated in the foyer of his Kansas church while handing out bulletins. He had been the subject of dozens of attacks by then-Fox News host Bill O'Reilly and had become a central figure of scorn within the anti-abortion movement. In his first comments after the murder, O'Reilly declared that there would be "no back pedaling."
"Every single thing we said about Tiller was true, and my analysis was based on those facts," O'Reilly declared. "Now, it's clear that the far left is exploiting ― exploiting ― the death of the doctor. Those vicious individuals want to stifle any criticism of people like Tiller. That ― and hating Fox News ― is the real agenda here. Finally, if these people are soooo compassionate ― so very compassionate, so concerned for the rights and welfare of others ― maybe they might have written something, one thing, about the 60,000 fetuses that will never become American citizens. Or am I wrong?"
Dr. LeRoy Carhart, who occasionally had worked with Tiller, said publicly that he would continue performing such procedures at his clinic in Bellevue, Nebraska.
In reality, such procedures are extraordinarily rare and typically the result of something catastrophic gone wrong with the pregnancy. The Nebraska law, however, said that they could only be performed if the mother were on the brink of death. The law, passed with Mello's help, was flatly unconstitutional, a violation of Roe v. Wade, but abortion rights groups elected not to challenge it, worried the Supreme Court might use it as an opportunity to chip away at the law or overturn it altogether.
Mello's vote on the bill, though, was academic on one level: It passed 44-5.
But the law became extraordinarily popular with the anti-abortion movement, and 20 states now have similar statutes on the books. With those wins pocketed, the movement is pushing to ratchet down the threshold, arguing on behalf of so-called "heartbeat" bills, which could ban abortion as early as six weeks.
Mello also voted for a bill that would ban telemedicine in cases of abortion, a big deal particularly in a rural state like Nebraska, where such medications may be the best option for women. And he backed a controversial bill that began by requiring women seeking an abortion to undergo and view an ultrasound, an invasive and unnecessary procedure with no medical benefit. That measure was watered down to simply requiring doctors to offer one.
Jane Kleeb, chair of the Nebraska Democratic Party and an ally of Mello's, credited him with weakening the measure. "It was Heath's credibility with pro-life legislators that enabled him to take mandatory ultrasounds off the table and substitute a bill that stated that women had a choice to have one and to see the image," she told The Nation.
Sofia Jawed-Wessel, who teaches sexual health at the University of Nebraska, also told the magazine that the local reproductive health community had made progress with Mello. "I wish the national organizations would respect the relationship we have been nurturing, instead of just assuming we don't know what we're doing," Jawed-Wessel said. "Then they might have reframed their statement in a way that added momentum to someone we consider a strong ally."
While Mello may have come around on the issue, his opponent, Mayor Jean Stothert, remains committed against abortion rights. According to Nebraska Right to Life, Stothert supports defunding Planned Parenthood, overturning Roe v. Wade and banning abortion in all cases except rape, incest or to protect the life of the mother. Mello, meanwhile, did not take the organization's questionnaire.
Popular in the Community