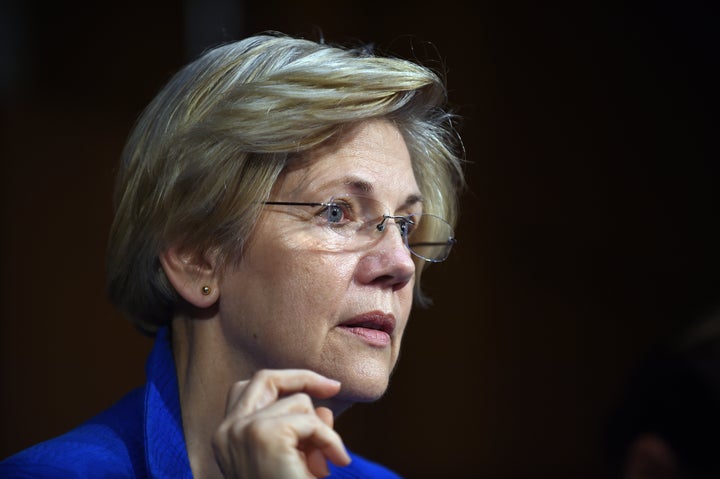 WASHINGTON -- Sen. Elizabeth Warren (D-Mass.) on Monday warned House Democrats to oppose a series of GOP-backed bills designed to roll back the 2010 Dodd-Frank financial reform legislation.
Warren posted a statement on her official Facebook page calling on Democrats to vote against the Republican proposals, which are scheduled for a vote in the House Financial Services Committee on Tuesday.
"Democrats must stand strong and fight back Republican efforts to weaken oversight," Warren wrote. "Rolling back the rules on our largest and riskiest institutions is a terrible idea for just about everyone except a handful of well-connected financial firms – and we weren't sent here to work for them."
Warren's post is an effort to persuade Wall Street-friendly Democrats, who have defected from the party line to undercut other financial reforms. In 2014, Republicans secured a measure to reinstate federal subsidies for derivatives trades -- the risky contracts at the heart of the 2008 meltdown. They did so by slipping the measure into a must-pass government funding bill on the grounds that it wasn't terribly controversial, since many Democrats had supported the provision in committee.
The bills that will be under consideration Tuesday deal with large financial firms deemed "systemically important" by key regulators -- essentially firms that are "too big to fail." The legislation would make it harder to designate a firm as "systemically important" by gumming up the process with additional red tape. Republicans also want to bring the Financial Stability Oversight Council under the Congressional appropriations process, which would allow Republicans to defund the agency or hold its budget hostage with demands over specific rules or actions.
While Democrats have become more reluctant to attack Dodd-Frank since the 2014 derivatives fight, a few serial advocates of deregulation have already signed on to the Republican bills as co-sponsors, including Reps. David Scott (D-Ga.), Kyrsten Sinema (D-Ariz.) and John Delaney (D-Md.).
Warren has been a key ally of Wall Street watchdogs on the House side, teaming up with the top-ranking member of the Financial Services Committee, Rep. Maxine Waters (D-Calif.), to help generate public opposition to the derivatives fight. Dodd-Frank opponents, however, frequently take her words out of context -- along with those of former Financial Services Committee Chairman Barney Frank (D-Mass.) -- to build their case for weakening the law. Putting out an explicit public statement helps Warren clarify her position.
Read Warren's full post here.
Zach Carter is The Huffington Post's senior political economy reporter and a co-host of the HuffPost Politics podcast, "So That Happened." Listen to the latest episode here:
Popular in the Community