Sen. Elizabeth Warren (D-Mass.) forced former Equifax CEO Richard Smith to admit that the credit reporting agency profits from data breaches in a Capitol Hill hearing on Wednesday.
Questioning Smith on Wednesday, Warren quoted his previous description of fraud as a "huge opportunity for us."
"Now, Mr. Smith, now that information for about 145 million Americans has been stolen, is fraud more likely now than before that hack?" Warren asked.
"Yes, Senator, it is," Smith replied.
"So the breach of your system has actually created more business opportunities for you," Warren said.
Warren went on to highlight how Equifax has already sought to make money off of the September breach. The company offered consumers a year of free credit monitoring, after which the company would begin charging for the service, she noted. ( Equifax at first said consumers who enrolled in the year of free monitoring would have to provide credit card information, allowing the company to automatically charge them for the service once the year was up. But after HuffPost reported on the scheme, the company said it wouldn't require consumers to submit credit card information.)
Warren also pointed out that Lifelock, a credit monitoring company that has increased its business tenfold since the Equifax breach, contracts services to Equifax. As a result, Equifax profits from Lifelock's work.
Smith said nothing to dispute Warren's characterizations of the company's business model and its reaction to the security breach.
Then Warren went in for the kill.
"From 2013 until today, Equifax has disclosed at least four separate hacks in which it compromised sensitive personal data. In those four years, has Equfax's profit gone up?" Warren asked.
"Yes, Senator," Smith responded.
"Yes, it has gone up. In fact, it's gone up by more than 80 percent over that time," she said.
The result, Warren said, was a company ― and industry ― with little incentive to invest in security measures to protect consumers' personal data.
"Equifax did a terrible job of protecting our data, because they didn't have a reason to protect our data," Warren concluded. "The incentives in this industry are completely out of whack."
"Because of this breach, consumers will spend the rest of their lives worrying about identity theft. Small banks and credit unions will have to pay to issue new credit cards. Businesses will lose money to thieves," Warren added. "But Equifax will be just fine ― heck, it could actually come out ahead. Consumers are trapped. There is no competition, nowhere else for them to go. If we think Equifax does a lousy job protecting our data, we can't take our data to someone else."
The atmosphere at the hearing was mostly solemn as Smith professed his commitment to rectifying the company's security lapses.
It was not all serious, however. In an attempt to satirize Smith, a prankster sat directly behind Smith in the audience sporting a top hat and 19th-century mustache. The satirist, who was present in every media camera shot of Smith, would twirl his fake mustache and periodically raise a monocle to his eye during the hearing, nodding in agreement as Smith spoke.
Equifax is one of three major companies, along with Experian and TransUnion, that track the credit histories of consumers who take out loans or purchase a credit card, and use the data to compile credit "scores" that they sell to lenders assessing the creditworthiness of borrowers. The companies are obligated to provide consumers with one free credit report a year, but they have routinely been caught snookering consumers into paying for reports that they initially present as "free."
Given the inherent accountability problems in a consolidated industry where consumers have little recourse against wrongdoing, Warren and other consumer advocates favor dramatic new regulations. On Sep. 15, Warren and Sen. Brian Schatz (D-Hawaii) introduced the Freedom from Equifax Exploitation Act, which would create a standard, federal process for consumers to freeze their credit files and bar companies from profiting off data breaches. The bill has 10 co-sponsors, all members of the Senate Democratic Caucus.
Before You Go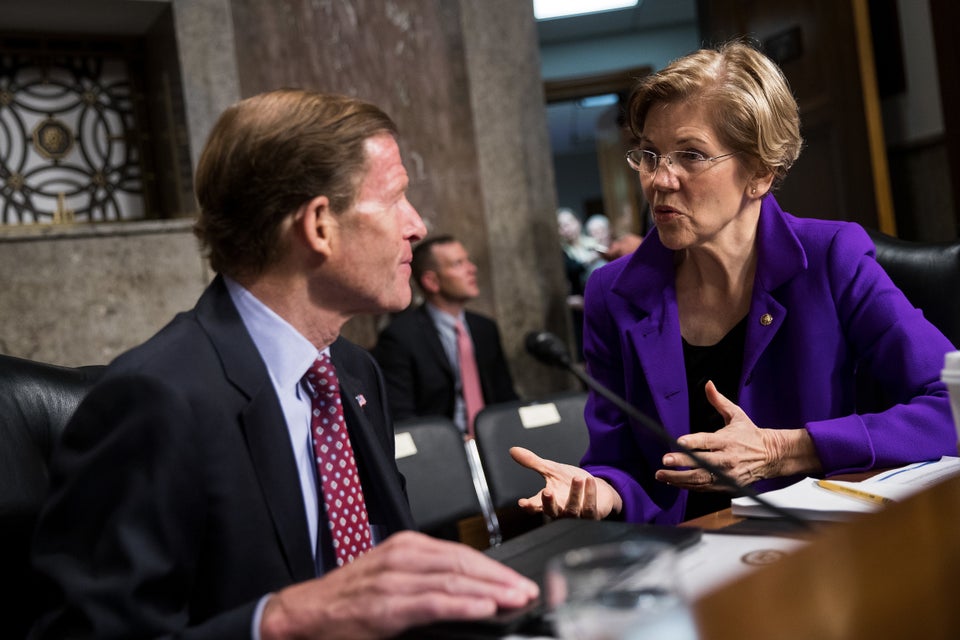 2017 Scenes From Congress & Capitol Hill
Popular in the Community