Sen. Elizabeth Warren laid out a foreign policy vision on Thursday that applied to international affairs the central motivation of her political career: that the system is rigged against the middle class.
In a speech at the at American University in Washington, D.C., the Massachusetts Democrat charged that U.S. elites have pursued global economic and national security policies that have gutted the U.S. middle class, empowered multinational corporations and enriched the defense industry with lavish spending and unnecessary wars.
"Beginning in the 1980s, Washington's focus shifted from policies that benefit everyone to policies that benefit a handful of elites, both here at home and around the world," Warren said. "Mistakes piled on mistakes. Reckless, endless wars in the Middle East. Trade deals rammed through with callous disregard for our working people. Extraordinary expansion of risk in the global financial system. Why? Mostly to serve the interests of big corporations while ignoring the interests of American workers."
Her critique of Pentagon spending was more acute than the ones major presidential candidates usually dare to make. The Pentagon is "captured by the so-called 'Big Five' defense contractors," she said, while U.S. policy is being driven by their desire for profits, not any consideration of values or strategy.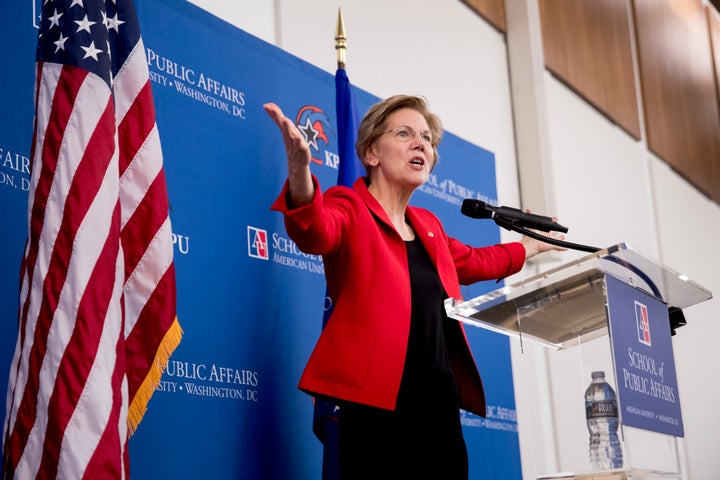 "American security and American values should come ahead of the profit margins of these private companies," she said. "It is time to identify which programs actually benefit American security in the 21st century, and which programs merely line the pockets of defense contractors — then pull out a sharp knife and make some cuts."
This anti-corruption theme ran throughout her speech and clearly linked up with her better-known positions on domestic policy. She argued that the corruption that breeds inequality creates the landscape for authoritarianism, pointing to the leaders of Russia, Turkey, Brazil and China, who she said have built their power through the financial corruption of society.
"This combination of authoritarianism and corrupt capitalism is a fundamental threat to democracy, both here in the United States and around the world," Warren said. "It is a threat because economic corruption knows no borders ― and in a global economy, corruption can provide a strategic advantage."
Warren called for a new system of globalization that benefits workers instead of corporations and combats corruption among the wealthy, which she argued is fueling the global rise of authoritarianism. This "defense of democracy," as she calls it, begins by "fixing what has gone wrong with our international economic policies" through the advancement of international labor rights, an antitrust crackdown on multinational monopolies, the closure of tax havens, data protection laws, the movement of illicit funds across borders and policies to address climate change.
She came out fiercely against "Trump's NAFTA 2.0," as she calls the president's new trade deal with Canada and Mexico. It "won't stop outsourcing, it won't raise wages, and it won't create jobs." she argued.
In many ways, Warren's vision is similar to the one laid out by Sen. Bernie Sanders (I-Vt.), one of the other main progressive candidates who's thought to be contemplating a 2020 run. Sanders, who is also best known for domestic and economic matters, laid out his progressive foreign policy vision in a speech in Missouri last year.
Much like Warren, Sanders connected the rise in authoritarianism and the retreat of democracy to the rise in global inequality created by a global economic system tilted toward the rich and powerful corporations.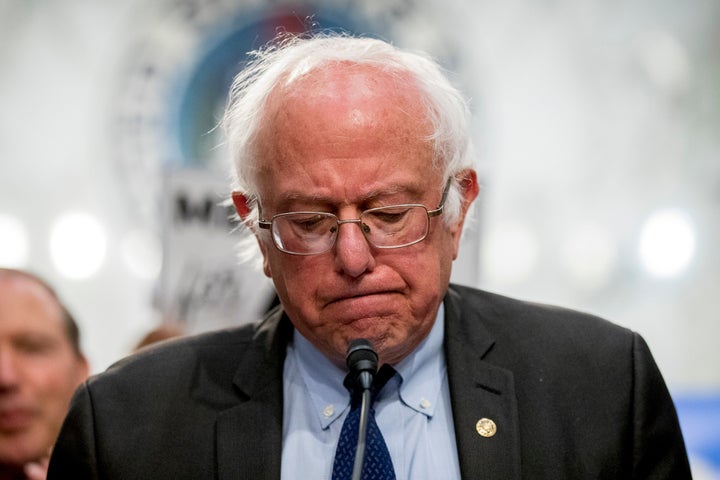 She called for the withdrawal of U.S. troops from Afghanistan, cuts to the Pentagon budget, no new nuclear weapon production, a no "first use" nuclear weapon policy, further international arms control deals and a boost to State Department funding, as well as criticizing U.S. interventions from Iraq to Yemen.
"It's not surprising to me that both of them led with the interconnection between our global economy and our foreign policy," said Stephen Miles, director of the progressive anti-war nonprofit Win Without War. "I think that's a good thing. In D.C. we often think of foreign policy as whether or not we're going to bomb places."
But where Sanders' foreign policy vision was rooted in a critique of the ill-thought-out U.S. interventions of the 20th century like the U.S.-backed coups in Iran in 1953 and Chile in 1973, Warren's critique of U.S. foreign policy only begins in the 1980s. She acknowledges U.S. foreign policy "wasn't perfect ― we weren't perfect," but argues it nonetheless "benefited a lot of people around the world."
Unlike Sanders, who rarely discussed the idea of the U.S. remaining a major player in far-flung regions adjacent to Russia or China, Warren argued that the U.S. needs to manage its decline as the world's lone superpower while remaining in a dominant position to the lead the world against such states.
"Both China and Russia invest heavily in their militaries and other tools of national power," she said. "Both hope to shape spheres of influence in their own image. Both are working flat-out to remake the global order to suit their own priorities. Both are working to undermine the basic human rights we hold dear. And if we cannot make our government work for all Americans, China and Russia will almost certainly succeed."
That vision of a less omnipotent U.S. still leading a liberal international system buttressed by the same allies and organizations is a reboot of current conventional Democratic Party thinking.
"Warren sounds like someone who actually wants to be president of the United States of America as opposed to the leader of an international political movement, which is how Bernie Sanders sounded in his foreign policy speech," Brian Katulis, a senior fellow at the Center for American Progress, the pre-eminent think tank of the Democratic Party establishment, said in an email.
"Sanders had more of an advocacy and activist tone; Warren's tone was more clinical with a closer focus on America, yet it still had some sharp, resonant points," he added.
Warren ended her speech with an attack on Trump and a closing tag line that Democratic primary voters may get used to hearing, "I believe in us. I believe in what we can do. I believe in democracy and in what we must do to save it."
In other words: She's running.
Popular in the Community