Sen. Elizabeth Warren (D-Mass.) will not participate in a town hall on Fox News, saying Tuesday that she turned down an invite to go on the conservative network.
"Fox News is a hate-for-profit racket that gives a megaphone to racists and conspiracists ― it's designed to turn us against each other, risking life & death consequences, to provide cover for the corruption that's rotting our government and hollowing out our middle class," Warren wrote in a series of tweets.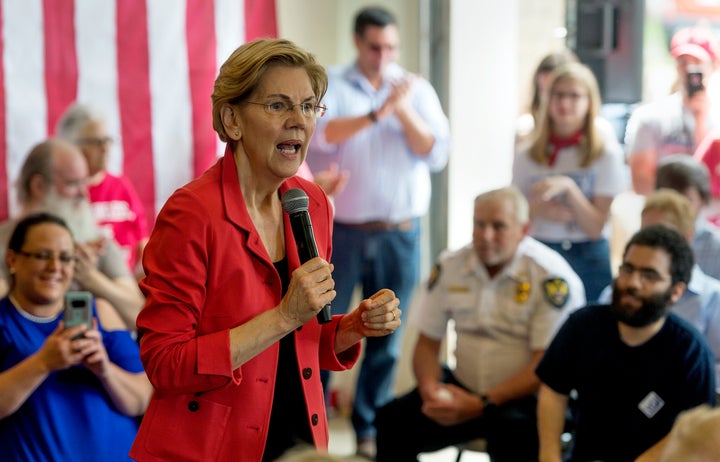 She said Fox News tries to sell itself as a "reputable news outlet" by mixing its "bigotry, racism, and outright lies" with some legitimate journalism in order to bring in ad money.
"A Democratic town hall gives the Fox News sales team a way to tell potential sponsors it's safe to buy ads on Fox ― no harm to their brand or reputation (spoiler: it's not)," she said. "I won't ask millions of Democratic primary voters to tune into an outlet that profits from racism and hate in order to see our candidates ― especially when Fox will make even more money adding our valuable audience to their ratings numbers."
Fox News did not immediately return a request for comment.
Warren's decision is a notable break from fellow progressive Sen. Bernie Sanders (I-Vt.), who was the first 2020 Democratic presidential candidate to agree to a Fox News town hall.
His decision to do so came a few weeks after The New Yorker published a lengthy investigation outlining the extensive ties between Fox News and the Trump administration, two entities that swap staff and take their cues from each other.
In an April interview with HuffPost, Sanders said he believed that Fox News was largely a propaganda arm of the White House, but that he still thought it was important to talk to its viewers and say President Donald Trump had lied to them.
Sen. Amy Klobuchar (D-Minn.) has participated in a Fox News town hall since Sanders did one in April; Sen. Kirsten Gillibrand (D-N.Y.) and Pete Buttigieg, the mayor of South Bend, Indiana, have ones scheduled. Julian Castro, a Cabinet secretary for President Barack Obama, is in the process of scheduling one, and Sen. Cory Booker (D-N.J.) and former Rep. Beto O'Rourke (D-Texas) are considering them.
Sen. Kamala Harris (D-Calif.) said she would "think about it" when asked in April whether she'd do one, adding that she believes the network's viewers are reachable.
"As far as I'm concerned, every vote is on the table. I'm not excluding anyone in terms of trying to earn their vote and compete for their vote. So...that's how I feel about the audience," she told "Pod Save America." "There's a whole other conversation about how Fox News does their work and the bias with which they do it."
Warren said Tuesday that she had made herself available in other ways. She said she has held town halls in 17 states and Puerto Rico, including places that Trump won, like Mississippi, Texas, West Virginia and Alabama. Warren won't be banning Fox News journalists from her events ― she simply won't be giving the network exclusive content that it can monetize.
"I've done 57 media avails and 131 interviews, taking over 1,100 questions from press just since January," she tweeted. "Fox News is welcome to come to my events just like any other outlet. But a Fox News town hall adds money to the hate-for-profit machine. To which I say: hard pass."
Support HuffPost
The Stakes Have Never Been Higher
Popular in the Community