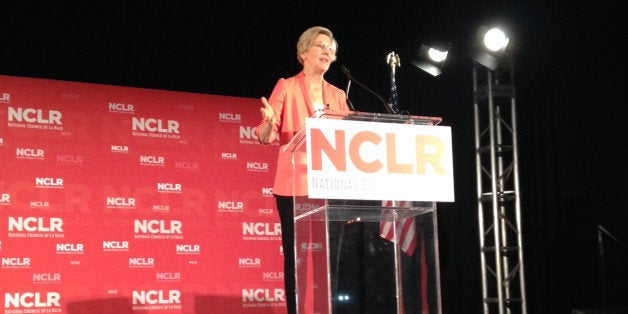 LOS ANGELES -- "I believe in that America; I will fight for that America," Sen. Elizabeth Warren (D-Mass.) fervently cried at the National Council of La Raza's Annual Convention here on Sunday.
The declaration closed the senator's speech at a town hall that focused on Latinos in the U.S. economy, specifically on the severe financial hit minorities took during the economic crisis of the late 2000s. During the follow-up Q&A session, Warren said she believes immigration reform is the key to "save Social Security" for Americans across the country.
Even though Warren has repeatedly denied any intention for a 2016 presidential bid, her speech was reminiscent of a political agenda as it touched on topics including regulation of big banks on Wall Street by closing tax loopholes on the rich, the need for immigration reform, an increase in the federal minimum wage, "equal pay for equal work," student debt and marriage equality.
The Massachusetts Democrat started off with an intimate testimony about her family's own financial struggles after her father suffered a heart attack. She emphasized that at the time her mother was able to support the family with a minimum wage job at Sears.
"I stand on a stage like this and I think about the fact that I am the daughter of a janitor and I ended up a United States senator," Warren said. "I worked hard but I never forget the fact that I grew up in an America that was investing in its kids, an America that believed in a high minimum wage, in low college tuition and to produce a steadily growing economy."
"Starting a generation ago, Republicans turned this country in a different direction and economic consequences for families have been devastating," the senator said.
Warren continued by denouncing policies that, she says, favored big banks on Wall Street and allowed Latinos to be disproportionately affected by the subprime mortgage crisis.
"Starting in the late 1990s, mortgage lenders out to make a fast buck targeted African-American families and Latino families, selling them some of the worst mortgages out there," Warren said. "In fact, by 2006 a Latino family earning $200,000 a year was more likely to end up with a high-cost, high-risk subprime mortgage then a non-Latino family earning $30,000 a year. Think about what that kind of targeting meant. Across this country, Latino families were robbed by people wearing white shirts and big smiles, while regulators looked the other way."
"The way I see this is, we can whine about it, we can whimper about it or we can fight back. I'm here today because we need to fight back," Warren said.
At the close of her address, the senator's rallying cry for America began with a list of values, including immigration, that she "will fight for" and help uphold.
"We believe that immigration made this country strong and that immigration will make this country strong in the future," Warren said. "We believe that equal means equal. No matter the color of your skin, no matter what language your family speaks, no matter who you love; equal means equal in this country and we will fight for it."
In a short sit-down Q&A afterward, Monica C. Lozano, chairwoman of the board of U.S. Hispanic Media Inc., asked the senator more about her thoughts on immigration and specifically arguments that immigration reform could help the U.S. economy.
"One of the things we can talk about, for example, and there are many arguments around this, [is] Social Security. We want to save Social Security?" Warren asked. "One of the ways we can save Social Security is to pass comprehensive immigration reform. Bring more workers and bring more people out of the shadow economy and into the fully paid economy where everything is above the table."
"We just have to get louder, and we have to get louder together," she continued. "It is not simply the responsibility of the Latino community to push immigration reform."
Calling all HuffPost superfans!
Sign up for membership to become a founding member and help shape HuffPost's next chapter
BEFORE YOU GO
PHOTO GALLERY
Elizabeth Warren