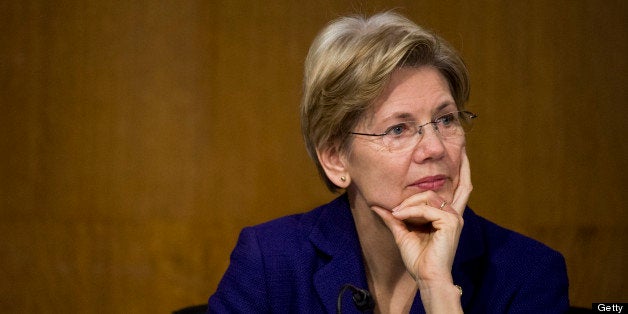 WASHINGTON -- The Senate Banking, Housing and Urban Affairs Committee on Thursday approved new bipartisan legislation to deregulate the insurance industry, but not before Sen. Elizabeth Warren (D-Mass.) snagged a small victory for consumers.
The deregulation bill, authored by Sens. Jon Tester (D-Mont.) and Mike Johanns (R-Neb.), will create a new federal licensing program for insurance agents that would replace the current state-by-state system.
Warren's amendment, her first in the banking committee, would strengthen consumer safeguards by raising federal standards for the new insurance agent license. The amendment's language requires anyone who serves on the board responsible for establishing the new federal licensing standards to have "demonstrated expertise" in life insurance, health insurance, or property and casualty insurance before being granted a 50-state license. The amendment was approved with the unanimous consent of the committee.
No floor vote has yet been scheduled for the bill.
The Consumer Federation of America has objected to the proposed federal licensing on the grounds that it would lower qualifications currently set by individual states. Instead of serving as a basic minimum floor for aptitude, CFA worries, the bill would create an inappropriately low ceiling: Different states have different risks, and a robust knowledge of property insurance rules in Iowa does not automatically translate into expertise in Florida hurricanes or California earthquakes. The new bill, however, would allow anyone licensed to sell insurance in one state to qualify automatically for a license in all 50 states, provided they meet the new federal guidelines.
While the bill has been met with opposition from consumer advocates, its ultimate impact is likely to be somewhat muted. Established state consumer protection laws concerning the actual quality of insurance will still apply. Even if the bill permits agents to sell products with which they are unfamiliar, agents still must meet individual state requirements on the specific terms of their insurance contracts. Consumer groups have expressed concern that it will be difficult to enforce these standards in practice. On Capitol Hill, however, the bill is generally viewed as an inoffensive way to cut costs for insurance companies.
"Here is yet another example of Congress coming together where it matters most to special interests, while remaining incapable of coming together for problems that matter," Harvard University Law School professor Lawrence Lessig told HuffPost on Monday.
Warren's push against this variant of insurance deregulation is more esoteric than her better-known advocacy against predatory mortgage lending practices and high interest rates on student loans. Her first bill proposed lowering the rate for federal student loans to 0.75 percent, which is the current rate at which big banks can borrow from one another.
CORRECTION: A previous version of this article indicated that Warren's "demonstrated expertise" standard would apply to insurance agents. It applies to the members of the licensing board.
REAL LIFE. REAL NEWS. REAL VOICES.
Help us tell more of the stories that matter from voices that too often remain unheard.
BEFORE YOU GO
PHOTO GALLERY
Women In The U.S. Senate