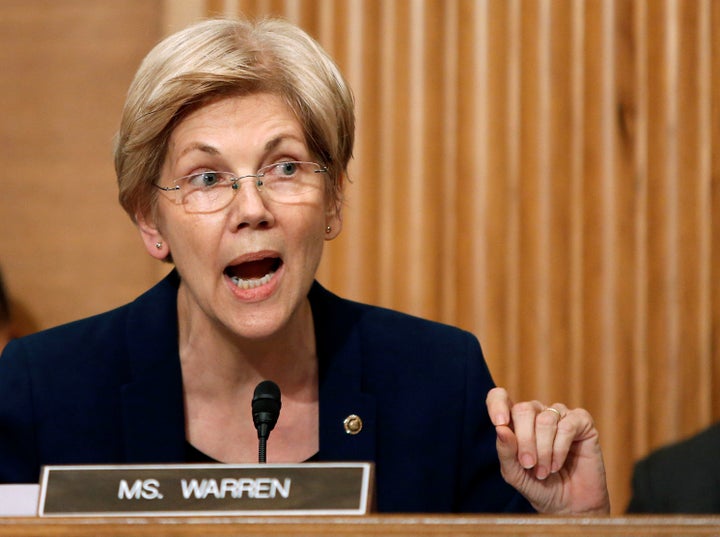 WASHINGTON ― Sen. Elizabeth Warren (D-Mass.) on Friday asked President Barack Obama to replace the government's top securities regulator for "brazen conduct" that "hurts investors, undermines administration policy, and willfully misinterprets congressional mandates."
Warren is taking aim at Securities and Exchange Chair Mary Jo White, a former prosecutor and corporate lawyer who has long supported limiting corporate disclosures to investors. White is an Obama appointee who identifies as a political independent and often sides with a Republican commissioner. She has been in Warren's crosshairs for years.
For years, White has scuttled a rule Congress ordered the SEC to write that would require companies to detail their political spending. By delaying the rule, White gave Republican lawmakers an opportunity to delay it even further by including language in must-pass government funding bills to put off the disclosures. White publicly criticized another rule mandated by Congress that would have required the companies to disclose their use of conflict minerals ― natural resources that are mined to fund brutal violence in the Democratic Republic of the Congo. A federal court eventually negated the law, citing White's speech against it.
In her Friday letter to President Obama calling for White's dismissal, Warren noted that the SEC has neglected to write 19 regulations required by the 2010 Dodd-Frank law.
"She has failed to complete disclosure mandates Congress enacted in the wake of the 2008 financial meltdown, while simultaneously devoting the SEC's limited discretionary resources to a far-reaching, anti-disclosure initiative cooked up by big business lobbyists seeking to reduce the amount of information public companies must make available to their investors," Warren wrote.
It would be very unusual for the president to remove the SEC Chairman. SEC Commissioners are appointed with the approval of the United States Senate. But under an obscure regulation, the president has the authority to designate which of the five SEC Commissioners serve as the Chairman. There are currently only three SEC Commissioners, due in part to Republican obstruction of Obama appointees. White's term ends in 2019, but removing her as chair and naming Democratic Commissioner Kara Stein in her place would allow another leader to set the agency's agenda.
Warren railed against White in a June congressional hearing, saying she was "more disappointed than ever" over the SEC's efforts to scale back corporate disclosures. White insisted the disclosures unnecessarily burden companies.
"I've never heard of the idea that investors want less information than they're getting," Warren said. "Let's be honest about this. I cannot find and you have not produced a single investor who has complained to the SEC about getting too much information."
The spat came amid a review of possible updates, released in April, to SEC rules that would require businesses to disclose financial risk posed by global warming, or government crackdowns on corporate profits stashed in offshore tax havens.
"More than a million people, including countless investors and former SEC commissioners, are pushing the agency to require publicly traded companies to disclose their political contributions," Warren added.
At the same hearing, Sen. Charles Schumer (D-N.Y.) piled on criticism of the SEC for failing to require companies to disclose their political contributions.
"You're hurting America," Schumer told White. "Your priorities are out of line with what corporate America needs and America needs, and I hope when you go to bed late at night, you would think about that."
Warren over the summer pilloried the SEC for failing to finalize rules and waivers, and for settling cases without obtaining guilty pleas. She also criticized links between the companies White oversees, and both the law firm where she once worked, and the one her husband currently runs.
Warren's push for White's ouster comes on the heels of her victory against Wells Fargo, embroiled in a scandal over widespread fraud. During a congressional hearing last month, Warren speared now-retired CEO John Stumpf. She called for him to resign and be "criminally investigated." Days later, the bank's board forced Stumpf to forfeit $41 million in unvested stock and give up his $2.8 million annual salary. He resigned on Wednesday.
Warren, who has served as an outspoken surrogate for Democrat Hillary Clinton's presidential campaign, appears to be staking out her place in a future administration. Last month, Warren ― who has repeatedly attacked Republican nominee Donald Trump on Twitter in recent months ― signaled she would try to stop any appointment of big bank executives to Clinton's cabinet.
"We believe Sen. Elizabeth Warren is succeeding in establishing herself as the chief financial policymaker in a potential Clinton White House," Jaret Seiberg, managing director at the financial research firm Cowen Group, wrote in an investor memo last month. "She has threatened to stop Clinton nominees with ties to BlackRock and other firms. And she is using the bully pulpit to shape the debate over the Wells Fargo cross-selling controversy."
Popular in the Community