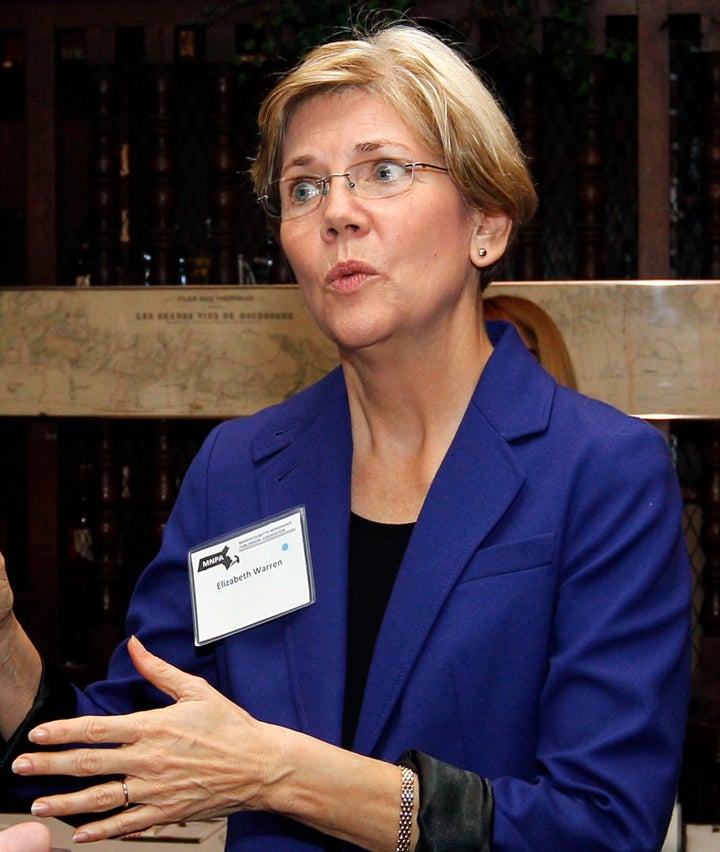 WASHINGTON -- Elizabeth Warren's money bomb has pulled in pledges of more than $100,000 in the course of a weekend, according to the campaign, with four days left until the Senate candidate's first attempt to raise an explosive amount of money with a one-day haul from small donors.
"We already have pledges for more than $100,000 for our first ever money bomb this Thursday," campaign manager Mindy Myers told HuffPost, "but we have a long way to go to narrow the gap with Brown's $12.8 million war chest."
The money bomb was first reported by HuffPost on Friday evening, meaning that pledges have come in at roughly $50,000 per day.
The money bomb first revolutionized campaign finance in 2007 when Ron Paul supporters raised more than $6 million in one day -- far more than Warren has garnered in pledges. The frenzied fundraising has a practical goal -- to raise the money needed for a campaign -- but also aims to draw media attention and make a dramatic point about the broad base of public support for a candidate. Failed money bombs, meanwhile, are equally effective at making just the opposite point.
"This is an important moment to show we can go toe to toe with the powerful interests that are lining up for Brown and against Elizabeth," Myers said.
The Internet has long threatened to upend traditional corporate-based campaign fundraising, giving supporters and candidates an easy way to connect. So far, however, grassroots online fundraising has largely been a supplemental part of a candidate's financial support rather than its foundation. A candidate fueled almost exclusively by small donors would be much better able to fend off advances from major corporate interests looking to sway a politician.
Warren's money bomb is set to coincide with the two-year anniversary of Scott Brown's victory over Martha Coakley in the special election to replace the late Sen. Ted Kennedy. Brown is marking the occasion by holding a major rally to launch his reelection campaign. The Republican incumbent took in $3.2 million last quarter, which paled in comparison to Warren's $5.7 million, but the senator has roughly twice as much cash on hand -- nearly $13 million compared to a bit over $6 million.
Popular in the Community