WASHINGTON -- Sen. Elizabeth Warren (D-Mass.) issued a report Monday morning detailing decades of failed trade enforcement by American presidents including Barack Obama, the latest salvo in an ongoing public feud between Warren and Obama over the Trans-Pacific Partnership.
Obama is currently negotiating the major trade pact with 11 other nations. While the text of the TPP agreement remains classified information, it is strongly supported by Republican leaders in Congress and corporate lobbying groups including the U.S. Chamber of Commerce. The deal is opposed by most congressional Democrats, along with labor unions, environmental groups and advocates of Internet freedom.
Obama has repeatedly insisted the TPP will include robust labor protections, and has dismissed Warren's criticisms as "dishonest," "bunk" and "misinformation." On Monday, Warren fired back, showing that Obama simply has not effectively enforced existing labor standards in prior trade pacts. According to the report, a host of abuses, from child labor to the outright murder of union organizers, have continued under Obama's watch with minimal pushback from the administration.
"The United States does not enforce the labor protections in its trade agreements," the report reads, citing analyses from the Government Accountability Office, the State Department and the Department of Labor.
Of the 20 countries the U.S. currently has trade agreements with, 11 have documented reliance on child labor, forced labor or other human rights abuses related to labor, according to the report. The violations are not confined to exploitation. Since Obama finalized a labor action plan with the government of Colombia in 2011, 105 union activists have been murdered. Obama called the Colombian deal "a win-win for workers" at the time.
Despite these trade violations, none of these countries has faced significant consequences from the United States government.
Warren's report undercuts an Obama public relations offensive that has repeatedly characterized TPP as "the most progressive trade deal in history." The Senate is currently considering legislation that would grant Obama "fast track" authority, barring Congress from amending any trade pact he negotiates, including TPP. Liberals are concerned TPP will exacerbate income inequality and undermine key regulations.
But while much of the TPP controversy has concerned the legal language involved in the agreement itself, Warren's report highlights a broader concern among progressives. Regardless of what the final TPP deal looks like, presidents Bill Clinton, George W. Bush and Obama himself, have all failed to effectively enforce promises to protect workers, even as rogue regimes have continued to benefit from other provisions of the agreements.
"We have two decades of experience with free trade agreements under both Democratic and Republican Presidents. Supporters of these agreements have always promised that they contain tough standards to protect workers," the report reads. "The rhetoric has not matched the reality."
The Obama administration has said it takes labor violations seriously and has pushed countries to improve conditions.
"The Obama Administration is taking unprecedented actions to promote and protect fundamental labor rights and ensure acceptable conditions of work," reads a joint report from the Department of Labor and the Office of the U.S. Trade Representative from February. Those commitments include "bringing the first-ever labor dispute under a free trade agreement"-- in Guatemala.
But labor unions and other critics say these measures have been ineffective. The AFL-CIO has been pressing for action on Guatemalan violations for Obama's entire term in office, and the dispute remains unresolved. Meanwhile, as Warren's report documents, Guatemala remains one of the most dangerous places in the world for union workers. In 2013 and 2014, according to the AFL-CIO, 17 labor activists were murdered in Guatemala while the Obama administration pursued diplomatic action. Three of the slain union workers were reportedly killed during a dispute with a local government over unpaid back wages.
Much of Warren's trade critique has focused on the capacity for free trade pacts to undermine financial regulations. Last week, Canadian Finance Minister Joe Oliver gave a speech arguing that a key tenet of Obama's 2010 Wall Street reform law violates the North American Free Trade Agreement.
Before You Go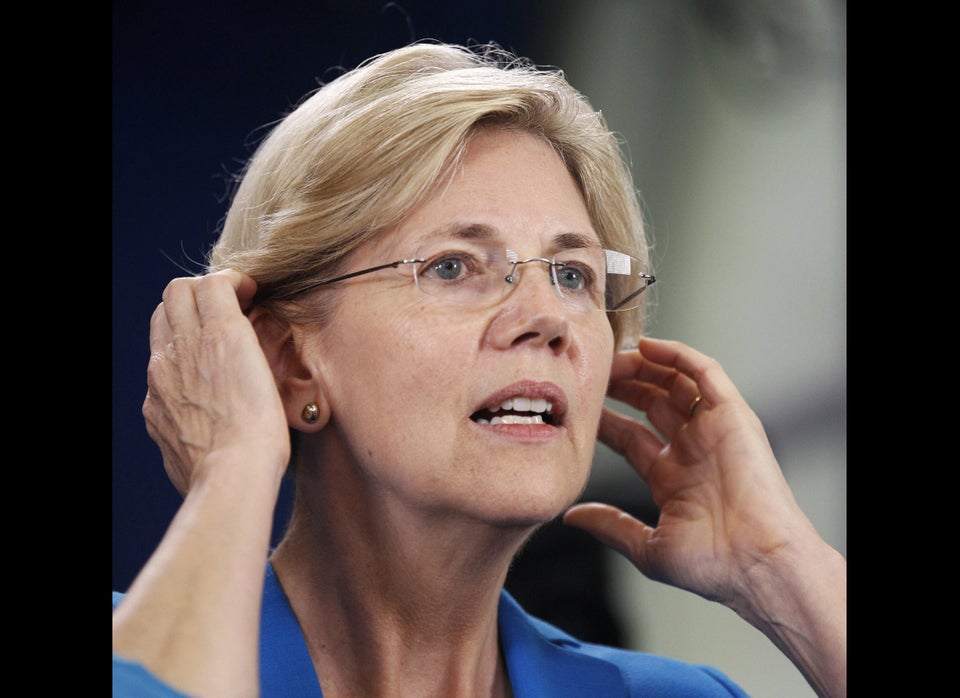 Elizabeth Warren
Popular in the Community