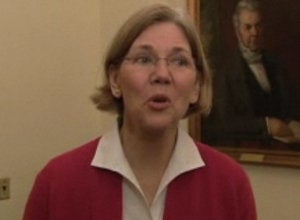 Elizabeth Warren says it would be an "honor" to be considered for President Obama's next Supreme Court nominee.
The financial reform advocate skirted the question. "What I'm doing right now is working on the mortgage foreclosure report," Warren said.
Asked whether she would be interested in being considered for the post once her work on financial reform is "a bit more done," Warren said it would be an "honor" for any lawyer.
"There is no one who ever went to law school who doesn't think about the honor of receiving a call from the President of the United States, to say talk to me about the United States Supreme Court," Warren told ABC.
Arianna suggested Warren as a possible Supreme Court nominee during her appearance Sunday on "This Week." Pointing to Warren's expertise on economic policy, Arianna argued that in many ways she's exactly what the country needs for its next Supreme Court Justice.
Arianna: "I think Elizabeth Warren -- especially if we can clone her so she can also run the Consumer Protection Agency -- would be a great nominee. A Harvard Law professor, an expert on bankruptcy law, on many of the ways in which economic policies are impacting the middle class, exactly what the country needs right now, a compelling communicator. A great thing about John Paul Stevens was how persuasive he was, how he could move at least judge Kennedy and give us some of those 5-4 decisions which were so critical."
WATCH: Warren talks about Supreme Court
Popular in the Community