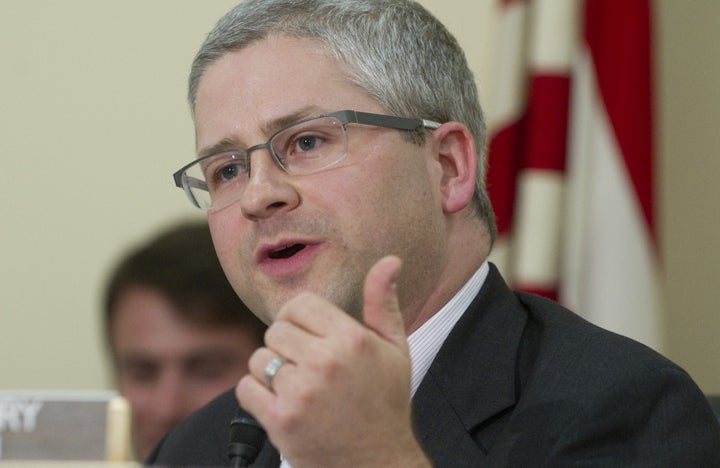 Fans of Warren think the North Carolina Republican took some unacceptable liberties with the boss of the nascent Consumer Financial Protection Bureau (CFPB), and they're demanding that he get some McEtiquette and apologize.
"I 'like' the fact that thousands, if not hundreds of thousands of Americans are appalled by your behavior," wrote Jill Budzynski. "You are an insult to the title of chairman of any committee. It is out of order to abuse a loyal public servant who is trying her best to accommodate your flip-flopping of schedules. How reprehensible to accuse her of lying. Apologize now."
The dust-up Tuesday came near the end of a hearing on the CFPB when the Oversight Committee's top Democrat, Maryland's Elijah Cummings, noted that Warren had stayed beyond the time he had seen agreed to in internal committee communications.
But McHenry denied there was any agreement, even though the hearing time had been changed as recently as that morning to accommodate the subcommittee. "You're making this up," McHenry told her, to her shock and gasps from the hearing audience.
Warren and her staff had the same understanding as Cummings, and sources confirmed the previously agreed upon timing for The Huffington Post.
Warren is an extremely popular figure among people who think Wall Street and the big banks need to be reined in, and they're expressing their displeasure on Facebook -- even if it galls them to have to become a "fan" of McHenry to do so.
"I also clicked 'like' under duress. However, I am filled with hope for America after reading all these comments," wrote Margarita T. Gonzalez-Newcomer. "One thing that is amazing to me is how politicians forget the innate FAIRNESS of the American people. Even when the parties try to [divide] us and pit us against each other, the American people snap out of that fog to stand up for fair play. Thanks to all who have commented on behalf of Ms. Warren."
"Your behavior toward Elizabeth Warren shows that you're not only a greedy bastard with no regard for your constituents, you're also arrogant and rude," posted Beverly Tuttle Potvin. "Any apology from you would undoubtedly be an entirely insincere and empty gesture on your part so I won't even bother with that demand."
And some North Carolina residents appear to have found the page, as well.
"You are the liar Pat!" wrote Mike Sprinkle, whose own Facebook page lists his home as Hiddenite, N.C. Though that's just outside McHenry's district, Sprinkle added, "I can & will vote against you."
The congressman did have the occasional defender.
"SorosBOTS are out in force today to protect that socialist Elizabeth Warren," posted Kristen Peterson, referring to the billionaire Democratic Party donor George Soros. "I clicked like to let you know I appreciate you calling this woman out. Thank you and KEEP UP THE GREAT WORK!"
McHenry's spokesman said he was in a meeting Wednesday morning and could not immediately comment. But after Tuesday's hearing he stuck to his position, and blamed Warren for stiffing Congress on the time.
"Committee staff worked diligently to accommodate Ms. Warren's schedule," McHenry said.
"I was shocked by Ms. Warren's blatant sense of entitlement," he added. "She was apparently under the assumption that she could dictate a one-hour time limit for her testimony to Congress and that we were there at her behest instead of the other way around. This is just further example of her disregard for congressional oversight."
McHenry press secretary Michael Babyak noted that McHenry wouldn't try to shut down his page, pointing to a post he wrote in the past praising the dialogue it produced.
"I'd also like to express my appreciation for my Facebook family -- whether you agree or disagree with me -- you are speaking out and engaging in the civil and honest debate that is the cornerstone of our country's political process," the congressman wrote. "Please continue to share your input and feedback -- and give each other's opinions the respect they rightly deserve. And always remember -- this is a free speech zone."

Note: This reporter has just created his own Facebook fan page, and has not had the pleasure of being flamed in a similar fashion as McHenry. But anyone who would like to share, can do so here.
Democratic members of the Oversight Committee added their voices to the call for McHenry to apologize for his "disrespectful behavior," sending a letter to the Facebook-flambéed congressman Wednesday evening.

"During yesterday's Subcommittee hearing, you impugned the character of a dedicated public official who is doing nothing more than trying to serve the interests of American consumers," the letter read.
"It is unacceptable for any Member of Congress, let alone the Chairman of a Subcommittee, to treat witnesses in this manner," the letter said, accusing McHenry of defaming Warren.

"We ask today that you apologize to Professor Warren. We believe you should apologize to the Members of the Subcommittee, as well, for denigrating the proceedings and potentially compromising our ability to conduct our important work in the future," it concluded.
One of the signatories, Jackie Speier of California, also made the case on the House floor, in the video below.
Popular in the Community