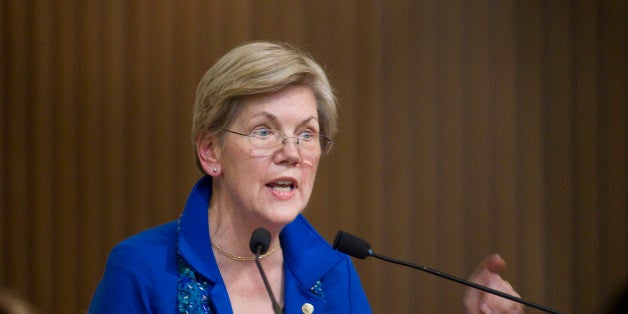 WASHINGTON -- In an effort to fund scientific research in the era of divided government, Sen. Elizabeth Warren (D-Mass.) is seeking to force lawbreaking pharmaceutical companies to carry a heavier burden.
Warren will introduce the Medical Innovation Act on Thursday in remarks at a conference hosted by the pro-health care reform group Families USA. Her bill would create a fund that major pharmaceutical companies must pay into when they break the law and settle lawsuits brought against them by the federal government. That fund, in turn, would prop up research accounts for the National Institutes of Health and the Food and Drug Administration.
"It's a swear jar," Warren will say, according to remarks provided by her office. "But it's also a simple form of accountability. Instead of letting companies that break the law get off with a slap on the wrist, the Medical Innovation Act will make sure that they pay up in a way that really makes a difference -– a difference to the health of all Americans, and a difference to all of the company's competitors who are playing by the rules."
Warren, who has made a name for herself by advocating banking industry reforms and taking on student lenders, will likely be attacked for her latest offering by critics decrying a punitive assault on private enterprise. The proposal would create a financial incentive for the federal government to bring lawsuits against big pharmaceutical companies, and for pharmaceutical companies to fight the allegations rather than settle.
But the incentives embedded in the legislation work in other ways, too. As Warren will argue in her speech, it would discourage companies from breaking the law in the first place. Currently, many big companies continue doing business with the government after paying settlements because there is no viable replacement for their products. In 2012, USA Today reported that drugmakers had paid more than $8 billion in fines for defrauding Medicare and Medicaid in the prior decade.
Warren's proposal would only apply to the biggest companies -- those that sell "blockbuster" drugs, often defined as a drug with annual sales of more than $1 billion. Only those companies that relied on federally funded research to develop a blockbuster drug would be subject to the punishment. The penalty would be 1 percent of the company's total annual profit for each blockbuster drug.
Should the measure fail to halt industry maleficence, Warren's bill would produce a windfall for a federal research funding. According to Warren, the measure would have added roughly $6 billion a year to NIH's budget if it had been in effect for the past five years. For an agency that has seen its purchasing power drop 23 percent from a decade ago, an estimated 20 percent budget increase would prove huge.
Those numbers won't necessarily be the same over every five-year period. Still, the prospect of more federal money going to research is the heart of Warren's sales pitch for the Medical Innovation Act. At a time when finding basic agreement on keeping the government open has proven difficult, her bill provides a back-door way for getting money into biomedical research accounts.
"I applaud Senator Warren for her support for the biomedical research enterprise and her innovative pay-for with this proposal," said Benjamin Corb, director of public affairs at the American Society for Biochemistry and Molecular Biology. "In a time when it seems as though the appropriations process has broken down, any funding mechanism must be considered."
Hailing from biotech-rich and academic research-heavy Massachusetts, Warren has been a vocal advocate for enhanced funding, pushing repeatedly for the doubling of the NIH budget. She also has shown a penchant for going after private industry, having cut her teeth as a consumer advocate and faced down a wave of donations from special interests during her run for the Senate. Pharmaceutical and health product companies bet big on her 2012 Republican opponent, Scott Brown, giving his campaign and political action committee more than $490,000 in donations.
Warren's approach in office has stayed true to these lines, for the most part. But she also has surprised many Republican lawmakers by trying to come up with creative funding mechanisms to pursue her priorities. In the last Congress, for instance, she teamed up with Sen. Orrin Hatch (R-Utah) to propose the creation of a $10 billion incentive fund for lawmakers to keep biomedical research dollars steady. A source familiar with those discussions told The Huffington Post that as of mid-January, the "conversations around this are ongoing."
Medical research activists have made funding suggestions of their own. In a recent op-ed in Roll Call, Michael Lubell, director of public affairs at American Physical Society, proposed creating a public-private science research bank that would augment federal funding in times of need.
"I think quite honestly with the people coming in… having another mechanism to do it aside from appropriations would be very, very attractive," Lubell told The Huffington Post in an interview.
But advocates and even lawmakers warn there may be a downside to these idiosyncratic fundraising proposals: They ease the pressure on congressional appropriators to set steady funding streams that rise with inflation. As Corb put it: "Congress funding the nation's scientific enterprise on gimmicks and not regular appropriations sets a dangerous precedent."
Warren's Medical Innovation Act seeks to counteract that by stipulating that the swear jar funds "will be made available only in years that annual appropriations to NIH and FDA keep pace with inflation." In other words, appropriators can't cut the budget and replace the hole with money from the fund.
Warren's bill also sets conditions on what type of scientific research can be funded with the new stream of money, limiting it to things like "treatments for unmet and under-met medical needs," the "understanding of cellular processes, protein science, immunology, genetics, or neurology," and projects that focus "on diseases that disproportionally impact government [medical] spending."
UPDATE: 3:25 p.m. -- Robert Zirkelbach, senior vice president of communications for the Pharmaceutical Research and Manufacturers of America (PhRMA), released the following statement criticizing Warren's proposal, suggesting that pharmaceutical companies would use money from their own research and development funds should they be forced to pay into the proverbial swear jar:
The National Institutes of Health (NIH) plays a vital role in basic research and early discovery, and we support sufficient federal funding for their work. But pursuing misguided policies that siphon funding from the groundbreaking medical research happening in the biopharmaceutical industry will have devastating consequences for patients and society. The proposed legislation would result in fewer medicines for patients and lost jobs at a time when our economy can least afford it.
Should big pharmaceutical companies end up doing what Zirkelbach predicts, Warren's bill wouldn't result in a net gain in biomedical research funding -- only a transfer of money from private pools to public ones. But the bill's authors are calculating that his threat is overblown, since pharmaceutical companies would be hampering their own futures if they paid penalties out of their own research and development funds as opposed to taking a small profit hit.
Before You Go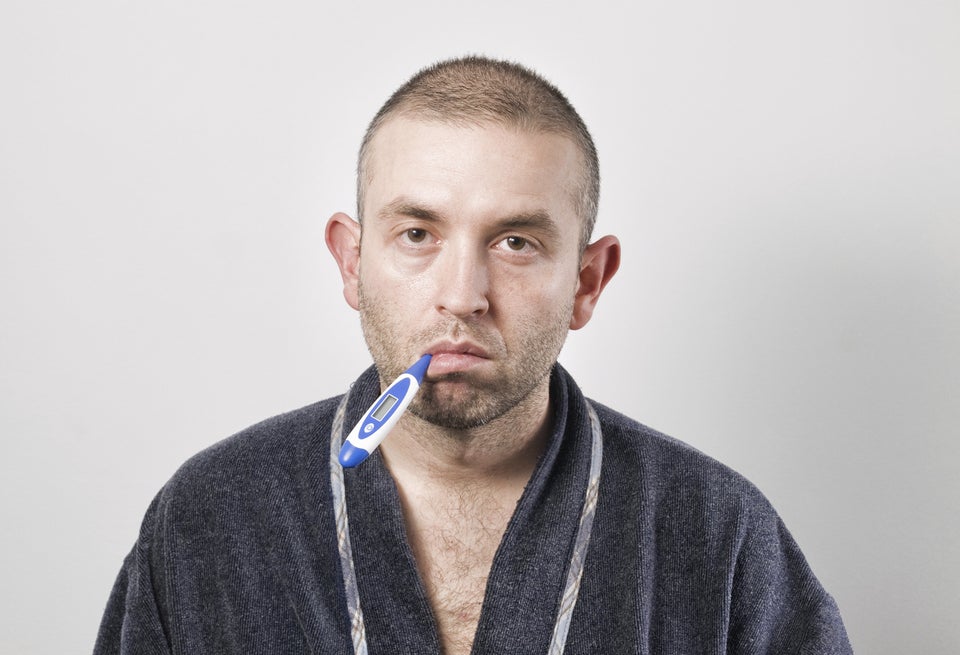 Ebola Symptoms
Popular in the Community