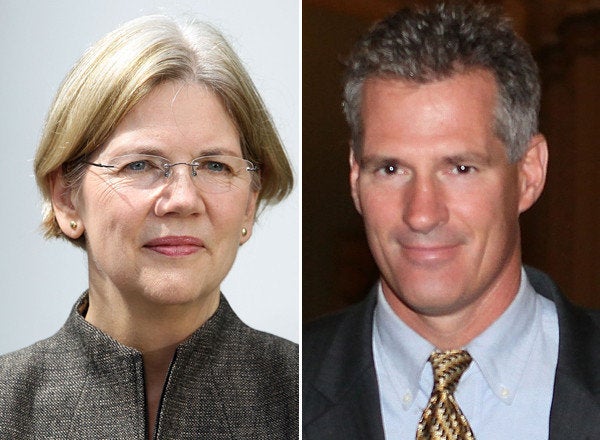 The UMass Poll released a survey of Massachusetts registered and likely voters on Tuesday (full disclosure: I am serving as Director of the UMass Poll). The survey focused extensively on the Senate race between Senator Scott Brown and Warren. One of the topline findings was that Warren holds a 9 point advantage among women -- 51 percent of women plan on voting for Warren compared to just 42% who plan on voting for Brown. But how large is that advantage compared to other recent elections in Massachusetts? As noted above, in 2010, a UMass exit poll found that Democratic Governor Deval Patrick won the support of 57 percent of women, and just 34 percent of women voted for Charlie Baker, his Republican Challenger. Given that context, Warren's advantage among women seems remarkably small.
When we drilled down into the data a bit more, what we found is that the preferences of women in this race vary widely depending on their income. The chart below demonstrates this pattern by plotting Warren's advantage/disadvantage over Brown for men and women in low (under $40,000), middle ($40,000 to $100,000), and upper ($100,000 and above) income groups. Warren holds an impressive 32 point advantage over Brown among low income women and an 11 point advantage among middle-income women. However, Warren is losing upper income women by 19 points, a larger margin than her deficit among upper income men.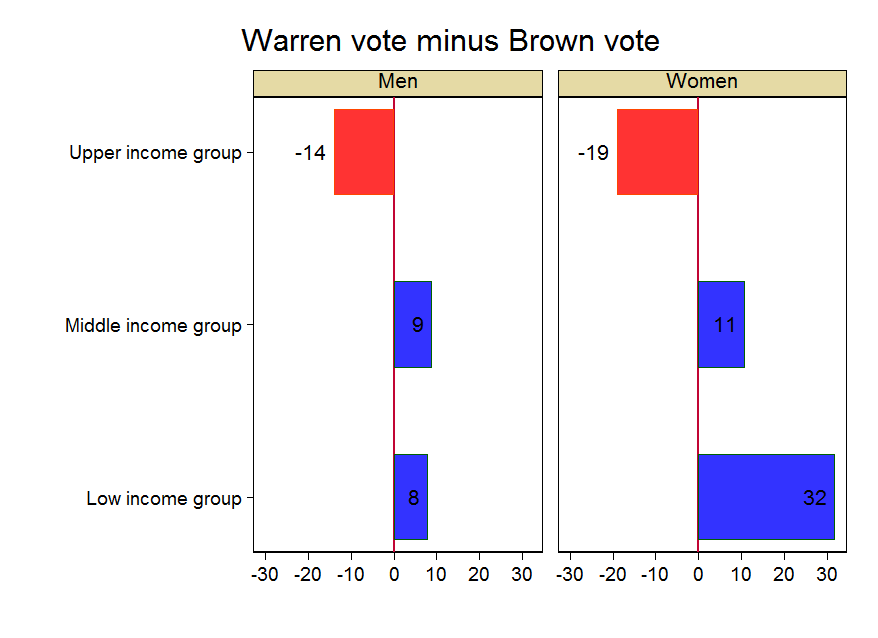 Is Warren's performance among upper income women unique to her candidacy? There appears to be some evidence that it is. The plot below shows Obama's advantage over Romney in Massachusetts for different gender and income groups. Notably, Warren performs about the same as Obama among low income women, but she performs much worse than him among upper income women.


Ultimately, nearly one-in-four women with a family income above $100,000 plans on voting for Obama but not for Warren. When asked, these wealthy women overwhelmingly agreed that Warren was the candidate who is most likely to represent the interests of women; however, they view Scott Brown as the more trusted choice for economic and tax issues. Thus, for now, it appears as though economic concerns, and not gender concerns, are driving these wealth women away from Warren.
NOTE: Credit to Maryann Barakso for discovering the patterns discussed in this post.
Calling all HuffPost superfans!
Sign up for membership to become a founding member and help shape HuffPost's next chapter