WASHINGTON -- When a financial executive refuses to answer basic questions about personal finance, you know he's in trouble.
Sen. Elizabeth Warren (D-Mass.) on Tuesday embarrassed Primerica President Peter Schneider, who Senate Republicans had invited to testify against a new regulation designed to protect retirement savings from dodgy investment managers. The Obama administration estimates that Americans lose $17 billion a year from investment professionals who manage retirement accounts by prioritizing their own financial interests over those of their clients. It has proposed a simple solution: making that illegal.
Congressional Republicans loathe the rule, but Warren's neat vivisection of Schneider underscores their difficulties in arguing against it. The GOP can usually rely on a nearly united financial industry front against Democratic regulatory proposals. This time, however, some big-name investment professionals actually support the rule, recognizing that it will purge the industry of bad actors and create business opportunities for those who don't rip off their own clients.
Schneider portrayed his company as a defender of the working class -- clients who make as little as $30,000 a year, from homes "all too often … headed by a single mother."
"We all agree that we must act in a client's best interests," Schneider said, before arguing that the Obama rule requiring managers to do just that would ultimately force Primerica to abandon its single-mother clientele.
Warren presented Schneider with a Huffington Post article detailing lawsuits against the company filed by Florida workers. According to the complaints, Primerica encouraged workers nearing retirement to trade in their government-guaranteed pensions for much riskier assets -- a move that would jeopardize their savings while giving Primerica the opportunity to profit from managing their funds in the future. Had they stayed in their pensions, retirees would have simply received regular payments, leaving no fees for Primerica reps.
The lawsuits describe exactly the kind of activity that the Obama rule is designed to prevent, and suggest that Primerica hasn't always acted in its clients' best interests. Primerica set aside $15.4 million in 2014 to settle lawsuits from 238 such workers.
"Mr. Schneider, I just want to understand your company's advice in these cases," Warren began. "Do you believe that people like these firefighters from Florida who are near retirement and have secure pensions with guaranteed monthly payments should move their money into riskier assets with no guarantees, just before they retire?"
Almost no one who understands personal finance would give such advice in good faith. And Schneider never really answered the question, after being pressed by Warren three separate times. He said that regulators had signed off on the activity, that "each situation is very different," and that it could make sense for someone on the verge of death.
"I'm sorry, are you suggesting that these 238 people were weeks away from dying, and that's why they all got this advice?" Warren asked.
WATCH Warren's full exchange in the video above.
Primerica isn't an ordinary investment firm staffed by a coterie of well-heeled financial professionals. It's a get-rich-quick operation akin to Amway, Nu Skin and Herbalife that recruits people without financial expertise. Instead of pitching health supplements or beauty creams, Primerica's 98,000-strong sales team hawks insurance, annuities and mutual funds. These "entrepreneurs" earn an average of $6,030 a year for their work. But the vast majority of Primerica representatives pay the company a sign-up fee and never make the team. More than 190,000 people signed up in 2014, slightly more than in the previous year.
The company has a host of slick recruitment videos that make emotional appeals promising prospective Primerica agents a totally reinvigorated lifestyle. In one video, Rob Cooper of Fort Worth, Texas, encourages his audience not to settle for "a mediocre life like everybody else does."
"I always wanted to be somebody," says Jeff Fieldstad of Las Vegas in another. "I always wanted to do something great."
Wall Street is packed with Republicans who don't like the Obama administration and are hostile to the very idea of financial regulation. So why did the GOP rely on Primerica for Tuesday's hearing? Wall Street executives haven't exactly been popular since the financial crisis that sparked the Great Recession. But Primerica has also been friendly to some key Republicans.
"I'm proud to say [Primerica] is Georgia-based company, and I've visited before," said Sen. Johnny Isakson (R-Ga.), who organized the hearing. "They're a leader in financial services."
Primerica's top brass aren't exactly the Koch Brothers. But they're no strangers to campaign finance, either. The company's political action committee dropped more than $200,000 in the 2014 election cycle. The top recipient was Sen. Lamar Alexander (R-Tenn.), who heads the Health, Education, Labor and Pensions Committee. Their number six recipient, Isakson, chairs the subcommittee that called Tuesday's hearing. The top contributor to the Primerica PAC? Schneider himself, tied with CEO Glenn Williams.
Correction: This article incorrectly referred to Sen. Johnny Isakson of Georgia as a Democrat. He is a member of the Republican Party.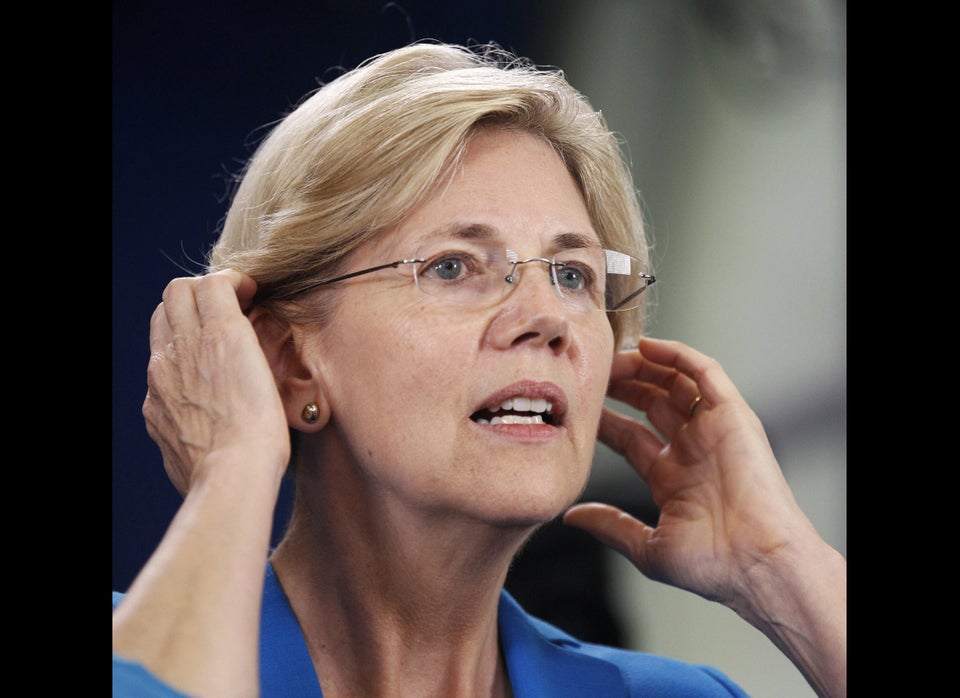 Elizabeth Warren
Popular in the Community